Businesses struggle to protect sensitive cloud data according to new Oracle and KPMG Cloud Threat Report

Despite defined security policies, eight in 10 organizations worry about employee compliance and four in 10 say detecting and responding to cloud security incidents is a top cyber security challenge

In a recent survey of 450 global IT professionals conducted by Oracle and KPMG LLP, results show that organizations are struggling to protect their data amidst a growing number of security breaches. The Oracle and KPMG Cloud Threat Report, 2018 found that 90 percent of information security professionals classify more than half of their cloud data as sensitive. Furthermore, 97 percent have defined cloud-approval policies, however, the vast majority (82 percent) noted they are concerned about employees following these policies.

For enterprises storing sensitive data in the cloud, an enhanced security strategy is key to monitoring and protecting that data. In fact, 40 percent of respondents indicate that detecting and responding to cloud security incidents is now their top cyber security challenge. As part of apparent efforts to address this challenge, four in 10 companies have hired dedicated cloud security architects, while 84 percent are committed to using more automation to effectively defend against sophisticated attackers.
"As organizations expand their cloud footprint, traditional security measures are unable to keep up with the rapid growth of users, applications, data, and infrastructure," said Akshay Bhargava, vice president, Cloud Business Group, Oracle. "Autonomous security is critical when adopting more cloud services to easily deploy and manage integrated policies that span hybrid and multi-cloud environments. By using machine learning, artificial intelligence and orchestration, organizations can more quickly detect and respond to security threats, and protect their assets."

"The pace of innovation and change in business strategies today necessitate flexible, cost-effective, cloud-based solutions," said Tony Buffomante, U.S. Leader of KPMG LLP's Cyber Security Services. "As many organizations migrate to cloud services, it is critical that their business and security objectives align, and that they establish rigorous controls of their own, versus solely relying on the cyber security measures provided by the cloud vendor."

Additional Key Findings
• Changing threat landscape poses challenges: Only 14 percent surveyed are able to effectively analyze and respond to the vast majority (75-100 percent) of their security event data.
• Cyber security spending on the rise: 89 percent surveyed expect their organization to increase cyber security investments in the next fiscal year.
• Inconsistency in cloud policies: 26 percent cited a lack of unified policies across disparate infrastructure as a top challenge.
• Rethinking cloud strategies and providers in the face of changing regulations: General Data Protection Regulation (GDPR) will impact cloud strategies and service provider choices, according to 95 percent of respondents who must comply.
• Mobile users are creating identity and access management (IAM) challenges for organizations: 36 percent said mobile device and application use make IAM controls and monitoring more difficult.
• Automation can help: 29 percent surveyed are using machine learning on a limited basis, 18 percent do so extensively, and another 24 percent are now adding machine learning to existing security tools.

The data in the Oracle and KPMG Cloud Threat Report, 2018 is based on a survey of 450 cyber security and IT professionals from private and public-sector organizations in North America (United States and Canada), Western Europe (United Kingdom), and Asia (Australia, Singapore).

---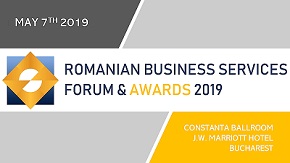 » Molson Coors started to grow its busin...
» TELUS International Europe: Three ways...
» Deloitte's Tech Trends 2019 report: B...
» Capgemini: Investing in people is the ...
» The Outsourcing industry announces its...
» Romania ranks above EU average in gend...
» Committed to growth
» KPMG study: Big data needs a big re-th...
» ROMANIAN OUTSOURCING AWARDS FOR EXCELL...
» Engagement and inclusion through direc...

The voting procedure for the BRAND OF THE YEAR 2019 IN ROMANIAN BUSINESS SERVICES is open!

This is the fifth edition of the event and the second year to select the public's favorite brand in the business services BPO, ITO and SSC in Romania.
Read Full article »
Romania ranks above EU average in gender employment gap

In Romania, the employment rate measures the number of people who have a job as a percentage of the working age population. This page provides - Romania Employment Rate- actual values, historical data, forecast
Read Full article »
Steven Hunt, SAP SuccessFactors: Tectonic movements in the world of work

The world of work will be shaped by five tectonic movements – or global megatrends – over the next few years. As you may guess from the geological analogy, the effects could be dramatic.
Read Full article »
EY: European companies are divesting to future-proof growth

According to the EY Global Corporate Divestment Study, 84 per cent of European companies surveyed intending to divest within the next two years (the majority planning to do so in the coming 12 months), executiv
Read Full article »
Knowledge-sharing presentation on latest trends the industry deals, in the program of Romanian Business Services Forum and Awards

Part of the upcoming joint half-day event, Romanian Business Services Forum and Awards to be held at JW Marriott Hotel on May 7th, the discussion agenda comprises a complex Knowledge-sharing presentation on lat
Read Full article »