Next Generation Shared Services Roadshow at Bucharest: innovative solutions and best-practices in SSC industry

The series of Next Generation Shared Services Roadshow event organized by SSC Heroes and Kinnarps Kinnarps in four cities in Central and Eastern Europe, brought in April at Bucharest a strong panel of leaders in key fields of business shared services industry.

The event lined up Arjen Sader, GBS & SSC advisory lead at Dentons, Bogdan Cojocaru, Service Delivery Operations Lead at Accenture Romania, Balázs Horváth, Senior Account Executive at DOQSYS, Oscar Reitsma, Business Director EMEA Transparent Solutions BV, Zsolt Kelliar, SSC Heroes, Irina Minzala, Central Europe Talent Acquisition Lead at Accenture, Dragos Gheban, Managing Partner at Catalyst, Florin Godean, Country Manager at Adecco, Gábor Paukovics from Kinnarps, Claudia Cetatoiu, Senior Consultant at JLL Romania, Anda Todor, President at AmCham Romania, Raluca Popa, Project Manager at InvestRomania, Florin Iliescu, HR and Communication Manager from Total Global Services.

The Bucharest-held discussion focused on topics related to recruitment and HR processes and aspects such as employer branding, candidate experience in digital recruitment, future Recruitment trends, as well as technical aspects of processes and automation such as SSC Tech Solutions, big data, RPA, AI, IOT, Blockchain.

The event depicted recommendations based on the managing experience of speakers regarding the strategies and best practice approaches of companies when it comes to talent acquisition and retention. As Accenture's managers highlighted during the event, the organizations should build and maintain a keen approach on their branding and awareness through social platform, recruitment and work community and engagement platforms, besides updated talent attraction programs. Irina Minzala, Central Europe Talent Acquisition Lead at Accenture, emphasized the need of organizations to invest and build training programs in employee branding, as one of the main differentiator among companies that are currently facing difficulties in finding and attracting talents for the job openings.

Also, adjusting the organizations' programs according to the specific market demands is a major aspect that should be addressed by companies, to build communities, training programs and academic programs in the fields that register a high demand for specialists, such as software developers. The refining of the labor market in terms of growing and training more refined, niche and added-value specializations is part of organizations' capabilities, more than part of the educations system, as stated during the event.

The new generations expected to fill in the demand of jobs on the current market need guidance and trainings, as they are perceived, from the experience of company managers, rather passive due to the lack of confidence in their own skills. Hence, the young professionals are feeling really insecure on how they should approach the labor market, which company is best for them and the companies should address this pool of workforce according to their specific needs. According to statements during the event, there is a difference between young and more experienced professionals regarding the way they address a job search. The young candidates for junior positions are looking first at salaries and benefits, while the more experienced professionals look at more refined aspects, such as the job flexibility.

Regarding the future trends of skills demand, the debate is still on regarding whether or not the language capabilities will be a competitive advantage in the future, in the context of a more digitalized world and AI processes that could supplement and even replace these capabilities in the future. According to some opinions, there is no need to fear of the replacement of jobs based on language skills by robotics in the future, since the AI will not be able to completely replace the human approach and language specifics, but on the other side, this should not be marketed as one of the major competitive advantage of a market. instead, a combination of typical skills held by a human professional and automation processes is a differentiator that should already be addressed. The refining of the market, going beyond basic services towards more sophisticated solutions (with the example of Poland in mind) is a salutary strategy for the local market in order to remain relevant and gain competitiveness.

Next Generation Shared Services Roadshow launched in 2016 and provides innovative solutions and best-practices that help to take advantage of these trends and promote the development of the shared services industry. In 2018, the organizers decided to take the event onto the regional level, as the CEE region and its SSC leaders face very similar challenges regarding the future of SSC-s.

Next Generation Shared Services Roadshow is organized by SSC Heroes and Kinnarps in four cities in Central and Eastern Europe, with two events that have been already completed at Gdansk (April 5th), and Bucharest (April 12th) and with the following at Warsaw (May 10th) and Budapest (24th April) May).

---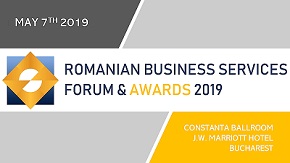 » Raiffeisen Bank Romania outsources onl...
» Horváth & Partners launches Steering ...
» JLL: Total office space in Bucharest t...
» Colliers International takes over the ...
» Oracle results pushed down by a strong...
» SSC in Romania. Who takes the lion's s...
» Survey: Romanians switch to a lower-pa...
» Genpact, Luxoft and Oracle, top lessee...
» Romanian employers report the stronges...
» Eucom: Nine out of ten corporate Roman...

My HR Lab: Research of suitable candidates and giving feedback to rejected ones, the biggest challenge in HR

During June 2019, My HR Lab company run an online (social media platforms) survey "Challenges of the recruitment process" which enrolled over 100 professionals working in HR and recruitment in Romania.
Read Full article »
The local market needs more added-value and complex projects to be developed by the companies

The statement has been uttered within this year's Romanian Outsourcing and Shared Services Summit by Catalina Dodu, Country Manager at Atos, pointing to the local enablers that could enhance the innovation and
Read Full article »
The office market at a glance: The round for tenants is on

Data provided by CBRE show that the office spaces segment will continue to grow rapidly in 2019, and 15 new projects covering 304.000 sqm will be delivered. According to the real estate consultancy agency, curr
Read Full article »
People Empowering Business Forum 2019 to take place on October, 30 at Bucharest

Latest trends like demographic upheaval, globalization, digital technology, and changing social values and worker expectations, are disrupting business models and radically changing the workplace. These are req
Read Full article »
Addressing the mantra of cyber-security: Confidentiality, integrity and availability

The fast advancement of technology in all the aspects of everyday life, either personal or professional, and the emerging of AI (Artificial Intelligence) and ML (Machine Learning), not to mention cloud technolo
Read Full article »