Romanian Outsourcing & Shared Services Summit: The need for dialogue of stakeholders

On March 22nd, at Athénée Palace Hilton in Bucharest, the Fourth Edition of Romanian Outsourcing & Shared Services Summit hosted the annual get-together of professionals in outsourcing and business shared services industry s, ready to share knowledge and build new alliances and dialogue, in order to transform and evolve the businesses, organizations and the whole industry's designs.

The plenary session of Romanian Outsourcing & Shared Services Summit brought together industry representatives, experts, academic figures and authorities to discuss the steps to be done towards an efficient cooperation between authorities and the industry stakeholders and the legislative changes that will alter the actual business model. It covered topics such as the authorities' strategies and plans for the industry, legislative changes and challenges, government grants and local tax exemptions, besides Romania's main competitive advantages as an outsourcing destination.

Legislation means stability. Stability lays premises for investments

According to MANUELA CATRINA, State Secretary, Ministry of Communication and Information Society, the Romanian labor market is defined by cost efficiency and skills, two factors most important for investors. "I believe, from out part, to be partners with key stakeholders of the industry in IT&C is mandatory. In terms of education, there were and still tough discussions on the curricula and how to build on the language skills and technical skills. We are looking at a permanent dialogue with the industry representatives in order to understand which skills are needed in various areas. Also, big data is a trend. There are so many topics that are strategically important for the development of the right infrastructure for a healthy business environment that I underline the need to participate at a permanent dialogue, in order to gasp a clearer and stronger perspective and to define the processes to put it in practice."

The state representative mentioned the partnership and education programs which started to be implemented in universities such as the programs implemented at The Economic Studies Academy, besides the tax exemption incentives granted for young programmers. "We need to promote Romania as innovation hub, more than services supplier and implementer. Innovative work, skills defined and developed at younger age will bring added value in the future workforce. IT is also very important to grow a consensus of all stakeholders participating to the development of business in Romania, to dispel the concern of investors regarding the instability of decisions and political turmoil and to be consequent in decisions and to run the programs that are generating viable results for industries and society. Creativity, mobile minds in continuously transforming word, conviviality, human defined act of wok will make the change compared to all the automated work," Manuela Catrina concluded.





---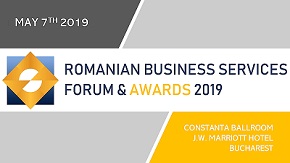 » Romania slides 10 positions in A.T. Ke...
» Having a say in the world of the busin...
» ROMANIAN OUTSOURCING AWARDS FOR EXCELL...
» Digitaljob.ro: Romanian software, onli...
» Ubisoft Coding Campus records 1,000 ap...
» Meet the winners of ROMANIAN BUSINESS ...
» Genpact's COO: Staying ahead of the cu...
» Digital Transformation Conference to t...
» Berg Software Romania: Reasons to outs...
» Andrei Voica: Meet the speakers at Rom...

Value creation enabled by people and innovation

As CEO of SG EBS since July 2018, you took over the Group's development strategy of the company on the Romanian market. Please share with us some of your conclusions, after almost one year of mandate, and plans
Read Full article »
Having a say in the world of the business service leaders

In Romania, The Association of Business Service Leaders in Romania (ABSL) is the organization that represents the business services sector in Romania, gathering high profile companies which conduct business in
Read Full article »
Digital Transformation Conference to take place on June 19 at Bucharest

The Diplomat – Bucharest organizes Digital Transformation Conference to be held on 14 of June in Bucharest, at Hilton Hotel - Regina Maria Hall, starting 8:30 AM.
Read Full article »
L&D Conference by The Diplomat Bucharest took place on June 4th at Bucharest

The Diplomat-Bucharest organizes the Third Edition of its Learning & Development CONFERENCE on 4 June, 2019 at InterContinental Hotel Bucharest starting 09:00 am.
Read Full article »
Meet the winners of ROMANIAN BUSINESS SERVICES AWARDS, 2019 edition

ROMANIAN BUSINESS SERVICES FORUM & AWARDS 2019, in its fifth year, brrought on May 7, in Bucharest, a new concept event with engaging keynote sessions by industry leaders, interactive panel discussions, network
Read Full article »