The most appreciated companies from the outsourcing industry, awarded at ABSL Gala 2018 Romania

The most appreciated companies in the outsourcing industry were awarded last night, at the ABSL Romania Awards Gala, a recent announcement of the company stated.

The event, now in its third edition, aimed to identify and highlight the projects of the previous year with the greatest impact in business and in the community. The leaders from the industry (companies and professionals) presented innovative solutions that change and streamline day-to-day activity in service centers and can be taken over by other market players.

In the presence of over 130 top business and academic representatives, as well as national, international, and governmental organizations, the following companies received an award for their project:

• Procter & Gamble - Business Leader in Business Excellence category
• Webhelp - Business Leader in Customer Experience category
• OMV Petrom Global Solutions - Business Leader in Business Innovation category
• Microsoft - Business Leader in Talent Development and Education category
• TELUS International - Business Leader in CSR category

In this edition, two new categories were included: Vibrant Workplace and Colleague of the Year. Their purpose was to recognize those initiatives and people who turn the outsourcing industry into a pleasant, attractive and dynamic work environment for all who want to perform, stand up and develop professionally. The winners of these new categories were:
• OMV Petrom Global Solutions - Business Leader in Vibrant Workplace category
• Daniela Tofan, Accounts Receivable Manager OMV Petrom Global Solutions - Colleague of the year category

"The ABSL Awards Gala is the event that highlights people, companies and projects that contribute to the development of the business sector and have a significant impact on Romania's economy. We had a large number of entries in each category, which means that the previous editions have reached their goal, and this motivates us to continue," said Cosmin Pătlăgeanu, President of ABSL.
The winners were nominated by a jury of business experts from Romania and abroad: Aurelia Luca (Managing Director - Skanska Property Romania), Charlie Crocker (CEO - British Romanian Chamber of Commerce), Dana Cavaleru (Executive Director - HR Management Club), David Hand (Director of Global Business Services – ACCA), Malgorzata Jasinska (Talent Solutions Managing Director, Central & Eastern Europe – Hays), Richard Perrin (Advisory Partner, Head of Advisory – KPMG), Silviana Petre Badea (Managing Director - JLL Romania).


Association of Business Service Leaders in Romania (ABSL) is the most important organization representing the business services sector, bringing together the most important market companies operating in areas such as Shared Services Center (SSC), Business Process Outsourcing (BPO), Information Technology Outsourcing (ITO) Research and Development (R&D).

The role of ABSL Romania is to support the expansion of the Business Service sector and its transformation into an important vector of Romania's economic growth. The association achieves its goals by facilitating the collaboration of the main players, as well as engaging authorities and interest groups in developing the key operational aspects of the industry.

The ABSL Romania includes both local and multinational companies, regional and global leaders such as: Accenture Services, Allianz Worldwide Partners, APT Resources & Services, Arvato Services Romania, Be Think Solve Execute, Bosch Service Solutions, Capgemini, Central Europe Technologies, Connections Consult, CRH Ciment Romania, DB Schenker, Deloitte Audit, DXC Technology, Ernst & Young, Eucom Business Language, Euromaster Tyre & Services, Genpact Romania, Global Remote Services, Goodyear Dunlop Tires Operations Romania, H Group IT Expert, HP Enterprise, HP Inc Romania, Luxoft Professional Romania, Mazars Consulting, Microfocus, Microsoft Romania, Mood Media, Office Depot Service Center, OMV Petrom Global Solutions, Optima Solutions Services, P4Cards, PwC Romania, Process Solutions, Procter & Gamble Marketing Romania, Renault Business Services, Samsung SSCE, SCC Services Romania, SELIR, Societe Generale European Business Services, Stefanini Romania, TELUS International, TMF Romania, UniCredit Business Integrated Solutions, Valoris Center, Vauban IT, Veeam Software, Vodafone Shared Services Romania, Webhelp, Wipro Technologies and WNS Global Services Romania.

ACCA, COS, Fine Law, HAYS, I Future, JLL, KPMG and SKANSKA also support ABSL as strategic partners of the association.

More details about ABSL can be found at www.absl.ro


---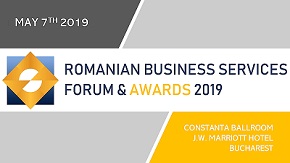 » Huawei opens a centre on cyber securit...
» ROMANIAN OUTSOURCING AWARDS FOR EXCELL...
» Romania ranks above EU average in gend...
» Bucharest, in the top of cities in Eur...
» Meet the experts who will decide the w...
» Berg Software Romania: Reasons to outs...
» KPMG launches an application enabling ...
» Bogdan Pelinescu, president of ABSL: A...
» ABSL GALA AWARDS celebrated its winner...
» George Rotariu, CEO Bitcoin Romania: B...

Catalina Dodu - Meet the speakers at Romanian Business Services Forum 2019 CEO LEADERS DEBATE, on May 7

Catalina Dodu runs the operations of Atos Romania since March 2014, with an experience of over 15 years in IT management. Previous to being appointed Country Manager, Catalina managed the System Integration div
Read Full article »
Philippe Beucher: Meet the speakers at Romanian Business Services Forum 2019 CEO LEADERS DEBATE, on May 7

Philippe Beucher is the Managing Director of Accenture Operations – Danubia Region, leading the Operations entity for Romania, Czech Republic, Slovakia and Hungary starting from February 2019. For the past 1
Read Full article »
Meet the speakers at Romanian Business Services Forum 2019 CEO LEADERS DEBATE, on May 7th - Matthieu Pasquier

Matthieu Pasquier is CEO of Societe Generale European Business Services since August 2018 bringing more than 27 years experience in Societe Generale group. During 2014-2018, Matthieu was Head of SG GSC Chennai
Read Full article »
Sorin Mindrutescu among the speakers at Romanian Business Services Forum 2019 CEO LEADERS DEBATE, on May 7th

Sorin Mindrutescu is the Country Leader for Oracle Romania, as of February 2003. In this role, he is responsible for local sales and project delivery. In Romania, Oracle has two major business directions: the l
Read Full article »
Meet the speakers at Romanian Business Services Forum 2019 CEO LEADERS DEBATE, on May 7th - Vivek Bakshi

Vivek Bakshi is the General Manager of Wipro Technologies. He has spent 12 years heading the International Locations / Delivery Centers Europe from the Bucharest office.
Read Full article »