Cybersecurity Tech Accord: 34 leading companies sign pledge to fight cyberattacks to promise equal protection for customers worldwide

Companies across every layer of internet communication vow to defend against misuse of their technology; promise to protect all customers regardless of nationality, geography or attack motivation.

This week, 34 global technology and security companies signed a Cybersecurity Tech Accord, a watershed agreement among the largest-ever group of companies agreeing to defend all customers everywhere from malicious attacks by cybercriminal enterprises and nation-states. The 34 companies include ABB Bitdefender, ABB, Avast, CA Technologies, Cisco, Dell, Facebook, Dell, HP, Oracle, Linkedin, Microsoft, Nielsen, Nokia, SAP, Symantec and together represent operators of technologies that power the world's internet communication and information infrastructure.

"The devastating attacks from the past year demonstrate that cybersecurity is not just about what any single company can do but also about what we can all do together." said Microsoft President Brad Smith. "This tech sector accord will help us take a principled path towards more effective steps to work together and defend customers around the world."

The companies made commitments in four areas:

Stronger defense
The companies will mount a stronger defense against cyberattacks. As part of this, recognizing that everyone deserves protection, the companies pledged to protect all customers globally regardless of the motivation for attacks online.

No offense
The companies will not help governments launch cyberattacks against innocent citizens and enterprises, and will protect against tampering or exploitation of their products and services through every stage of technology development, design and distribution.

Capacity building
The companies will do more to empower developers and the people and businesses that use their technology, helping them improve their capacity for protecting themselves. This may include joint work on new security practices and new features the companies can deploy in their individual products and services.

Collective action
The companies will build on existing relationships and together establish new formal and informal partnerships with industry, civil society and security researchers to improve technical collaboration, coordinate vulnerability disclosures, share threats and minimize the potential for malicious code to be introduced into cyberspace.

The companies may have adhered to some or all of these principles prior to the accord, or may have adhered without a public commitment but this agreement represents a public shared commitment to collaborate on cybersecurity efforts. The Tech Accord remains open to consideration of new private sector signatories, large or small and regardless of sector, who are trusted, have high cybersecurity standards and will adhere unreservedly to the Accord's principles.

"The real world consequences of cyber threats have been repeatedly proven. As an industry, we must band together to fight cybercriminals and stop future attacks from causing even more damage," said Kevin Simzer, Chief Operating Officer, Trend Micro.
The victims of cyberattacks are businesses and organizations of all sizes, with economic losses expected to reach $8 trillion by 2022. Recent cyberattacks have caused small businesses to shutter their doors, hospitals to delay surgeries and governments to halt services, among other disruptions and safety risks.

The Tech Accord will help to protect the integrity of the one trillion connected devices we expect to see deployed within the next 20 years," said Carolyn Herzog, General Counsel, Arm. "It aligns the resources, expertise and thinking of some of the world's most important technology companies to help to build a trusted foundation for technology users who will benefit immensely from a more security connected world."

Companies that signed the accord plan to hold their first meeting during the security-focused RSA Conference taking place in San Francisco, and will focus on capacity building and collective action. Future actions may include jointly developed guidelines or broadly deployed features, as well as information sharing and partnering to combat specific threats to make the online world a safer place for people and businesses everywhere — and uphold the promise and benefit technology offers society.


---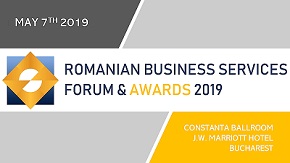 » Romania slides 10 positions in A.T. Ke...
» Having a say in the world of the busin...
» ROMANIAN OUTSOURCING AWARDS FOR EXCELL...
» Digitaljob.ro: Romanian software, onli...
» Ubisoft Coding Campus records 1,000 ap...
» Meet the winners of ROMANIAN BUSINESS ...
» Genpact's COO: Staying ahead of the cu...
» Digital Transformation Conference to t...
» Berg Software Romania: Reasons to outs...
» Andrei Voica: Meet the speakers at Rom...

Value creation enabled by people and innovation

As CEO of SG EBS since July 2018, you took over the Group's development strategy of the company on the Romanian market. Please share with us some of your conclusions, after almost one year of mandate, and plans
Read Full article »
Having a say in the world of the business service leaders

In Romania, The Association of Business Service Leaders in Romania (ABSL) is the organization that represents the business services sector in Romania, gathering high profile companies which conduct business in
Read Full article »
Digital Transformation Conference to take place on June 19 at Bucharest

The Diplomat – Bucharest organizes Digital Transformation Conference to be held on 14 of June in Bucharest, at Hilton Hotel - Regina Maria Hall, starting 8:30 AM.
Read Full article »
L&D Conference by The Diplomat Bucharest took place on June 4th at Bucharest

The Diplomat-Bucharest organizes the Third Edition of its Learning & Development CONFERENCE on 4 June, 2019 at InterContinental Hotel Bucharest starting 09:00 am.
Read Full article »
Meet the winners of ROMANIAN BUSINESS SERVICES AWARDS, 2019 edition

ROMANIAN BUSINESS SERVICES FORUM & AWARDS 2019, in its fifth year, brrought on May 7, in Bucharest, a new concept event with engaging keynote sessions by industry leaders, interactive panel discussions, network
Read Full article »