Romanian Outsourcing & Shared Services Summit: The very definition of millennials is change

Adapting to future workforce trends whilst balancing intelligent automation, digitalization, and millennial teams was one of the most discussed topic of the second session of the Fourth Edition of Romanian Outsourcing & Shared Services Summit, a flagship event dedicated to the ever transforming business ecosystem.

The event enjoyed a consistent panel of leaders from companies such as Genpact, PwC, Colliers, Noerr, CIMA and it has been moderated by COLIN C. LOVERING, CHAIRMAN, BRITISH ROMANIAN CHAMBER OF COMMERCE AND SENIOR VICE-PRESIDENT, AVISON YOUNG ROMANIA and it has been enabled by Diamond Partner Wipro, Gold Partners CIMA, Colliers, Genpact, PwC, Societe General European Business Services, Vastint, Strategic Partners ABSL, ANIS and Partners Noerr and Selir,

In the matter of millennials and how the companies and industries should adapt their approach to them, Francesca Postolache Partner, Audit Services, Leader of The Academy, PwC offered several interesting insights and they could be summed up as the very definition of millennials is change.

According to the PwC manager, the statistic figures are stating that by 2020, around 30 per cent global workforce will be formed of the generation defined as millennials. There are still diverse approaches in understanding the approaches and expectations of young generations regarding their jobs but the key learning point is that all generations hold important the criteria work-life balance, constant feedback- especially feeling appreciated at their jobs. An interesting differentiator between generations is the way they choose to communicate. For instance, millennials prefer to communicate different from previous generations as they mostly exclusively use the electronic ways of communications. In this respect, some communication platforms and tools are more likable to be used by young generations, compared than others. A conclusion is that it is important to educate and develop ourselves, in the digitally transformed work and living environment and to keep up with the present and future. We need to develop the ability to adapt for the future. A long discussed matter regarding millennials is their lack of patience and their likeness to shoes fast a job for another. The companies need to understand that the young generations are not anymore those employees executing tasks and accumulating knowledge on the way their professional evolvement. In this context, the importance of EQ emerge as much the classic IQ. The values are the same for all generations, millennials and non-millennials. However, millennials are more willing to change and try, to have new experiences, to see what it is the best fit for them. Flexibility and reeducation are key words.

Francesca joined PwC Romania in 2000. With more than 12 years of experience in audits performed under the International Standards on Auditing, Francesca had an active role in the development of the Romanian and Moldovan audit practice. She was responsible for the development of PricewaterhouseCoopers office in Moldova during 2002-2003.

As Partner of the Assurance Department, Francesca currently manages a sizable portfolio of clients in different industries, and also coordinates other assurance projects. She also coordinates the training centre The Academy at PwC and leads the Real Estate practice in PwC Romania. In her Real Estate leader capacity, Francesca acts as main contact for Romania on projects developed by our firm across Central and Eastern Europe and coordinates our input for the "Emerging Trends in Real Estate" flagship report published yearly by PwC in partnership with the Urban Land Institute.

The PwC manager's statements have been offered within the second session of Romanian Outsourcing & Shared Services Summit, covering topics on the future workforce trends such as digital transformation, automation, the repositioning of the importance of human capital within the wider context of the industry's need to shift from a resource user to a resource creator.



---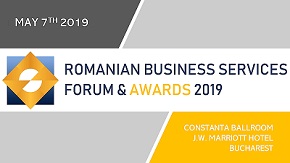 » Romania slides 10 positions in A.T. Ke...
» Having a say in the world of the busin...
» ROMANIAN OUTSOURCING AWARDS FOR EXCELL...
» Digitaljob.ro: Romanian software, onli...
» Ubisoft Coding Campus records 1,000 ap...
» Meet the winners of ROMANIAN BUSINESS ...
» Genpact's COO: Staying ahead of the cu...
» Digital Transformation Conference to t...
» Berg Software Romania: Reasons to outs...
» Andrei Voica: Meet the speakers at Rom...

Value creation enabled by people and innovation

As CEO of SG EBS since July 2018, you took over the Group's development strategy of the company on the Romanian market. Please share with us some of your conclusions, after almost one year of mandate, and plans
Read Full article »
Having a say in the world of the business service leaders

In Romania, The Association of Business Service Leaders in Romania (ABSL) is the organization that represents the business services sector in Romania, gathering high profile companies which conduct business in
Read Full article »
Digital Transformation Conference to take place on June 19 at Bucharest

The Diplomat – Bucharest organizes Digital Transformation Conference to be held on 14 of June in Bucharest, at Hilton Hotel - Regina Maria Hall, starting 8:30 AM.
Read Full article »
L&D Conference by The Diplomat Bucharest took place on June 4th at Bucharest

The Diplomat-Bucharest organizes the Third Edition of its Learning & Development CONFERENCE on 4 June, 2019 at InterContinental Hotel Bucharest starting 09:00 am.
Read Full article »
Meet the winners of ROMANIAN BUSINESS SERVICES AWARDS, 2019 edition

ROMANIAN BUSINESS SERVICES FORUM & AWARDS 2019, in its fifth year, brrought on May 7, in Bucharest, a new concept event with engaging keynote sessions by industry leaders, interactive panel discussions, network
Read Full article »