Romanian Outsourcing & Shared Services Summit: Diversity is value

The second session of the recently ended Romanian Outsourcing & Shared Services Summit highlighted topics on the future workforce trends such as digital transformation, automation, the repositioning of the importance of human capital. Some questions should be addressed in the new context of industry expectations and alignment to the new customer centricity, as stated by Iulia Nare, M&A HR Lead, Genpact Europe.

What are the challenges of industries within the new environment that we are now operating in? Diversity is value. We need to learn how to be cooperative and listen. Changing the culture of a company takes time. We need to be courageous and curious in order to drive further.

Retention is a challenge. Employers should be asking what is the employees' experience, what should they expect from the talent that they are so eagerly searching and how do they make these talents remain within the companies. Building an experience, culture, technology, how this environment will help to productivity, and how can we making it better are some of the questions we should address. Looking are these processes help our employees being more effective. Here is a lot of investment in nurturing this kind of environment.

In the context of the customers' centricity and impact of digital transformation, it is very important to return our training program to essence, not going to just performing without seeing the larger view. In outsourcing industry, IT, procurement, finance, it is very important to have this kind of development from tactical to strategic, to have the big perspective of the customer, build on it, and enwrapping in analytics.

Iulia Nare is a strong professional experienced in People Practices – building teams to set up new sites, new functions, reorganizing operating models, ensuring business as usual runs smoothly, re-inventing learning, working with operations and clients to integrate acquisitions or implement global transformation visions. According to Iulia, "these days we are learning to embrace agile organization structures, technology, artificial intelligence, self-directed anywhere learning and human centric design." As M&A HR Lead for Genpact Europe, she is working with clients and experts on process, analytics and digital to craft the employee experience through this journey.

This March, the professionals, leaders and key voices in the outsourcing and business shared services industries joined for three rounds of lively knowledge exchange within the Fourth Edition of Romanian Outsourcing & Shared Services Summit, a flagship event dedicated to the ever transforming business ecosystem.

The event has been moderated by COLIN C. LOVERING, Chairman, BRITISH ROMANIAN CHAMBER OF COMMERCE and Senior Vice-President, AVISON YOUNG ROMANIA and it has been enabled by Diamond Partner Wipro, Gold Partners CIMA, Colliers, Genpact, PwC, Societe General European Business Services, Vastint, Strategic Partners ABSL, ANIS and Partners Noerr and Selir.

---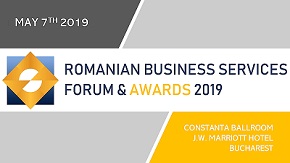 » Raiffeisen Bank Romania outsources onl...
» Horváth & Partners launches Steering ...
» JLL: Total office space in Bucharest t...
» Genpact, Luxoft and Oracle, top lessee...
» SSC in Romania. Who takes the lion's s...
» Oracle results pushed down by a strong...
» World-class HR organizations now spend...
» Romanian employers report the stronges...
» ROMANIAN OUTSOURCING AWARDS FOR EXCELL...
» Eucom: Nine out of ten corporate Roman...

My HR Lab: Research of suitable candidates and giving feedback to rejected ones, the biggest challenge in HR

During June 2019, My HR Lab company run an online (social media platforms) survey "Challenges of the recruitment process" which enrolled over 100 professionals working in HR and recruitment in Romania.
Read Full article »
The local market needs more added-value and complex projects to be developed by the companies

The statement has been uttered within this year's Romanian Outsourcing and Shared Services Summit by Catalina Dodu, Country Manager at Atos, pointing to the local enablers that could enhance the innovation and
Read Full article »
The office market at a glance: The round for tenants is on

Data provided by CBRE show that the office spaces segment will continue to grow rapidly in 2019, and 15 new projects covering 304.000 sqm will be delivered. According to the real estate consultancy agency, curr
Read Full article »
People Empowering Business Forum 2019 to take place on October, 30 at Bucharest

Latest trends like demographic upheaval, globalization, digital technology, and changing social values and worker expectations, are disrupting business models and radically changing the workplace. These are req
Read Full article »
Addressing the mantra of cyber-security: Confidentiality, integrity and availability

The fast advancement of technology in all the aspects of everyday life, either personal or professional, and the emerging of AI (Artificial Intelligence) and ML (Machine Learning), not to mention cloud technolo
Read Full article »