ANIS announces the launch of the second version of Software Purchasing Guide for Public Institutions

The team consisting of representatives of the General Secretariat of the Government / Governmental Intelligence Agency, the National Agency for Public Procurement (ANAP) and the Employers' Association of Software and Services Industry (ANIS) announces the launch of the second version of the Software Purchasing Guide for Public Institutions in Romania, following the approach started in 2017.

The Guide is an ever-improving document in order to provide new milestones in support of people involved in public procurement, both with a view to boosting public sector procurement and to prevent system failures in the future to keep them technically and / or legally captive, a press release informed.

Cristian Cucu, Secretary of State, General Secretariat of the Government / Governmental CIO: "We have joined this approach because Romania has a huge growth potential, both from a public sector perspective where digitization and interoperability are topics of direct interest to us, but especially from the perspective of exporting solutions in the region. The Guide is a useful document for any employee involved in the procurement process and that's why we want to continue this effort. "

Mihai Matei, Vice President of ANIS and Project Technical Coordinator: "Based on the positive feedback received after the first version of the Guide, ANIS continued its effort by working on developing the concept by providing additional support to procurement staff. One of ANIS's strategic objectives, together with innovation and education, is the increased use of technology at country level, which is directly linked to the level of digitization of public administration. Increasing the level of digitization will bring immediate and immediate benefits to both the citizen and the creation of a climate favorable to investment by eliminating bureaucracy and efficiency. "



---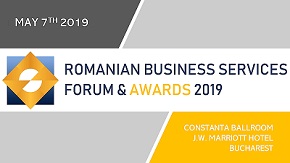 » The most appreciated companies from th...
» Webhelp Romania aiming for EUR 10 mill...
» Tremend joins Mellanox in powering the...
» The Outsourcing industry announces its...
» Manpower: Romania's labor market, more...
» Deloitte's Tech Trends 2019 report: B...
» Bucharest, in the top of cities in Eur...
» Oracle reaches 4,200 employees and pla...
» Genpact's COO: Staying ahead of the cu...
» Ascentis: The top ten HR trends for 20...

Nomination are now open for Romanian Business Services Forum and Awards

Nominations have opened for the prestigious Romanian Business Services Forum & Awards. The 2019 awards will continue to recognize and reinforce the important contribution made by business services professionals
Read Full article »
Study: 89 per cent of finance teams yet to embrace Artificial Intelligence

Report by Association of International Certified Professional Accountants and Oracle shows that almost 90 per cent of finance teams do not have the skills to support digital transformation.
Read Full article »
Bucharest, in the top of cities in Europe with the largest number of experts in high-tech industry

Bucharest is among the top cities boasting the most experts in the high-tech innovative industry, with over 70,000 current employees, next to London, Dublin, Madrid or Budapest, reads a study conducted by CBRE
Read Full article »
CBRE study: Post-millennials, the happiest about their offices
During 2018, real estate consultancy company CBRE conducted the first study dedicated to work environment in office buildings in Bucharest. The respondents have been structured in four age segments, such as Z g
Read Full article »
Deloitte's Tech Trends 2019 report: Beyond the digital frontier

The recently released Deloitte's Tech Trends 2019: Beyond the digital frontier, as each Tech Trends report in the series conducted by the consultancy company, lobbies for embracing the increasing, often mind-b
Read Full article »