Benefits to motivate the employees and increase their performance: healthy solutions

One of the biggest challenges the companies are dealing with is to retain valuable people and motivate them to continue to contribute to the success of the company. For some industries such as IT&C, increasing the staff satisfaction is mandatory nowadays.

The conventional motivators (financial) continue to be efficient up to a certain point. Thus, the importance of welfare, development, and engagement tools increased during the last years because are considered to successfully motivate employees and complete the benefits package offered as a HR policy.

Productivity losses caused by absenteeism cost employers 225.8 billion Us dollars every year in the United States, (or 1,685 US dollars per employee). But presenteeism may be a greater expense for businesses, therefore the employees' wellbeing becomes very important for any employer. For Romania, there are no available data, but according to various studies, almost 50 per cent of Romanians do not have breakfast, which is the most important meal of the day providing 30 per cent of the daily energy boost. Considering the age categories not having breakfast are the most active workforce (18-45 y.o), the work performance and health are negatively impacted and offering a healthy lunch in the office on regular basis becomes very important.

Among the programs companies choose are the classic ones regarding the employees' welfare – medical services package, membership cards and other facilities to fitness clubs. Still, during the last couple of years, companies included lectures with health coaches, various training programs on nutrition, sports, mindfulness, periodical or ad hoc activities encouraging healthy living (stop smoking, cooking lessons, meditation practices, massage or relaxation hours, happy hours, dancing classes other).

Some employers are more focused on offering healthy meals and snacks at the office, as benefits for their staff. The healthy meals and snacks recipes are the results of customized programs developed by catering companies in partnership with dieticians after a careful assessment of the needs and health status of employees. The moment when the meals are offered is also taken into consideration – therefore, an energy boost is very valuable after long meetings or in the afternoon, for example.
Such programs are becoming more important for IT&C and pharma companies. They are offering healthy lunches on regular basis, snacks, and afternoon meals to their staff. According to Denisa Grădeanu, Owner SanaGout, the demand for these programs increased by 10 per cent among their client portfolio in 2017 compared to 2016. Lunches from 30% from the company turnover in 2016 to 50 per cent in 2017.

"In 2015 we reconsidered our positioning and our business strategy. We reorganized the company, reshaped the team, considered new services, unique for the market creating our own programs and events, our own products, focused on authenticity. We started offering our clients more than catering services – we offered consultancy and event concepts, happenings including culinary shows, event solutions to their communication objectives. For example, our wellbeing packages offer benefits for the employees of big companies and are developed with the support of specialists in nutrition after a careful consideration of the specific needs of each client. As expected, some companies reacted very well to these very customized services and are loyal clients. These companies from IT&C and pharma know how important it is for their success to show their appreciation to their employees. Also, our customers appreciate that for their events (internal or B2B) they can find more than a food provider."

This focus on the employee comfort and health is aligned to the first two of the new eight HR trends announced for 2018: from PTB (please the boss) to EI (employee intimacy), or renewed focus on productivity. Meaning that the employee needs are individually considered, and the productivity boost will be also supported by the customized rewards offered to the best performing staff members.

"It is nice when your company is appreciating your efforts and makes sure that you have a tasteful and healthy afternoon snack or a healthy, delicious, and balanced lunch, right? We would all appreciate that and when we created these specific programs, we put ourselves in the shoes of the employees and thought about what would make us feel better, what would make us feel really appreciated. Also, food is not only about the taste. Food has a major impact on our health and our efficiency, so we asked for specialized counsel from nutritionists. We invested time and other resources in identifying the right partners to support our efforts to create the customized programs based on the needs of specific employees and the period of each day. Food can help us recharge the batteries in the afternoon after long discussions or meetings or give us the right energy boost after lunch for a challenging afternoon. It can also be rewarding, or indulging.", stated Denisa Gradeanu, Owner SanaGout.

Healthy foods offered at work have been associated with a 25 percent greater likelihood of a high self-rated job performance rating, which is very important nowadays for both employee and employer. Also, it is very important for the health of employees. According to a study conducted by SanaGout among the staff of four companies with 500 employees (average) that offer healthy lunch, only after the first three months of customized healthy lunch delivery, both the health and the productivity of the staff were improved.

---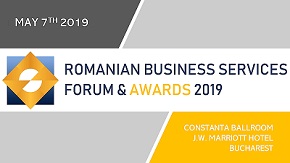 » Romania ranks above EU average in gend...
» The voting procedure for the BRAND OF ...
» Berg Software Romania: Reasons to outs...
» Deloitte's Tech Trends 2019 report: B...
» Steven Hunt, SAP SuccessFactors: Tecto...
» Molson Coors started to grow its busin...
» Societe Generale-European Business Ser...
» Capgemini: Investing in people is the ...
» Countries in CEE region, including Rom...
» Oracle reaches 4,200 employees and pla...

The voting procedure for the BRAND OF THE YEAR 2019 IN ROMANIAN BUSINESS SERVICES is open!

This is the fifth edition of the event and the second year to select the public's favorite brand in the business services BPO, ITO and SSC in Romania.
Read Full article »
Romania ranks above EU average in gender employment gap

In Romania, the employment rate measures the number of people who have a job as a percentage of the working age population. This page provides - Romania Employment Rate- actual values, historical data, forecast
Read Full article »
Steven Hunt, SAP SuccessFactors: Tectonic movements in the world of work

The world of work will be shaped by five tectonic movements – or global megatrends – over the next few years. As you may guess from the geological analogy, the effects could be dramatic.
Read Full article »
EY: European companies are divesting to future-proof growth

According to the EY Global Corporate Divestment Study, 84 per cent of European companies surveyed intending to divest within the next two years (the majority planning to do so in the coming 12 months), executiv
Read Full article »
Knowledge-sharing presentation on latest trends the industry deals, in the program of Romanian Business Services Forum and Awards

Part of the upcoming joint half-day event, Romanian Business Services Forum and Awards to be held at JW Marriott Hotel on May 7th, the discussion agenda comprises a complex Knowledge-sharing presentation on lat
Read Full article »