Oracle redefines the cloud database category with world's first autonomous database

At an Oracle event held recently, Oracle Executive Chairman and CTO Larry Ellison announced the availability of the first service based on the revolutionary new Oracle Autonomous Database.

The world's first self-managing, self-securing, self-repairing database cloud service, Oracle Autonomous Data Warehouse Cloud, uses machine learning to deliver industry-leading performance, security capabilities, and availability with no human intervention, at half the cost of Amazon Web Services.

"This technology changes everything," said Ellison. "The Oracle Autonomous Database is based on technology as revolutionary as the Internet. It patches, tunes, and updates itself. Amazon's databases cost more and do less."

Oracle Autonomous Data Warehouse Cloud delivers all of the analytical capabilities, security features, and high availability of the Oracle Database without any of the complexities of configuration, tuning, and administration—even as warehousing workloads and data volumes change. The autonomous database is an entirely new class of offering which requires zero operational administration on the customer's part, enabling cloud data warehousing that is:

• Easy. The industry's first one-step warehouse provisioning spins up a secure data warehouse with automatic backup, encryption, and a high availability architecture in mere seconds. Migration to cloud is simple due to full compatibility with existing on-premises databases.
• Fast. Industry-leading query performance with no tuning required. Oracle Autonomous Data Warehouse Cloud is so fast that Oracle guarantees the same workload at half the cost of Amazon Web Services.
• Elastic. Independent, online scaling of compute and storage. The ability to dynamically grow or shrink resources enables true pay-per-use, dramatically lowering costs.

The world's most popular data warehouse database is now the world's simplest and safest. Leveraging decades of experience and technology leadership to transform how companies benefit from database services, Oracle Autonomous Data Warehouse Cloud is the first of many Oracle Autonomous Database Cloud services. Other services in development include Oracle Autonomous Database for Transaction Processing, Oracle Autonomous NoSQL Database for fast, massive-scale reads and writes (commonly demanded by the Internet of Things), and Oracle Autonomous Graph Database for network analysis. Each of these offerings is tuned to its specific workload, and shares the defining characteristics of Oracle Autonomous Database services:
• Self-managing. Eliminates human labor and human error to provision, secure, monitor, backup, recover, troubleshoot, and tune the database. Automatically upgrades and patches itself while running.
• Self-securing. Protects from external attacks and malicious internal users. Automatically applies security updates while running to protect against cyberattacks, and automatically encrypts all data.
• Self-repairing. Provides automated protection from all planned and unplanned downtime with up to 99.995 percent availability, resulting in less than 2.5 minutes of downtime per month, including planned maintenance.

The Oracle Autonomous Data Warehouse is built on Oracle Database 18c, the first release in Oracle's new annual database software release model. A hotbed of innovation with over 100 new features, Oracle Database 18c is now available on Oracle Cloud Services, Oracle engineered systems, and livesql.oracle.com.

The announcement follows on the heels of Oracle's recently announced expansion of its Oracle Cloud Platform Autonomous Services. During this calendar year, Oracle plans to deliver Oracle Autonomous Analytics, Oracle Autonomous Mobility, Oracle Autonomous Application Development and Oracle Autonomous Integration services.

Oracle will cut your Amazon bill in half when you run the same data warehouse workload on Oracle Autonomous Data Warehouse Cloud Service as compared to running on Amazon AWS. The minimum workload is one hour for this offer. Offer valid through May 31, 2019. Terms and conditions apply. See http://www.oracle.com/guaranteed.
 


---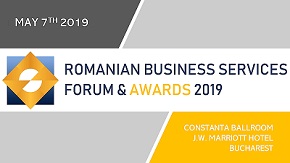 » Molson Coors started to grow its busin...
» TELUS International Europe: Three ways...
» Deloitte's Tech Trends 2019 report: B...
» Capgemini: Investing in people is the ...
» The Outsourcing industry announces its...
» KPMG study: Big data needs a big re-th...
» Romania ranks above EU average in gend...
» Committed to growth
» ROMANIAN OUTSOURCING AWARDS FOR EXCELL...
» Engagement and inclusion through direc...

The voting procedure for the BRAND OF THE YEAR 2019 IN ROMANIAN BUSINESS SERVICES is open!

This is the fifth edition of the event and the second year to select the public's favorite brand in the business services BPO, ITO and SSC in Romania.
Read Full article »
Romania ranks above EU average in gender employment gap

In Romania, the employment rate measures the number of people who have a job as a percentage of the working age population. This page provides - Romania Employment Rate- actual values, historical data, forecast
Read Full article »
Steven Hunt, SAP SuccessFactors: Tectonic movements in the world of work

The world of work will be shaped by five tectonic movements – or global megatrends – over the next few years. As you may guess from the geological analogy, the effects could be dramatic.
Read Full article »
EY: European companies are divesting to future-proof growth

According to the EY Global Corporate Divestment Study, 84 per cent of European companies surveyed intending to divest within the next two years (the majority planning to do so in the coming 12 months), executiv
Read Full article »
Knowledge-sharing presentation on latest trends the industry deals, in the program of Romanian Business Services Forum and Awards

Part of the upcoming joint half-day event, Romanian Business Services Forum and Awards to be held at JW Marriott Hotel on May 7th, the discussion agenda comprises a complex Knowledge-sharing presentation on lat
Read Full article »