Meet the speakers at Digital Finance Conference on March 28th

The Diplomat – Bucharest organizes the second edition of Digital Finance Conference to be held on 28 of March in Bucharest, at InterContinental Hotel, Fortuna Hall starting 8:30 AM.

The event partners are: Gold partner Think Ahead ACCA, Partner Oracle, with the institutional support of Romanian Association of Banks and Smart Everything Everywhere, ANIS, with the support of All to Know.

Evolving strong into a profoundly changed world where digital emerges at a fast pace, the world business community has to rethink its fundamentals at all levels. In this context, the Digital Financial Services must expand the delivery of basic financial services to consumers and partners through innovative technologies to their best fit within a global market where the consumer is more and more linked and expects novelty and innovation.

The event agenda will cover regulatory issues on digital financial services including mobile financial services branchless banking, digital payment solutions and other new technologies being introduced to promote digital finance conference as a major driver of greater financial inclusion in emerging and developing countries.

EVENT AGENDA

08:30 – 9:00 Welcome coffee & registration of participants

09:00 – 10:30 First Session
Building the 'Bank of the Future'. Transformation ahead - trends shaping future of finance
• Evolution of Digital Banking
• Legal, Tax and Regulatory Challenges and Opportunities
• Financial Innovation and the Future of Payments
• Financial services automation and digital transformation programmes
• Beyond shadow of GDPR
• Robotic process automation changing finance landscape
• How to leverage artificial intelligence in digital transformation
• Fraud Prevention

10:30-10:40 Q &A Session

10:40- 11:00 Coffee Break
CONFIRMED SPEAKERS


SERGIU OPRESCU, Executive President, Alpha Bank Romania|President of the Romanian Banking Association's Board of Directors
COSMIN VLADIMIRESCU, General Manager, MasterCard Romania
RODICA TUCHILA, Executive Director, Romanian Banking Association
ANDREIA STANCIU, Head of ACCA Romania
DAN NECHITA, Co-founder|President, Smart Everything Everywhere - SEE
TEODOR BLIDARUS, President, ANIS Romania
CONSTANTIN MAGDALINA, Emerging Trends and Technologies Expert| co-author Barometer of Customer Centricity and Barometer of Digitalization in Romania, VALORIA  


11:00-12:30 Second Session
Transforming Customer experience through digital innovation
• Anticipating future customer behaviours and fostering a high level of engagement through digital strategies.
• The new model of financial services: putting customers at the centre of an integrated omnichannel strategy.
• Faster Payment Solutions and Customer Engagement
• Process digitization - a customer journey end to end

12:30- 12:45 Q & A

12:45- 14:00 Networking lunch


WHO SHOULD ATTEND?

• Policy makers & leaders seeking greater participation in the digital economy
• Financial and telecommunications/ICT regulators
• Academia and institutions critical to research and development of the innovation sector
• Entrepreneurs seeking to develop and use innovative financial solutions
• Mobile network operators, banks, financial service providers, mobile financial services platform providers
• International organizations, NGOs involved in financial inclusion programmes and civil society.





---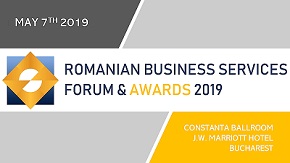 » Huawei opens a centre on cyber securit...
» ROMANIAN OUTSOURCING AWARDS FOR EXCELL...
» Romania ranks above EU average in gend...
» Bucharest, in the top of cities in Eur...
» Berg Software Romania: Reasons to outs...
» Meet the experts who will decide the w...
» KPMG launches an application enabling ...
» Bogdan Pelinescu, president of ABSL: A...
» ABSL GALA AWARDS celebrated its winner...
» George Rotariu, CEO Bitcoin Romania: B...

Catalina Dodu - Meet the speakers at Romanian Business Services Forum 2019 CEO LEADERS DEBATE, on May 7

Catalina Dodu runs the operations of Atos Romania since March 2014, with an experience of over 15 years in IT management. Previous to being appointed Country Manager, Catalina managed the System Integration div
Read Full article »
Philippe Beucher: Meet the speakers at Romanian Business Services Forum 2019 CEO LEADERS DEBATE, on May 7

Philippe Beucher is the Managing Director of Accenture Operations – Danubia Region, leading the Operations entity for Romania, Czech Republic, Slovakia and Hungary starting from February 2019. For the past 1
Read Full article »
Meet the speakers at Romanian Business Services Forum 2019 CEO LEADERS DEBATE, on May 7th - Matthieu Pasquier

Matthieu Pasquier is CEO of Societe Generale European Business Services since August 2018 bringing more than 27 years experience in Societe Generale group. During 2014-2018, Matthieu was Head of SG GSC Chennai
Read Full article »
Sorin Mindrutescu among the speakers at Romanian Business Services Forum 2019 CEO LEADERS DEBATE, on May 7th

Sorin Mindrutescu is the Country Leader for Oracle Romania, as of February 2003. In this role, he is responsible for local sales and project delivery. In Romania, Oracle has two major business directions: the l
Read Full article »
Meet the speakers at Romanian Business Services Forum 2019 CEO LEADERS DEBATE, on May 7th - Vivek Bakshi

Vivek Bakshi is the General Manager of Wipro Technologies. He has spent 12 years heading the International Locations / Delivery Centers Europe from the Bucharest office.
Read Full article »