Deloitte study reveals Romania's young talents look for organizations in which they matter

Only 15.6 per cent of Romanian millennials think that university graduates in the country are well prepared for professional work. However, 75 per cent of the Romanian students wish to continue their education to a post-graduate level, compared to 39 per cent across Central and Eastern Europe.

Deloitte's "First Steps into the Labour Market" 2018 report describes the views on work, life and education of more than 5,700 students and recent graduates from leading universities in 14 countries across the region.

According to the report, almost 50 per cent of the Romanian respondents regard education as one of the most important values in life. When it comes to work experience, the two most regularly selected types of experience were volunteering and jobs or internships in Romania related to the respondent's fields of study (both chosen by 57 per cent). As many as 90 per cent think that internships provide useful experience.

"Romanian students do not feel prepared for work as they believe that their education is not in line with the current challenges experienced by a young workforce and that is something we can see in practice. Thus it appears that the business and academia should be working together with students to understand where their dissatisfaction lies, and to make the connections between the two worlds more tangible and apparent so that young people can feel more prepared for work," said Alexandra Iorgulescu, HR Director Deloitte Romania.
In terms of priorities, young millennials put education (49.6 per cent) above work (46.6 per cent) with health and a happy family on top.

"To us this is a sign that young people want to be part of something that is meaningful, working for an organisation where their work is appreciated, their opinions matter, they can make a difference and that is democratically managed. Employers that get this balance right will win the loyalty and dedication of their most talented young people," Iorgulescu added.
In the opinion of the Romanian respondents, the priorities that are most important for the ideal leader should be ensuring the long-term future of the organisation (47 per cent) and supporting employees' professional growth and development (45 per cent).
Like their peers in many other countries, when choosing their jobs Romanian millennials value first and foremost the opportunity to develop and acquire new skills (59.7 per cent). Though an attractive salary is the second most important factor, it was selected as important by only 10.4 per cent.

Nearly half of young Romanians (46.8 per cent) wish primarily to become experts in their fields, while 35.6 per cent wish to hold managerial positions in the future. The majority of respondents would like to work in a large international company (43.6 per cent) or have a business of their own (17.3 per cent).

When it comes to salary, Romanian millennials seem to value more highly the opportunity to work than the income it generates as only 17.4 per cent said they wanted to earn more than 3,500 lei. Just 8.1 per cent aim to earn more than 4,500 lei, most of whom are men planning to become managers. Females, meanwhile, expect lower pay: women were most likely to say that they want to earn up to 2,000 lei, whereas men most often selected 2,501-3,000 lei.
Surprisingly, when it comes to moving abroad, just a little over 50 per cent would move to another country for a job, slightly below the average across the region (56 per cent). The result is quite surprising in the context in which only 7.1 per cent of the participants in the survey assess the economic situation in a positive light, less than a third of the regional average.

Based on the survey's findings, Deloitte has developed a set of rules that together form a guide for becoming the 'perfect' employer of millennial talent. The key headlines are:
• Provide leadership and guidance
• Allow democracy in decision making
• Promote teamwork
• Set continually interesting and stimulating tasks and challenges
• Allow fun in the workplace
• Encourage further professional education.
• Work with universities to cultivate the professionals of tomorrow
• Create diverse working environments where the generations can learn from one another.

Fuller details are available for download at https://www2.deloitte.com/content/dam/Deloitte/ro/Documents/CE-First-Steps-into-the-Labour-Market-2018.pdf.

---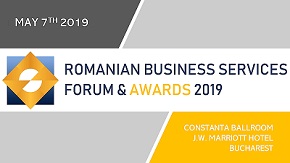 » Digital Transformation Conference to t...
» ASE's HR Master – helping students i...
» Meet the winners of ROMANIAN BUSINESS ...
» Marian V. Popa: Meet the speakers at R...
» Randstad Employer Branding 2019: Salar...
» Zitec launches its 1 million Euro Mirr...
» Deloitte Romania opens application for...
» Capgemini to open new office at Suceav...
» Romulus Caralicea: Meet the speakers a...
» Oracle Romania inaugurates the Iasi of...

Digital Transformation Conference to take place on June 19 at Bucharest

The Diplomat – Bucharest organizes Digital Transformation Conference to be held on 14 of June in Bucharest, at Hilton Hotel - Regina Maria Hall, starting 8:30 AM.
Read Full article »
L&D Conference by The Diplomat Bucharest to take place on June 4th at Bucharest

The Diplomat-Bucharest organizes the Third Edition of its Learning & Development CONFERENCE on 4 June, 2019 at InterContinental Hotel Bucharest starting 09:00 am.
Read Full article »
Meet the winners of ROMANIAN BUSINESS SERVICES AWARDS, 2019 edition

ROMANIAN BUSINESS SERVICES FORUM & AWARDS 2019, in its fifth year, brrought on May 7, in Bucharest, a new concept event with engaging keynote sessions by industry leaders, interactive panel discussions, network
Read Full article »
Few hours away from to the long awaited CEO Leaders Debate, a premiere of Romanian Business Services Forum and Awards
We are a few hours away to the long awaited CEO Leaders Debate, a premiere of Romanian Business Services Forum and Awards on May 7.
Read Full article »
Colin C. Lovering: Meet the speakers at Romanian Business Services Forum & Awards 2019, on May 7

Colin C. Lovering has been living and working in Romania since 2009 when he arrived to offer consultancy and advice to organisations looking for growth and profitability and founded Achieve International.
Read Full article »