IT&C companies are the first for renting new office space

The IT&C sector ranks first in the top of fields renting new office space in 2017, study of ESOP I Corfac International consulting company says.

Those companies were interested in 51 per centof areas included in rental contracts in 2017. They were followed by the finance, banking and insurance sector with 16%. At the same time, 38 per cent of office area in Bucharest, planned to be commissioned in 2018 are already rented, according to an analysis made by ESOP I Corfac International consulting company.

"This year, most companies which have been looking for new headquarters are from the IT&C sector. 89 per centof the office area intermediated by ESOP in the first two months was reserved for IT&C companies. Among office buildings chosen by ESOP clients there are Campus 6 and Timpuri Noi Square, state of the art projects, with many employee facilities," said Alexandru Petrescu, managing partner ESOP Consulting I CORFAC International.

Specialists estimate this trend will continue and three out of five companies looking for new headquarters signing renta contracts in the next six months will be from IT&C, research-development, BPO, shared services, call center or financial banking fields, in Bucharest and the main university centres in the country.

The share of rental, pre-rental and expansion of new office areas grew in 2017 by 74 per centcompared to 71 per centin 2016, with a total of over 228,00 sq.m of the total of 308,000 sq.m negotiated.

Most new office contracts (rental, pre-rental and expansion) were for office areas in the centre-northern parts of Bucharest, with a total of 135,168 sq.m, followed by the centre-western area with a total of 49,361 sq.m and the centre-southern are with 23,373 sq.m. This top has in view areas where most new, modern office areas of class A and B were commissioned in 2017.

In 2018, the centre-western area has a higher share of all rented areas, when 56 per centof projects completed in 2018 are concentrated in this perimeter.

---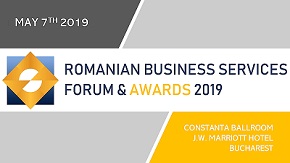 » Romania slides 10 positions in A.T. Ke...
» Having a say in the world of the busin...
» ROMANIAN OUTSOURCING AWARDS FOR EXCELL...
» Digitaljob.ro: Romanian software, onli...
» Ubisoft Coding Campus records 1,000 ap...
» Meet the winners of ROMANIAN BUSINESS ...
» Genpact's COO: Staying ahead of the cu...
» Digital Transformation Conference to t...
» Berg Software Romania: Reasons to outs...
» Andrei Voica: Meet the speakers at Rom...

Value creation enabled by people and innovation

As CEO of SG EBS since July 2018, you took over the Group's development strategy of the company on the Romanian market. Please share with us some of your conclusions, after almost one year of mandate, and plans
Read Full article »
Having a say in the world of the business service leaders

In Romania, The Association of Business Service Leaders in Romania (ABSL) is the organization that represents the business services sector in Romania, gathering high profile companies which conduct business in
Read Full article »
Digital Transformation Conference to take place on June 19 at Bucharest

The Diplomat – Bucharest organizes Digital Transformation Conference to be held on 14 of June in Bucharest, at Hilton Hotel - Regina Maria Hall, starting 8:30 AM.
Read Full article »
L&D Conference by The Diplomat Bucharest took place on June 4th at Bucharest

The Diplomat-Bucharest organizes the Third Edition of its Learning & Development CONFERENCE on 4 June, 2019 at InterContinental Hotel Bucharest starting 09:00 am.
Read Full article »
Meet the winners of ROMANIAN BUSINESS SERVICES AWARDS, 2019 edition

ROMANIAN BUSINESS SERVICES FORUM & AWARDS 2019, in its fifth year, brrought on May 7, in Bucharest, a new concept event with engaging keynote sessions by industry leaders, interactive panel discussions, network
Read Full article »