IT&C companies are the first for renting new office space

The IT&C sector ranks first in the top of fields renting new office space in 2017, study of ESOP I Corfac International consulting company says.

Those companies were interested in 51 per centof areas included in rental contracts in 2017. They were followed by the finance, banking and insurance sector with 16%. At the same time, 38 per cent of office area in Bucharest, planned to be commissioned in 2018 are already rented, according to an analysis made by ESOP I Corfac International consulting company.

"This year, most companies which have been looking for new headquarters are from the IT&C sector. 89 per centof the office area intermediated by ESOP in the first two months was reserved for IT&C companies. Among office buildings chosen by ESOP clients there are Campus 6 and Timpuri Noi Square, state of the art projects, with many employee facilities," said Alexandru Petrescu, managing partner ESOP Consulting I CORFAC International.

Specialists estimate this trend will continue and three out of five companies looking for new headquarters signing renta contracts in the next six months will be from IT&C, research-development, BPO, shared services, call center or financial banking fields, in Bucharest and the main university centres in the country.

The share of rental, pre-rental and expansion of new office areas grew in 2017 by 74 per centcompared to 71 per centin 2016, with a total of over 228,00 sq.m of the total of 308,000 sq.m negotiated.

Most new office contracts (rental, pre-rental and expansion) were for office areas in the centre-northern parts of Bucharest, with a total of 135,168 sq.m, followed by the centre-western area with a total of 49,361 sq.m and the centre-southern are with 23,373 sq.m. This top has in view areas where most new, modern office areas of class A and B were commissioned in 2017.

In 2018, the centre-western area has a higher share of all rented areas, when 56 per centof projects completed in 2018 are concentrated in this perimeter.

---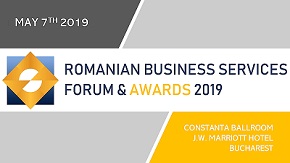 » Romania ranks above EU average in gend...
» The voting procedure for the BRAND OF ...
» Berg Software Romania: Reasons to outs...
» Deloitte's Tech Trends 2019 report: B...
» Steven Hunt, SAP SuccessFactors: Tecto...
» Molson Coors started to grow its busin...
» Societe Generale-European Business Ser...
» Capgemini: Investing in people is the ...
» Countries in CEE region, including Rom...
» Oracle reaches 4,200 employees and pla...

The voting procedure for the BRAND OF THE YEAR 2019 IN ROMANIAN BUSINESS SERVICES is open!

This is the fifth edition of the event and the second year to select the public's favorite brand in the business services BPO, ITO and SSC in Romania.
Read Full article »
Romania ranks above EU average in gender employment gap

In Romania, the employment rate measures the number of people who have a job as a percentage of the working age population. This page provides - Romania Employment Rate- actual values, historical data, forecast
Read Full article »
Steven Hunt, SAP SuccessFactors: Tectonic movements in the world of work

The world of work will be shaped by five tectonic movements – or global megatrends – over the next few years. As you may guess from the geological analogy, the effects could be dramatic.
Read Full article »
EY: European companies are divesting to future-proof growth

According to the EY Global Corporate Divestment Study, 84 per cent of European companies surveyed intending to divest within the next two years (the majority planning to do so in the coming 12 months), executiv
Read Full article »
Knowledge-sharing presentation on latest trends the industry deals, in the program of Romanian Business Services Forum and Awards

Part of the upcoming joint half-day event, Romanian Business Services Forum and Awards to be held at JW Marriott Hotel on May 7th, the discussion agenda comprises a complex Knowledge-sharing presentation on lat
Read Full article »