Freelancing – a solution to staff shortages for companies

According to Smartree Romania, a leading provider in Romania of outsourcing payroll services and personnel administration, freelancing has become more present among Romanians lately. Working with freelancers can be a solution to fill staff shortages or to carry out temporary work in specific industries.

Freelancing is a way of working already well established in some areas where there is a critical shortage of staff. As a way of doing work, freelancing can offer benefits to startups or small businesses that cannot afford to hire staff with a full-time contract, but also to companies that are involved in temporary projects and need or prefer to work with freelancers. Also, depending on the specificities of a business, there are peak periods where the labor demand is above average, but this is only temporary.

"However, there are companies where organizational culture, permanent communication and teamwork, play a vital role in achieving goals and finding innovative solutions. In these situations, contracting self-employed persons is excluded", said Raluca Penes, HR Coordinator at Smartree Romania.

The freelancing market in Romania

Supported by technological developments and increasing access to the Internet along with modern communication methods, the Romanian freelancing market is growing year after year. More and more Romanians choose to work independently as an alternative to the classical employee status and to provide specialized services in the most diversified fields.

"Most freelancers in Romania work in areas such as graphic design, copywriting, web content development, site development, business consulting, programming or web application development. Thus, at the industry level, most freelancers work in IT, financial consulting, logistics, startups and accounting", said Raluca Penes, Human Resources Coordinator at Smartree Romania.

Most often, freelancers find contracts by extending or renewing the contract with their old employers or through recommendations. Also, most Romanian freelancers adopt the PFA (Authorized Physical Person) as a legal form for working. This legal form is the most simple in terms of formalities: the accounting is easy to do, does not necessarily require an accountant's expertise and can be done by the person in question.

As far as the market is concerned, PFA registrations in Romania increased by 11% in the first eight months of this year, compared to the same period in 2016. Thus, Arges county recorded the highest increase in the analyzed period – 48%. In counties such as Alba and Valcea, the number of PFA increased by 36% and 38% in 2017 compared to last year, while Maramures and Mures counties recorded 39% more registrations in the first eight months in 2017, as compared to 2016 (source: National Trade Register Office).

The profile of the Romanian freelancer

According to Smartree Romania's specialists, there are two categories of people who use freelancing as a way of working: those who want to round up their income or young people who see this option as a way of life. Briefly, they can organize their working time according to their own rules and theoretically they have the opportunity to obtain unlimited gains.

"In fact, by working on your own you can end up dedicating more hours to your professional life and your earnings, mostly fluctuating, will not be in line with the wage from the classical employee position. However, the possibility of higher earnings continues to attract more and more independent specialists. In Romania, for example, software developers, tax advisors, android developers and web developers are best paid at the moment", added Raluca Penes, HR Coordinator at Smartree Romania.

Although freelancing is growing lately, people over 45 years old have a strong reluctance to this manner of work. This audience is still dependent on the existence of a stable job, but also on the ritual of daily work. On the other hand, there are also highly trained people in certain areas who, after a certain age, want to have the freedom that comes with the freelancer status instead of the employee status.

---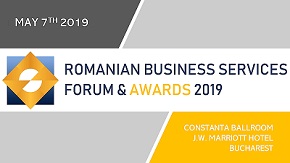 » Molson Coors started to grow its busin...
» TELUS International Europe: Three ways...
» Deloitte's Tech Trends 2019 report: B...
» Capgemini: Investing in people is the ...
» The Outsourcing industry announces its...
» Romania ranks above EU average in gend...
» Committed to growth
» ROMANIAN OUTSOURCING AWARDS FOR EXCELL...
» Engagement and inclusion through direc...
» KPMG study: Big data needs a big re-th...

The voting procedure for the BRAND OF THE YEAR 2019 IN ROMANIAN BUSINESS SERVICES is open!

This is the fifth edition of the event and the second year to select the public's favorite brand in the business services BPO, ITO and SSC in Romania.
Read Full article »
Romania ranks above EU average in gender employment gap

In Romania, the employment rate measures the number of people who have a job as a percentage of the working age population. This page provides - Romania Employment Rate- actual values, historical data, forecast
Read Full article »
Steven Hunt, SAP SuccessFactors: Tectonic movements in the world of work

The world of work will be shaped by five tectonic movements – or global megatrends – over the next few years. As you may guess from the geological analogy, the effects could be dramatic.
Read Full article »
EY: European companies are divesting to future-proof growth

According to the EY Global Corporate Divestment Study, 84 per cent of European companies surveyed intending to divest within the next two years (the majority planning to do so in the coming 12 months), executiv
Read Full article »
Knowledge-sharing presentation on latest trends the industry deals, in the program of Romanian Business Services Forum and Awards

Part of the upcoming joint half-day event, Romanian Business Services Forum and Awards to be held at JW Marriott Hotel on May 7th, the discussion agenda comprises a complex Knowledge-sharing presentation on lat
Read Full article »