Endava and Velocity Partners announce merger to become truly global IT player

The merger between Velocity Partners, an innovative software development company with a strong presence in Latin America, and Endava, a global technology company with a sustained consistent growth and offices across North America, Western Europe, Central Europe and Latin America, will create a global IT player able to bring to clients more options in terms of service, technology, scalability and geography.

The resulting organisation will have over 4,600 people, and the additional six agile software development centres across Argentina, Uruguay, Venezuela, and Colombia will complement Endava's existing delivery capability from centres across Romania, Moldova, Bulgaria, Serbia, Macedonia, and Colombia.

This will enable Endava, which provides agile, digital, and automation solutions to some of the world's leading finance, insurance, telecommunications, media, technology and retail companies, to further expand its footprint in North America and offer the world-class nearshore delivery model which has fuelled its success over the years. The company has a strong business performance with revenues up 38% year on year, supported by a mix of solid organic growth and acquisition-led international expansion.

Peter Stroeve, Managing Partner at Velocity Partners said: "We always aimed to be the nearshore Agile software leader, where talented people achieve their potential and clients gain a partner they trust. By becoming part of the Endava group, our clients will have access to an expanded set of solutions and services, while giving our staff access to new career paths, which will translate into new opportunities to work in global projects, as well as improved work environments and access to better training programmes."

John Cotterell, Endava's CEO said: "The Velocity team has distributed Agile in their DNA and an innovative approach, which will mean added capabilities to help our clients on their journey from idea to production and enable them to be more engaging, responsive and efficient. We are building a global technology company and we are an aspirational brand for IT professionals in the regions in which we operate, attracting the best talent and offering great career and people development opportunities."

Velocity Partners is an innovative global nearshore software development outsourcing company with over 12 years of experience delighting its clients and employees. The company offers high-value, high quality team augmentation solutions to companies of all sizes. Effective use of local talent in their development centres along with their deep roots in Lean and Agile processes allows Velocity Partners to provide a superior final product to all industries.

Velocity Partners has over 500 employees located in offices in North America and delivery centres located in Argentina, Uruguay, Colombia and Venezuela.

Velocity Partners understands that employees are the key to success and it's important to meet their personal and professional needs. Teams are foundational to success at Velocity Partners. Through teamwork and collaboration their client success is achieved and there is a strong belief in leadership setting the vision and then empowering employees to work together towards one goal –customer success.


---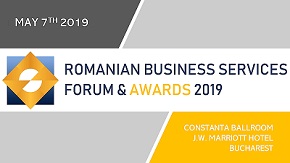 » Huawei opens a centre on cyber securit...
» Romania ranks above EU average in gend...
» ROMANIAN OUTSOURCING AWARDS FOR EXCELL...
» Bucharest, in the top of cities in Eur...
» Meet the experts who will decide the w...
» Bogdan Pelinescu, president of ABSL: A...
» Berg Software Romania: Reasons to outs...
» KPMG launches an application enabling ...
» ABSL GALA AWARDS celebrated its winner...
» George Rotariu, CEO Bitcoin Romania: B...

Meet the speakers at Romanian Business Services Forum 2019 CEO LEADERS DEBATE, on May 7th - Matthieu Pasquier

Matthieu Pasquier is CEO of Societe Generale European Business Services since August 2018 bringing more than 27 years experience in Societe Generale group. During 2014-2018, Matthieu was Head of SG GSC Chennai
Read Full article »
Sorin Mindrutescu among the speakers at Romanian Business Services Forum 2019 CEO LEADERS DEBATE, on May 7th

Sorin Mindrutescu is the Country Leader for Oracle Romania, as of February 2003. In this role, he is responsible for local sales and project delivery. In Romania, Oracle has two major business directions: the l
Read Full article »
Meet the speakers at Romanian Business Services Forum 2019 CEO LEADERS DEBATE, on May 7th - Vivek Bakshi

Vivek Bakshi is the General Manager of Wipro Technologies. He has spent 12 years heading the International Locations / Delivery Centers Europe from the Bucharest office.
Read Full article »
Meet the finalists of the fifth edition of Romanian Business Services Awards 2019

ROMANIAN BUSINESS SERVICES FORUM & AWARDS 2019, in its fifth year, brings on May 7, in Bucharest, a new concept event with engaging keynote sessions by industry leaders, interactive panel discussions, networkin
Read Full article »
Meet the experts who will decide the winners of 2019 at Romanian Business Services Forum & Awards

Each year, Outsourcing Today brings a landmark edition of the Romanian Outsourcing and Shared Services Summit and this year, we are hosting the Fifth of the annual Romanian Outsourcing and Shared Services Award
Read Full article »