Endava and Velocity Partners announce merger to become truly global IT player

The merger between Velocity Partners, an innovative software development company with a strong presence in Latin America, and Endava, a global technology company with a sustained consistent growth and offices across North America, Western Europe, Central Europe and Latin America, will create a global IT player able to bring to clients more options in terms of service, technology, scalability and geography.

The resulting organisation will have over 4,600 people, and the additional six agile software development centres across Argentina, Uruguay, Venezuela, and Colombia will complement Endava's existing delivery capability from centres across Romania, Moldova, Bulgaria, Serbia, Macedonia, and Colombia.

This will enable Endava, which provides agile, digital, and automation solutions to some of the world's leading finance, insurance, telecommunications, media, technology and retail companies, to further expand its footprint in North America and offer the world-class nearshore delivery model which has fuelled its success over the years. The company has a strong business performance with revenues up 38% year on year, supported by a mix of solid organic growth and acquisition-led international expansion.

Peter Stroeve, Managing Partner at Velocity Partners said: "We always aimed to be the nearshore Agile software leader, where talented people achieve their potential and clients gain a partner they trust. By becoming part of the Endava group, our clients will have access to an expanded set of solutions and services, while giving our staff access to new career paths, which will translate into new opportunities to work in global projects, as well as improved work environments and access to better training programmes."

John Cotterell, Endava's CEO said: "The Velocity team has distributed Agile in their DNA and an innovative approach, which will mean added capabilities to help our clients on their journey from idea to production and enable them to be more engaging, responsive and efficient. We are building a global technology company and we are an aspirational brand for IT professionals in the regions in which we operate, attracting the best talent and offering great career and people development opportunities."

Velocity Partners is an innovative global nearshore software development outsourcing company with over 12 years of experience delighting its clients and employees. The company offers high-value, high quality team augmentation solutions to companies of all sizes. Effective use of local talent in their development centres along with their deep roots in Lean and Agile processes allows Velocity Partners to provide a superior final product to all industries.

Velocity Partners has over 500 employees located in offices in North America and delivery centres located in Argentina, Uruguay, Colombia and Venezuela.

Velocity Partners understands that employees are the key to success and it's important to meet their personal and professional needs. Teams are foundational to success at Velocity Partners. Through teamwork and collaboration their client success is achieved and there is a strong belief in leadership setting the vision and then empowering employees to work together towards one goal –customer success.


---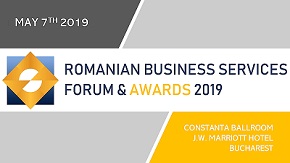 » The most appreciated companies from th...
» Webhelp Romania aiming for EUR 10 mill...
» Tremend joins Mellanox in powering the...
» Manpower: Romania's labor market, more...
» The Outsourcing industry announces its...
» Deloitte's Tech Trends 2019 report: B...
» Bucharest, in the top of cities in Eur...
» Oracle reaches 4,200 employees and pla...
» Genpact's COO: Staying ahead of the cu...
» CBRE study: Post-millennials, the happ...

Nomination are now open for Romanian Business Services Forum and Awards

Nominations have opened for the prestigious Romanian Business Services Forum & Awards. The 2019 awards will continue to recognize and reinforce the important contribution made by business services professionals
Read Full article »
Study: 89 per cent of finance teams yet to embrace Artificial Intelligence

Report by Association of International Certified Professional Accountants and Oracle shows that almost 90 per cent of finance teams do not have the skills to support digital transformation.
Read Full article »
Bucharest, in the top of cities in Europe with the largest number of experts in high-tech industry

Bucharest is among the top cities boasting the most experts in the high-tech innovative industry, with over 70,000 current employees, next to London, Dublin, Madrid or Budapest, reads a study conducted by CBRE
Read Full article »
CBRE study: Post-millennials, the happiest about their offices
During 2018, real estate consultancy company CBRE conducted the first study dedicated to work environment in office buildings in Bucharest. The respondents have been structured in four age segments, such as Z g
Read Full article »
Deloitte's Tech Trends 2019 report: Beyond the digital frontier

The recently released Deloitte's Tech Trends 2019: Beyond the digital frontier, as each Tech Trends report in the series conducted by the consultancy company, lobbies for embracing the increasing, often mind-b
Read Full article »