Marian V. Popa, GM of DB Global Technology: Knowledge is absolutely necessary as the operating system of our activity

Romania has definitely established itself as "the" European destination of outsourcing – no matter if we speak about services, support or application development. The pace in which new companies are being set up or are extending is growing, hence the pressure on the market is growing as well.

So the demand is rising and the availability of labour force is just growing. Therefore, we can say: YES, the outlook regarding the dimensions of the outsourcing sector are excellent and NO, we are definitely not prepared enough to be able to cope with this outstanding opportunity offered.

The company philosophy and strategy when it comes to business development

"Imagination is (sometimes) more important than knowledge". This quote by Albert Einstein I carried with me during my entire professional life. Knowledge is absolutely necessary as the basis, the "operating system" of our activity. Without it we cannot function but having only that we cannot strive either. Today's world is changing at such a fast pace; the complexity of the markets is so intense that knowledge is not enough anymore. Innovation, creativity, courage, boldness and ambition – all grown out of that knowledge, are absolute "musts" so we can succeed. An indispensable ingredient of today's world.

Skilled resources: How difficult is for your company to find the right talents for its business segments and which are the specializations that need to be stressed more in order to meet the demand?
Real talent is rare and we should not expect to see it everywhere. I think the industry has to re-invent itself and shift from a resource user to a resource creator. Resources are part of an economical ecosystem and I think that we have a duty too to contribute to the creation and the growth of talents. Information technology nowadays is quite complex and you do not need just coders or testers anymore; you need developers with deep business knowledge, QA specialists who understand the business inside out, analysts who are able to have one to one discussions at the same level with the business. All these are specialized skills which cannot be only found, but have to be grown as well.

Technology, as part of daily business operations: How does the company and its people cope with the new technology demanDs coming from customers

In a lot of instances, it is the other way around – how do customers cope with the new technologies pushed out by industry? Technology is a fact of today's life and – if we want it or not – technology will be more and more part of our activity. The nice thing is that the tendency of technology is to develop in such a way that for humans it be-comes less and less invasive, more and more friendly, more and more intuitive and absolutely moulded around everybody's needs. So I think that the users and technology will grow into a kind of symbiosis, allowing both sides to do what they do best: technology to do commodity and standard, repeated work and humans to create.

Aspects defining the local market in terms of business shared services

COOL – Competent – Open - Oriented – Long term.
I do think that today the Romanian market in the outsourcing field is COOL. Each letter describing the particularities mentioned above.

Competent because it is no question that the young generation of Romania has a strong vibe for IT.
Open because Romanian IT teams blend in very well, very fast and very efficient. English skills are almost native, collaboration and good social skills come from the DNA. So the perfect combination for excellent teamwork.

Oriented because here you can find basically all fields of activity you can imagine: from telecommunications to medicine and from global retail to finance. You can find IT specialists for all needs.

And finally Long term. Romania's outsourcing industry is here to stay. The investments made both in infrastructure, knowledge building and slowly but surely also in education shows the genuine interest for a long term and sustainable growth of this industry.

"In the end, we have the ambition to become a Silicon Country!"

---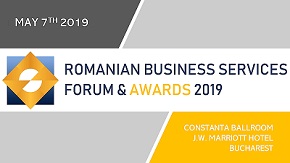 » Romania ranks above EU average in gend...
» The voting procedure for the BRAND OF ...
» Berg Software Romania: Reasons to outs...
» Deloitte's Tech Trends 2019 report: B...
» Steven Hunt, SAP SuccessFactors: Tecto...
» Molson Coors started to grow its busin...
» Societe Generale-European Business Ser...
» Capgemini: Investing in people is the ...
» Countries in CEE region, including Rom...
» Oracle reaches 4,200 employees and pla...

The voting procedure for the BRAND OF THE YEAR 2019 IN ROMANIAN BUSINESS SERVICES is open!

This is the fifth edition of the event and the second year to select the public's favorite brand in the business services BPO, ITO and SSC in Romania.
Read Full article »
Romania ranks above EU average in gender employment gap

In Romania, the employment rate measures the number of people who have a job as a percentage of the working age population. This page provides - Romania Employment Rate- actual values, historical data, forecast
Read Full article »
Steven Hunt, SAP SuccessFactors: Tectonic movements in the world of work

The world of work will be shaped by five tectonic movements – or global megatrends – over the next few years. As you may guess from the geological analogy, the effects could be dramatic.
Read Full article »
EY: European companies are divesting to future-proof growth

According to the EY Global Corporate Divestment Study, 84 per cent of European companies surveyed intending to divest within the next two years (the majority planning to do so in the coming 12 months), executiv
Read Full article »
Knowledge-sharing presentation on latest trends the industry deals, in the program of Romanian Business Services Forum and Awards

Part of the upcoming joint half-day event, Romanian Business Services Forum and Awards to be held at JW Marriott Hotel on May 7th, the discussion agenda comprises a complex Knowledge-sharing presentation on lat
Read Full article »