Societe Generale European Business Services support the IT education in Romania through a partnership with ACADEMY+PLUS

Societe Generale European Business Services (SG EBS), part of Societe Generale Group announces a partnership with ACADEMY+PLUS, a revolutionary coding school, tuition free, opened this year in Bucharest.

With over 1,000 employees in Romania, the center provides professional services in areas like Finance, Human Resources, Know Your Customers (KYC) and IT for the entire Societe Generale Group. 30% of these services are represented by the IT division and the company's development plan aims to increase the share of IT services in the near future.

In a fast changing environment, with many challenges for IT recruiters, Societe Generale European Business Services has taken the decision to take action and support the IT education in Romania. Therefore, by agreeing on a partnership with Academy+Plus, the IT division of SGEBS is now Platinum Partner of Academy+Plus.

The coding school, tuition free, was launched in 2014 in Cluj-Napoca, and in 2017 in Bucharest, from a partnership with the prestigious Ecole 42. Founded by the French businessman Xavier Niel, Ecole 42 is one of the boldest vocational education program in the world.

No diploma required, however able to identify potential and motivation through a tough selection process, school's purpose is to teach computer programming for free and distribute equal opportunities for high school students, university students and professionals. Unlike any other education programs, Academy+Plus creates an environment where education is based on practical challenges, encouraging peer-learning, peer-to-peer review and the creation of a strong value-based IT community in Romania. School's vision is to become an important player in the IT industry ecosystem in Romania by stimulating people learn computer programming and contributing to the increase of IT workforce in our country.
In its quality of Platinum Partner of Academy+Plus, SSC IT's role is to support school students in their pursuit of learning computer programming. The way SSC IT's team will achieve this goal is by proving mentorship and guidance to a batch of school students that will eventually enter the IT industry.

"We welcome a formation program where people are trained upon industry standards. We are aware that the only way to grow as a company, and also as an industry is to invest in people. Therefore, this year, in the context of our plans to develop, the partnership with Academy+Plus is an extra step towards achieving this goal. Also, by welcoming people that come from various backgrounds we will be able to create diversity in our teams. We are confident that together with school mentors we will be able to create the needed context towards stimulating students' passion for IT and also create job opportunities for them in our service center. Also, the fact that our employees are interested in mentoring people at the beginning of their studies towards a career in IT is a sign of maturity in our team and I always welcome such initiatives.", said Olivier Hecq, Head of IT Service Center within Societe Generale European Business Services.

"We are currently at the end of the selection process in Bucharest. We had over 4500 candidates for 120 places. Since now, candidates in Bucharest scored first out the entire international school network, making us proud once again about our country's tech talent. Coding school, tuition free and financed by companies is a brand-new model in Romania. However, in spite of this, Societe Generale European Business Services has proven to be an early adopter and an open partner by firmly joining our efforts. Their support contributed to our decision of opening Academy+Plus in Bucharest this year and together with our candidates and our future students, we are grateful that they trusted us. Also, we welcome their efforts of being socially responsible in a matter which is so important for the development of the IT industry, continuously growing in our country. And this is IT education.", said Daniela Buscan, Program Director Academy+Plus Bucharest

---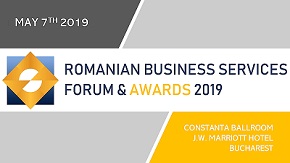 » Raiffeisen Bank Romania outsources onl...
» Horváth & Partners launches Steering ...
» JLL: Total office space in Bucharest t...
» Genpact, Luxoft and Oracle, top lessee...
» SSC in Romania. Who takes the lion's s...
» Oracle results pushed down by a strong...
» World-class HR organizations now spend...
» Romanian employers report the stronges...
» ROMANIAN OUTSOURCING AWARDS FOR EXCELL...
» Eucom: Nine out of ten corporate Roman...

My HR Lab: Research of suitable candidates and giving feedback to rejected ones, the biggest challenge in HR

During June 2019, My HR Lab company run an online (social media platforms) survey "Challenges of the recruitment process" which enrolled over 100 professionals working in HR and recruitment in Romania.
Read Full article »
The local market needs more added-value and complex projects to be developed by the companies

The statement has been uttered within this year's Romanian Outsourcing and Shared Services Summit by Catalina Dodu, Country Manager at Atos, pointing to the local enablers that could enhance the innovation and
Read Full article »
The office market at a glance: The round for tenants is on

Data provided by CBRE show that the office spaces segment will continue to grow rapidly in 2019, and 15 new projects covering 304.000 sqm will be delivered. According to the real estate consultancy agency, curr
Read Full article »
People Empowering Business Forum 2019 to take place on October, 30 at Bucharest

Latest trends like demographic upheaval, globalization, digital technology, and changing social values and worker expectations, are disrupting business models and radically changing the workplace. These are req
Read Full article »
Addressing the mantra of cyber-security: Confidentiality, integrity and availability

The fast advancement of technology in all the aspects of everyday life, either personal or professional, and the emerging of AI (Artificial Intelligence) and ML (Machine Learning), not to mention cloud technolo
Read Full article »