Mihnea Diaconu appointed development manager at Webhelp

Webhelp Romania aims to consolidate and develops its local operations by hiring Mihnea Diaconu as Business Development Director.

Mihnea has previously held Key Account Manager position at Adecco's consulting and human resources business, where he has been in charge of managing the relationship with the largest players in the BPO / SSC, telecom, banking and pharma industry; previously he was present in various positions in the banking field.

"On behalf of the Webhelp Romania management team, I welcome Mihnea. Webhelp Romania is experiencing an exciting time of transformation and development, and Mihnea, thanks to its experience in BPO / SSC and Sales, is the ideal choice for maximizing our local customer portfolio and providing additional support to meet our business goals for the next 3 years " , said Raluca Leonte, CEO of Webhelp

"I believe that the Romanian market has significant potential in the outsourced services and processes industry. Customized value-added solutions for the customer tend towards a "end-to-end" outsourcing of business processes, this variant being preferred by an increasing number of companies present, "says Mihnea Diaconu.

Webhelp, European leader in outsourcing and BPO with more than 2,000 employees in Romania, addresses strategic local markets, relying on accelerated growth. Present in 28 countries with more than 35,000 employees, the Group's ambition is to improve Webhelp's customers' performance by developing solutions that will transform their business models definitively, giving them a competitive edge. Webhelp recorded the fastest growth in the industry: its portfolio includes more than 500 companies, and the Group's revenue increased three-fold in five years, reaching 886 million by the end of 2016. The Webhelp Group is owned by its management and February 2016, by KRK global investment fund.


---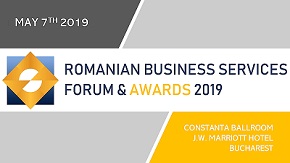 » The most appreciated companies from th...
» Webhelp Romania aiming for EUR 10 mill...
» Tremend joins Mellanox in powering the...
» Manpower: Romania's labor market, more...
» The Outsourcing industry announces its...
» Deloitte's Tech Trends 2019 report: B...
» Bucharest, in the top of cities in Eur...
» Oracle reaches 4,200 employees and pla...
» Genpact's COO: Staying ahead of the cu...
» Ascentis: The top ten HR trends for 20...

Nomination are now open for Romanian Business Services Forum and Awards

Nominations have opened for the prestigious Romanian Business Services Forum & Awards. The 2019 awards will continue to recognize and reinforce the important contribution made by business services professionals
Read Full article »
Study: 89 per cent of finance teams yet to embrace Artificial Intelligence

Report by Association of International Certified Professional Accountants and Oracle shows that almost 90 per cent of finance teams do not have the skills to support digital transformation.
Read Full article »
Bucharest, in the top of cities in Europe with the largest number of experts in high-tech industry

Bucharest is among the top cities boasting the most experts in the high-tech innovative industry, with over 70,000 current employees, next to London, Dublin, Madrid or Budapest, reads a study conducted by CBRE
Read Full article »
CBRE study: Post-millennials, the happiest about their offices
During 2018, real estate consultancy company CBRE conducted the first study dedicated to work environment in office buildings in Bucharest. The respondents have been structured in four age segments, such as Z g
Read Full article »
Deloitte's Tech Trends 2019 report: Beyond the digital frontier

The recently released Deloitte's Tech Trends 2019: Beyond the digital frontier, as each Tech Trends report in the series conducted by the consultancy company, lobbies for embracing the increasing, often mind-b
Read Full article »