Pavel Campan appointed as the new Vice-President of Operations for TELUS International Romania

Pavel Campan has been named Vice-President of Operations for TELUS International Romania. This appointment comes at a time when the company is about to reach 1,500 team members locally.

With more than 20 years of worldwide experience in Operations, leading high performing teams in different leadership positions in the areas of Program Management, Engineering and Managed Services, Pavel joins the Canadian BPO company most recently from Ericsson, where his impressive career spanned more than eight years and five countries.

As part of the Ericsson team in Romania, he assumed progressively senior positions as a Senior Service Delivery Manager and Head of Front Office operations in Ericsson's Global Services Center. During his tenure at the site, he passionately led the growth and consolidation of a team of more than 300 employees, driving remarkable year-over-year improvements in team engagement and customer satisfaction scores.

Pavel's career with Ericsson also included a period in France where he oversaw their first managed services contract, which afforded him the opportunity to develop the operations framework from scratch. After a very challenging and exciting period as Country Manager and Chief Operating Officer of Managed Services in Mongolia, he also drove Ericsson's broadcast and multimedia business in both France and Iberia.

Prior to joining Ericsson, Pavel worked with several telecom companies across Europe, leveraging his skills and knowledge to support the evolution of mobile technology. This included regional and national roles with SFR France and Mobilrom Romania (Orange Romania), where he was a key contributor to the expansion of their cellular network.

Pavel will provide overall leadership and support to the growing TELUS International business in Romania, serving as an integral part of the TELUS International Europe (TIE) senior leadership team. In his current role, he will coordinate the integration of Voxpro Romania operations and its teams, after the recent acquisition by TELUS International in August 2017.


TELUS International Europe is a proud member of the TELUS International family. TELUS International is a global business process and IT outsourcing company with 28,000 team members working from customer service delivery centers in Canada, the United States, Europe, Latin America, and the Philippines. With over 200 million customer interactions supported annually via voice, email, chat and social media, across the telecommunications, fast-growing tech, fintech and finance, travel and hospitality, gaming and healthcare industries. TELUS International enables customer experience innovation through spirited teamwork, agile thinking, and a caring culture that puts customers first. As the global arm of TELUS (TSX: T, NYSE: TU), TELUS International is backed by Canada's fastest-growing national telecommunications company with USD$10.6 billion of annual revenue and 12.8 million customer connections.

About TELUS International Europe

About Pavel Campan

---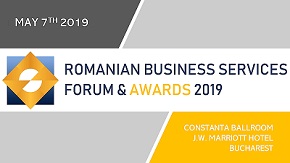 » Evolving from consumers of resources t...
» Preparing for the new future
» ROMANIAN OUTSOURCING AWARDS FOR EXCELL...
» Pepper Escu, the first humanoid robot ...
» Volvo Cars and Uber present production...
» Berg Software Romania: Reasons to outs...
» Marian V. Popa: Meet the speakers at R...
» Deloitte 2019 Global Human Capital Tre...
» Andrei Voica: Meet the speakers at Rom...
» How giving back pays dividends for com...

Digital Transformation Conference to take place on June 19 at Bucharest

The Diplomat – Bucharest organizes Digital Transformation Conference to be held on 14 of June in Bucharest, at Hilton Hotel - Regina Maria Hall, starting 8:30 AM.
Read Full article »
L&D Conference by The Diplomat Bucharest took place on June 4th at Bucharest

The Diplomat-Bucharest organizes the Third Edition of its Learning & Development CONFERENCE on 4 June, 2019 at InterContinental Hotel Bucharest starting 09:00 am.
Read Full article »
Meet the winners of ROMANIAN BUSINESS SERVICES AWARDS, 2019 edition

ROMANIAN BUSINESS SERVICES FORUM & AWARDS 2019, in its fifth year, brrought on May 7, in Bucharest, a new concept event with engaging keynote sessions by industry leaders, interactive panel discussions, network
Read Full article »
Few hours away from to the long awaited CEO Leaders Debate, a premiere of Romanian Business Services Forum and Awards
We are a few hours away to the long awaited CEO Leaders Debate, a premiere of Romanian Business Services Forum and Awards on May 7.
Read Full article »
Colin C. Lovering: Meet the speakers at Romanian Business Services Forum & Awards 2019, on May 7

Colin C. Lovering has been living and working in Romania since 2009 when he arrived to offer consultancy and advice to organisations looking for growth and profitability and founded Achieve International.
Read Full article »