Pavel Campan appointed as the new Vice-President of Operations for TELUS International Romania

Pavel Campan has been named Vice-President of Operations for TELUS International Romania. This appointment comes at a time when the company is about to reach 1,500 team members locally.

With more than 20 years of worldwide experience in Operations, leading high performing teams in different leadership positions in the areas of Program Management, Engineering and Managed Services, Pavel joins the Canadian BPO company most recently from Ericsson, where his impressive career spanned more than eight years and five countries.

As part of the Ericsson team in Romania, he assumed progressively senior positions as a Senior Service Delivery Manager and Head of Front Office operations in Ericsson's Global Services Center. During his tenure at the site, he passionately led the growth and consolidation of a team of more than 300 employees, driving remarkable year-over-year improvements in team engagement and customer satisfaction scores.

Pavel's career with Ericsson also included a period in France where he oversaw their first managed services contract, which afforded him the opportunity to develop the operations framework from scratch. After a very challenging and exciting period as Country Manager and Chief Operating Officer of Managed Services in Mongolia, he also drove Ericsson's broadcast and multimedia business in both France and Iberia.

Prior to joining Ericsson, Pavel worked with several telecom companies across Europe, leveraging his skills and knowledge to support the evolution of mobile technology. This included regional and national roles with SFR France and Mobilrom Romania (Orange Romania), where he was a key contributor to the expansion of their cellular network.

Pavel will provide overall leadership and support to the growing TELUS International business in Romania, serving as an integral part of the TELUS International Europe (TIE) senior leadership team. In his current role, he will coordinate the integration of Voxpro Romania operations and its teams, after the recent acquisition by TELUS International in August 2017.


TELUS International Europe is a proud member of the TELUS International family. TELUS International is a global business process and IT outsourcing company with 28,000 team members working from customer service delivery centers in Canada, the United States, Europe, Latin America, and the Philippines. With over 200 million customer interactions supported annually via voice, email, chat and social media, across the telecommunications, fast-growing tech, fintech and finance, travel and hospitality, gaming and healthcare industries. TELUS International enables customer experience innovation through spirited teamwork, agile thinking, and a caring culture that puts customers first. As the global arm of TELUS (TSX: T, NYSE: TU), TELUS International is backed by Canada's fastest-growing national telecommunications company with USD$10.6 billion of annual revenue and 12.8 million customer connections.

About TELUS International Europe

About Pavel Campan

---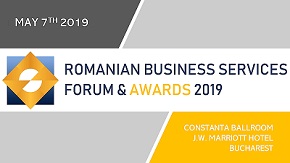 » Molson Coors started to grow its busin...
» TELUS International Europe: Three ways...
» Deloitte's Tech Trends 2019 report: B...
» Capgemini: Investing in people is the ...
» The Outsourcing industry announces its...
» Romania ranks above EU average in gend...
» Committed to growth
» KPMG study: Big data needs a big re-th...
» ROMANIAN OUTSOURCING AWARDS FOR EXCELL...
» Engagement and inclusion through direc...

The voting procedure for the BRAND OF THE YEAR 2019 IN ROMANIAN BUSINESS SERVICES is open!

This is the fifth edition of the event and the second year to select the public's favorite brand in the business services BPO, ITO and SSC in Romania.
Read Full article »
Romania ranks above EU average in gender employment gap

In Romania, the employment rate measures the number of people who have a job as a percentage of the working age population. This page provides - Romania Employment Rate- actual values, historical data, forecast
Read Full article »
Steven Hunt, SAP SuccessFactors: Tectonic movements in the world of work

The world of work will be shaped by five tectonic movements – or global megatrends – over the next few years. As you may guess from the geological analogy, the effects could be dramatic.
Read Full article »
EY: European companies are divesting to future-proof growth

According to the EY Global Corporate Divestment Study, 84 per cent of European companies surveyed intending to divest within the next two years (the majority planning to do so in the coming 12 months), executiv
Read Full article »
Knowledge-sharing presentation on latest trends the industry deals, in the program of Romanian Business Services Forum and Awards

Part of the upcoming joint half-day event, Romanian Business Services Forum and Awards to be held at JW Marriott Hotel on May 7th, the discussion agenda comprises a complex Knowledge-sharing presentation on lat
Read Full article »