Global Research identifies three consumer Personas and opportunities for technology, personalization to innovate the retail experience

Oracle announced the 2017 findings of global research that audited 15,607 consumers across four key regions: EMEA (France, Germany, Italy, India, Spain, Sweden, UK) NA (Canada, USA), LAD (Brazil, Chile, Colombia, Mexico), and JAPAC (Australia, China) on their retail preferences and attitudes.

Findings in the Retail in 4 Dimensions: Understanding Consumer Behavior in an Age of Relativity report highlighted three personas demonstrative of consumer behavior. It also revealed opportunities for retailers to identify the customer experience with personalization, mobile payments, automatic replenishment and virtual reality. The research insights indicate that consumer preferences for delivery, returns and self-service established with ecommerce have taken hold in a global, omnichannel environment.

Three Shopper Profiles emerge

As digital innovation continues its radical rearrangement of the retail landscape, three consumer behavior macro trends emerge globally in the report: a fully omnichannel consumer taking advantage of a mix of digital and physical engagement points; a savvy shopper looking for new, innovative and technology-driven retail experiences; and a price conscious hunter always searching for the greatest value for money.

"In order to leverage these behavior trends and successfully reach these consumers, brands need to innovate on three fronts," said Ray Carlin, SVP and GM Oracle Retail. "They need to truly know their consumer to personalize their experience and embrace Omnichannel excellence as an enterprise discipline while create capacity for innovation."

The Nomad is a nimble shopper who is not loyal to a brand nor a channel and will examine multiple options for researching and locating products before making a purchase.
In the research:
• 42 percent of consumers are now shopping both online and in-store every week
• 73 percent want to return online purchases to a retail store
• 55 percent want to check product stock on their mobile while in-store

The Player uses technology to fuel and guide their shopping experience and look for brands that re-invent the customer journey.
In the research:
• 44 percent of families noted that virtual sales assistants are important
• 35 percent like the idea of near real-time delivery via drone or driverless car
• 43 percent love the idea of being able to 3D print custom fashion

For The Dealer the thrill of the win and discount drives their shopping behavior.
In the research:
• 84 percent say that competitive pricing and promotions first and foremost are the most important aspect of their shopping experience
• 65 percent say personalized offers and promotions are most important to them in their shopping experience
• 50 percent want real-time offers online depending on what they're browsing at that moment

Opportunities for retail innovation identified in six key trends

In the Retail in 4 D: Understanding Consumer Behavior in an Age of Relativity report consumers have clearly identified technology's role in establishing new global standards for the retail community. These include a common expectation for returns and delivery, a desire for mobile payments self-service and opportunities for personalization.

"As consumers reinforce these trends through purchase behavior, cloud infrastructure will play a more critical role by delivering innovation faster and enabling the retail community to keep pace with existing expectations and experiences," said Jeff Warren, vice president strategy, Oracle Retail. "What continues to be true is the rising expectations and anticipated evolution of a fully omnichannel shopping experience. Retailers can't afford to delay adopting cloud solutions that enable a single perspective of consumer behavior across offline and online storefronts."

Navigating Personalization and Privacy

• 67 percent of consumers stated that they did not wanting to set up an account for e-commerce checkout and at the same time 57 percent want instant one-click checkout that can only be enabled through creation of a payment profile
• 29 percent would find offers based on 'social media' data 'creepy'
• 52 percent want personalized offers in-store based on personal data from their store loyalty account

Fashion Driving Store Traffic and Personalization

• 83 percent of consumers indicated that they shop in-store at least once a week, and for fashion 7 percent of respondents shop in-store every day and 22 percent shop in-store several times a week
• 50 percent of millennials and pre-millennials think 3D custom printing would be very engaging
• 40 percent of consumers browse or buy fashion online at least once a week

Faster, Smarter Payments and Self-service
• 56 percent say self-checkout machines are important to them
• A majority of millennials noted the ability to research and reserve items for in-store pickup on the same day (65 percent) and next day (58 percent) as important
• 60 percent want mobile payment options in-store with millennials (67 percent) and pre-millennials recording a stronger preference in particular

Simplifying the Returns Process
• 82 percent want the ability to return an online purchase with free shipping
• 34 percent of consumers want returns windows exceeding 30 days
• 70 percent of consumers want free 2-day shipping on all purchases

Auto Replenishment and Grocery Recommendations
• 48 percent think online automatic replenishment would be important to their experience in the future
• 33 percent think it would be 'creepy' for supermarkets to ship grocery items based on purchase, social and environmental data
• 40 percent think it would be 'awesome' if supermarkets use technology to 'suggest' a shopping list without automatically charging for it

Opportunities for Emerging Technology
• 48 percent of consumers want to use virtual reality at home to navigate a personalized in-store experience and receive home delivery and 48 percent would use virtual reality to prepare a curated wardrobe to be picked up in-store
• 39 percent think robot assistance would be 'creepy' and the sentiment is shared across age groups
• Millennials (42 percent) and families (43 percent) showed the greatest interest in delivery by driverless car or drone


---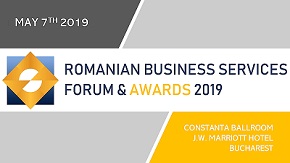 » Matthieu Pasquier is the new CEO of So...
» Four companies represent Romania in De...
» KPMG study: Big data needs a big re-th...
» Exclusive OT: GRS to grow 50% in 2016 ...
» IBM & financial service industry sign ...
» GovITHub community says it ends its co...
» Innovation, digitisation, integrated a...
» Genpact's COO: Staying ahead of the cu...
» Having a say in the world of the busin...
» Workplace of the Future conference to ...

Workplace of the Future conference to take place on November 20th at Bucharest

The Diplomat-Bucharest together with Outsourcing Today organize the 3rd Edition of WORKPLACE OF THE FUTURE, on 20th of November 2019, in Bucharest, at Capital Plaza Hotel.
Read Full article »
Strategic Talent Acquisition at People Empowering Business Forum on October 30 in Bucharest

Latest trends like demographic upheaval, globalization, digital technology, and changing social values and worker expectations, are disrupting business models and radically changing the workplace. These are req
Read Full article »
Informal IT School and UiPath launch an educational program for RPA development to start in October

Informal IT School announced a partnership with UiPath to launch an RPA development educational program of five months, 100 hours of courses, five days a week. The program will run in Cluj-Napoca.
Read Full article »
Impact Hub Bucharest joins 3house to manage three coworking spaces in the city

Impact Hub Bucharest, a coworking spaces manager and developer of accelerator programs and events merged with 3house, a new concept of workplace launched in 2018. By this, Impact Hub reaches 3 locations and 6.7
Read Full article »
JLL: Total office space in Bucharest to reach 3 million sqm

The second quarter of 2019 reconfirmed the increased interest for the office market in Romania. Over 115,000 square meters of office space were leased over this period at the national level, a value similar wit
Read Full article »