Wipro launches automotive center of excellence in Romania

Wipro Limited, global information technology, consulting and business process services company, announced the launch of an Automotive Center of Excellence (CoE) in Timisoara, Romania. This CoE will help Wipro deliver innovative embedded software solutions for its global and European clients. This engineering center in Romania is part of Wipro's global delivery network that offers best-in-class engineering and IT services.

The company plans to hire experienced technology professionals and engineering graduates from top universities in Romania, to work across technology domains such as in-vehicle infotainment, cluster display, telematics, connected cars and Advanced Driver assistance Systems (ADAS).

Currently, Wipro has development centers in Bucharest and Timisoara. In order to accommodate the increasing workforce, Wipro has expanded the office space to 12,000+ square metres in Bucharest and 3,000+ square metres in Timisoara.

Anita Ganti, Senior Vice President and Global Head, Product Engineering Services, Wipro Limited said, "Our Center of Excellence in Timisoara is located close to some of our top clients in Europe and we expect to see significant traction from them in the embedded software domain as well as interest in emerging technologies. Romania offers a great engineering talent pool and excellent infrastructure support. An enhanced engineering presence in Romania will help us address the local and global needs of our European engineering customers, and assist them in gaining both scale and time-to-market advantages."

Catalin Stratulat, Delivery Head-Romania, Product Engineering Services, Wipro Limited said, "We are confident that Wipro's long-standing relationships with the leading automotive manufacturers and Tier 1 players in the industry when combined with the engineering expertise available in the Romania market, will help us build a high-quality and dynamic team to serve our clients better."

Alex Beylin, Vice President and Global Automotive Business Head, Wipro Limited said, "This center is an integral part of Wipro's global engineering and digital solutions capabilities and will enable us to cater to our automotive customers in the European region by tapping into the highly skilled local talent pool."

Wipro has over two decades of experience in delivering differentiated solutions for Tier-1 global automotive electronic suppliers and original equipment manufacturers (OEMs) and has been a trusted partner in their digital transformation journey. With its leading-edge automotive product design and engineering expertise in electronics, software, engineering design services, manufacturing execution systems, product lifecycle management, cloud solutions, and enterprise IT applications management, and remote infrastructure services, Wipro has delivered solutions that create unique user experiences with highest levels of reliability.

Wipro has been present in Romania for over 10 years. Today, the company has a total employee strength of over 1200 in Romania, serving over 30 clients in Europe, across industries such as retail and consumer goods, healthcare, manufacturing and telecom.

Wipro Limited) is a leading global information technology, consulting and business process services company, with services in power of cognitive computing, hyper-automation, robotics, cloud, analytics and emerging technologies . It is a company recognized globally for its comprehensive portfolio of services, strong commitment to sustainability and good corporate citizenship, over 160,000 employees serving clients across six continents.

---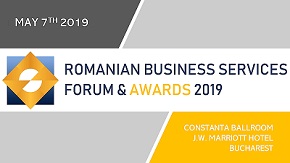 » Raiffeisen Bank Romania outsources onl...
» World-class HR organizations now spend...
» Oracle results pushed down by a strong...
» Apostoleanu, Oracle: Human talent, mos...
» Wipro launches automotive center of ex...
» TELUS International: Chatbots - The pr...
» Sergiu Negut, on the stage of People i...
» Romanian employers report the stronges...
» ANIS: Romanian IT market annual revenu...
» Bosch Service Solutions to grow 20% Ti...

My HR Lab: Research of suitable candidates and giving feedback to rejected ones, the biggest challenge in HR

During June 2019, My HR Lab company run an online (social media platforms) survey "Challenges of the recruitment process" which enrolled over 100 professionals working in HR and recruitment in Romania.
Read Full article »
The local market needs more added-value and complex projects to be developed by the companies

The statement has been uttered within this year's Romanian Outsourcing and Shared Services Summit by Catalina Dodu, Country Manager at Atos, pointing to the local enablers that could enhance the innovation and
Read Full article »
The office market at a glance: The round for tenants is on

Data provided by CBRE show that the office spaces segment will continue to grow rapidly in 2019, and 15 new projects covering 304.000 sqm will be delivered. According to the real estate consultancy agency, curr
Read Full article »
People Empowering Business Forum 2019 to take place on October, 30 at Bucharest

Latest trends like demographic upheaval, globalization, digital technology, and changing social values and worker expectations, are disrupting business models and radically changing the workplace. These are req
Read Full article »
Addressing the mantra of cyber-security: Confidentiality, integrity and availability

The fast advancement of technology in all the aspects of everyday life, either personal or professional, and the emerging of AI (Artificial Intelligence) and ML (Machine Learning), not to mention cloud technolo
Read Full article »