ABSL: The fifth edition of Romanian Business Service Leaders Annual Conference to take place on November, 14th

The Association of Business Service Leaders in Romania (ABSL Romania), the organization that represents the local Business Services sector, will organize, in Bucharest, the industry's most important event of the year. The 5th annual ABSL conference will take place on November 14, at Radisson Blu Hotel.

Over 500 of the most influential leaders and representatives of prestigious companies operating in the domains of shared services, outsourcing business processes, outsourcing information technology, research and development are expected to participate to this year's edition.

The theme of this year`s conference is "Shifting Perspectives. Envisioning the New World", influenced by the accelerated changes of the last period in the technology field.

These changes determine irreversible transformations of the market and the worldwide industry. Technology and automatization influence significantly the way in which services are managed and delivered in present times. Therefore, during the conference will be debated the most efficient ways for the industry to reinvent and reposition itself, to change its approach and perspective, in order to bring benefits both to the employees and to the general performance of the sector.

The conference aims to create a space where participants can explore and embrace the technological transformations and the possibilities the new digital era opens, assuming the role of active players in shaping the future.

Dr Max McKeown, the prestigious mentor in innovation, will be present at the Annual ABSL Conference. Dr Max McKeown will share his insights into how we could create and shape a better future through innovation and strategy. His ideas, shaped around the idea that strategy is a living thing will help you connect, learn and innovate.

At present, the business services sector is one of the most important employers and creators of new jobs in the Romanian economy. The domestic sector offers a wide range of services to both local and European customers, North America, South America, Africa, Asia Pacific and the Middle East.

For more information regarding the event, please visit our website: www.absl.ro.

Booking a ticket at: at http://www.absl.ro/events/annual-conferences/annual-conference-2017/participant-registration. Early Bird tickets are available at a special price (100 Euro/ ticket) until September 15th. ABSL Gala, the event which celebrates Industry's special results, will take place next year, during a dedicated event.

Local companies, profile multinational companies, global and regional leaders are part of ABSL Romania : Accenture Services, APT Resources & Services, Allianz Worldwide Partners Romania, Be Think Solve Execute, Telus International, Capgemini, Central Europe Technologies, CRH Ciment Romania, Connections Consult, DB Schenker , Deloitte Audit, Ernst & Young, Eucom Business Language, Genpact Romania, Global Remote Services, HP Enterprise, HP Inc Romania, Luxoft Professional Romania, Mazars Consulting, Mood Media, Microsoft Romania, Office Depot Service Center, Optima Solutions Services, Outsourcing Advisors, PwC Services, Process Solutions, Procter & Gamble Marketing Romania, Renault Business Services, Samsung Romania, SCC Services Romania, SELIR, Societe Generale European Business Services, Stefanini Romania, TMF/ UCMS Group Romania, UniCredit Business Integrated Solutions, Valoris Center, Vauban IT, Veeam Software, Vodafone Shared Services Romania, Webhelp, Wipro Technologies și WNS Global Services Romania.

The Strategic partners of the association are: ACCA, Colliers International, Fine Law, KPMG, COS, SKANSKA, iFuture and HAYS.

Media partners: ANIS, Outsourcing Today, PIN Magazine and The Diplomat-Bucharest.

---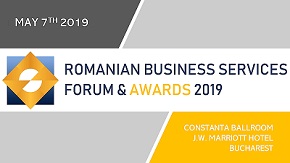 » Huawei opens a centre on cyber securit...
» ROMANIAN OUTSOURCING AWARDS FOR EXCELL...
» Romania ranks above EU average in gend...
» Bucharest, in the top of cities in Eur...
» Berg Software Romania: Reasons to outs...
» Meet the experts who will decide the w...
» Bogdan Pelinescu, president of ABSL: A...
» KPMG launches an application enabling ...
» ABSL GALA AWARDS celebrated its winner...
» Oracle reaches 4,200 employees and pla...

Colin C. Lovering: Meet the speakers at Romanian Business Services Forum & Awards 2019, on May 7

Colin C. Lovering has been living and working in Romania since 2009 when he arrived to offer consultancy and advice to organisations looking for growth and profitability and founded Achieve International.
Read Full article »
Antoniu Panait: Meet the speakers at Romanian Business Services Forum & Awards 2019, on May 7

Managing Director for VASTINT Romania since 2009, Antoniu Panait has an executive experience of more than 10 years, mainly in real estate.
Read Full article »
Andrei Voica: Meet the speakers at Romanian Business Services Forum & Awards 2019, on May 7

Andrei Voica, Director Project Management and Workplace Consultancy, Colliers International. Truly passionate about his work and always eager to add value to each project.
Read Full article »
Romulus Caralicea: Meet the speakers at Romanian Business Services Forum & Awards 2019, on May 7

Romulus is Wipro's Information Security, Risk & Compliance Lead for Europe. In his role he is managing internal audits and compliance activities for all clients and internal functions based on the corporate ISO
Read Full article »
George Didoiu: Meet the moderator of Romanian Business Services Forum 2019 CEO LEADERS DEBATE, on May 7

In his 15 years of real estate, George Didoiu advised on the relocation of top IT&C, finance-banking and consultancy companies, which total over 10,000 employees.
Read Full article »