Thierry Blain, SG EBS: Bringing teams to the next level

The journey of Societe Generale European Business Services began with the need for a strategic location to sustain and transform European operations of Societe Generale Group. The purpose was, from the early days, to deliver high-added-value services in various fields of activity for France and European entities of the Group. Since its creation in early 2011, SG EBS encountered a very fast growth to reach 1000 employees after less

Outsourcing Today talked to Thierry Blain who took over the position as COO of SG EBS at the beginning of this year. Blain is graduate of Paris Business College INSEEC & Executive MBA ESCP Europe and before taking over the position at SG EBS, the manager was CEO of Dacris Group – Staples Exclusive Representative in Romania.

Since January 2012, Thierry was Transition Managing Director with various mandates. Previously, the manager took over position such as Group Business Development & C.E.E Managing Director at GPV, Managing Director Central & Eastern Europe at GPV. BPO & Manufacturing industries, respectively Managing Director at GPV Romania.

Q1. What describes you best: The Leader, The Manager, The Achiever and how did your academic and professional background enabled your leading skills?

TB: Right now, I would say the manager is the professional model that fits me best. To a great extent, my academic education and my training helped me get to where I am today; working with people and for people, I have come to realize that my role is not just a job, but a vocation; I can make a difference and help people by caring for and respecting their needs, and coach them with their careers and how to better utilize their qualities and competences, how to "shine their diamonds".

Q2.What would you say it is your personal and professional footprint within the company's evolution?

TB:My mission is to bring within the company change management to support through innovative solutions and processes our future growth both within existing services and new expertise such as KYC, ensuring all synergies to deliver more value and agility to our customers.

Q3. A view on the outsourcing industry context: Which are the strongest and weakest features of local market?

TB: Romanian outsourcing market strongest features are linked to EU membership bringing local legislation in line with Western Europe customers, sustaining outsourcing within EU, the openness of Romanian society to foreign languages and cultures, the high level of education existing among the young generation. On the other hand, the weaknesses are also connected to the people and limited resources on the labor market in certain technical areas such as IT. I would encourage the Authorities to develop strategic national education planning, sustain the professional reconversion options and national mobility of the work force.

---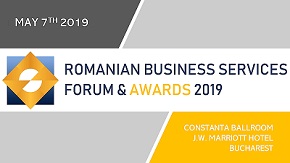 » Huawei opens a centre on cyber securit...
» ROMANIAN OUTSOURCING AWARDS FOR EXCELL...
» Romania ranks above EU average in gend...
» Bucharest, in the top of cities in Eur...
» Berg Software Romania: Reasons to outs...
» Meet the experts who will decide the w...
» Bogdan Pelinescu, president of ABSL: A...
» KPMG launches an application enabling ...
» ABSL GALA AWARDS celebrated its winner...
» Oracle reaches 4,200 employees and pla...

Colin C. Lovering: Meet the speakers at Romanian Business Services Forum & Awards 2019, on May 7

Colin C. Lovering has been living and working in Romania since 2009 when he arrived to offer consultancy and advice to organisations looking for growth and profitability and founded Achieve International.
Read Full article »
Antoniu Panait: Meet the speakers at Romanian Business Services Forum & Awards 2019, on May 7

Managing Director for VASTINT Romania since 2009, Antoniu Panait has an executive experience of more than 10 years, mainly in real estate.
Read Full article »
Andrei Voica: Meet the speakers at Romanian Business Services Forum & Awards 2019, on May 7

Andrei Voica, Director Project Management and Workplace Consultancy, Colliers International. Truly passionate about his work and always eager to add value to each project.
Read Full article »
Romulus Caralicea: Meet the speakers at Romanian Business Services Forum & Awards 2019, on May 7

Romulus is Wipro's Information Security, Risk & Compliance Lead for Europe. In his role he is managing internal audits and compliance activities for all clients and internal functions based on the corporate ISO
Read Full article »
George Didoiu: Meet the moderator of Romanian Business Services Forum 2019 CEO LEADERS DEBATE, on May 7

In his 15 years of real estate, George Didoiu advised on the relocation of top IT&C, finance-banking and consultancy companies, which total over 10,000 employees.
Read Full article »