TELUS International Europe: Issue 3 - Customers First magazine! Strategy and innovation in travel and hospitality

The third issue of our Customers First magazine is now available! The latest edition is all about travel and hospitality, featuring insights from industry experts and top brands like JetBlue, Turo, Joie de Vivre, Lux* Resorts and Hotels and more.
Grab the PDF. Or read it online 





Grégoire Vigroux
Vice-President Marketing of TELUS International Europe





Inside this issue, you'll discover:

How JetBlue keeps its (customers) cool in a crisis – An interview with Laurie Meacham, customer commitment and social media manager at JetBlue, on turning challenging travel experiences into opportunities for customer delight.

The rise of white-glove customer service – The different ways travel and hospitality companies are turning loyal customers into proactive brand advocates, and the growing role of the contact center.

Why Las Vegas is a sure bet for outsourcing – Some of the top reasons why the city's popularity is soaring as a contact center destination.

The sharing economy and the future of travel and hospitality – A look at the symbiotic nature of the disrupter and disrupted, and what it means for the customer.

Gaining a 360-degree view of the customer – How top brands are using data to personalize the customer experience and the unexpected, but beneficial, results.

And much more!
For feedback or suggestions on topics you would like to see covered in future editions, please contact us on Twitter at @TELUS_eu.

And don't forget to check out Customers First issue 1 and issue 2 if you haven't already!

Related articles: www.telusinternational-europe.com /
www.telusinternational.com

---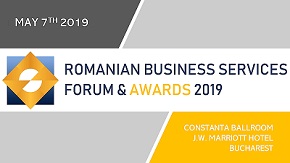 » Raiffeisen Bank Romania outsources onl...
» Horváth & Partners launches Steering ...
» JLL: Total office space in Bucharest t...
» Colliers International takes over the ...
» Oracle results pushed down by a strong...
» Survey: Romanians switch to a lower-pa...
» SSC in Romania. Who takes the lion's s...
» Genpact, Luxoft and Oracle, top lessee...
» Romanian employers report the stronges...
» Eucom: Nine out of ten corporate Roman...

My HR Lab: Research of suitable candidates and giving feedback to rejected ones, the biggest challenge in HR

During June 2019, My HR Lab company run an online (social media platforms) survey "Challenges of the recruitment process" which enrolled over 100 professionals working in HR and recruitment in Romania.
Read Full article »
The local market needs more added-value and complex projects to be developed by the companies

The statement has been uttered within this year's Romanian Outsourcing and Shared Services Summit by Catalina Dodu, Country Manager at Atos, pointing to the local enablers that could enhance the innovation and
Read Full article »
The office market at a glance: The round for tenants is on

Data provided by CBRE show that the office spaces segment will continue to grow rapidly in 2019, and 15 new projects covering 304.000 sqm will be delivered. According to the real estate consultancy agency, curr
Read Full article »
People Empowering Business Forum 2019 to take place on October, 30 at Bucharest

Latest trends like demographic upheaval, globalization, digital technology, and changing social values and worker expectations, are disrupting business models and radically changing the workplace. These are req
Read Full article »
Addressing the mantra of cyber-security: Confidentiality, integrity and availability

The fast advancement of technology in all the aspects of everyday life, either personal or professional, and the emerging of AI (Artificial Intelligence) and ML (Machine Learning), not to mention cloud technolo
Read Full article »