TELUS International Europe: Issue 3 - Customers First magazine! Strategy and innovation in travel and hospitality

The third issue of our Customers First magazine is now available! The latest edition is all about travel and hospitality, featuring insights from industry experts and top brands like JetBlue, Turo, Joie de Vivre, Lux* Resorts and Hotels and more.
Grab the PDF. Or read it online 





Grégoire Vigroux
Vice-President Marketing of TELUS International Europe





Inside this issue, you'll discover:

How JetBlue keeps its (customers) cool in a crisis – An interview with Laurie Meacham, customer commitment and social media manager at JetBlue, on turning challenging travel experiences into opportunities for customer delight.

The rise of white-glove customer service – The different ways travel and hospitality companies are turning loyal customers into proactive brand advocates, and the growing role of the contact center.

Why Las Vegas is a sure bet for outsourcing – Some of the top reasons why the city's popularity is soaring as a contact center destination.

The sharing economy and the future of travel and hospitality – A look at the symbiotic nature of the disrupter and disrupted, and what it means for the customer.

Gaining a 360-degree view of the customer – How top brands are using data to personalize the customer experience and the unexpected, but beneficial, results.

And much more!
For feedback or suggestions on topics you would like to see covered in future editions, please contact us on Twitter at @TELUS_eu.

And don't forget to check out Customers First issue 1 and issue 2 if you haven't already!

Related articles: www.telusinternational-europe.com /
www.telusinternational.com

---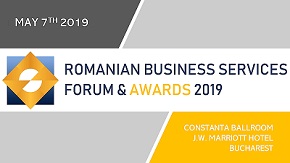 » Huawei opens a centre on cyber securit...
» ROMANIAN OUTSOURCING AWARDS FOR EXCELL...
» Romania ranks above EU average in gend...
» Bucharest, in the top of cities in Eur...
» Berg Software Romania: Reasons to outs...
» Meet the experts who will decide the w...
» Bogdan Pelinescu, president of ABSL: A...
» KPMG launches an application enabling ...
» ABSL GALA AWARDS celebrated its winner...
» Oracle reaches 4,200 employees and pla...

Colin C. Lovering: Meet the speakers at Romanian Business Services Forum & Awards 2019, on May 7

Colin C. Lovering has been living and working in Romania since 2009 when he arrived to offer consultancy and advice to organisations looking for growth and profitability and founded Achieve International.
Read Full article »
Antoniu Panait: Meet the speakers at Romanian Business Services Forum & Awards 2019, on May 7

Managing Director for VASTINT Romania since 2009, Antoniu Panait has an executive experience of more than 10 years, mainly in real estate.
Read Full article »
Andrei Voica: Meet the speakers at Romanian Business Services Forum & Awards 2019, on May 7

Andrei Voica, Director Project Management and Workplace Consultancy, Colliers International. Truly passionate about his work and always eager to add value to each project.
Read Full article »
Romulus Caralicea: Meet the speakers at Romanian Business Services Forum & Awards 2019, on May 7

Romulus is Wipro's Information Security, Risk & Compliance Lead for Europe. In his role he is managing internal audits and compliance activities for all clients and internal functions based on the corporate ISO
Read Full article »
George Didoiu: Meet the moderator of Romanian Business Services Forum 2019 CEO LEADERS DEBATE, on May 7

In his 15 years of real estate, George Didoiu advised on the relocation of top IT&C, finance-banking and consultancy companies, which total over 10,000 employees.
Read Full article »