Technology, friend or foe

How well do we understand the multitude of tools that are one touch away from us and how do we make the best use of it in terms of work efficiency, effectiveness and safety? Another of the biggest questions in this contest is how automation will actually affect employment, at what level -if any -and when.

Automation, employment and productivity, not a call off According to McKinsey Global Institute (MGI), there is a future that could work, agreeably joining these concepts: automation, employment and productivity. Their latest report issued this year says: "Automation of activities can enable businesses to improve performance, by reducing errors and improving quality and speed, and in some cases achieving outcomes that go beyond human capabilities. Automation also contributes to productivity, as it has done historically.

At a time of lacklustre productivity growth, this would give a needed boost to economic growth and prosperity and help offset the impact of a declining share of the workingage population in many countries. Based on our scenario modelling, we estimate automation could raise productivity growth globally by 0.8 to 1.4 per cent annually." Globally, according to the report, almost half the activities for which people are paid almost 16 trillion USD in wages to perform in the global economy, have the potential to be automated by adapting currently demonstrated technology, according to the McKinsey analysis of more than 2,000 work activities across 800 occupations. "While less than five percent of all occupations can be automated entirely using demonstrated technologies, about 60 percent of all occupations have at least 30 percent of constituent activities that could be automated. More occupations will change than will be automated away," the report says.

On the other hand, the automation of jobs that have been so far classically performed by human hand triggers a general anxiety not only among employees but also among employers, because once the technology and automation is set in place, they will need further specialized workforce to maintain and manage it. The new approach to workforce design According to a report of Think Tank Reform, an educational charity organization established as the Reform Research Trust in UK, an estimated 250,000 public sector employees could be replaced by robots over the next 15 years, according to a recent report voiced by the organization. Think Tank says that few complex roles will be able to resist automation, as it calls for a "new approach" to workforce design. Around a quarter of a million jobs in the public sector could be replaced by computers and robots in the next 15 years, research from think tank Reform has found. Alexander Hitchcock, co-author of the report, said: "Such a rapid advance in the use of technology may seem controversial, and any job losses must be handled sensitively. But the result would be public services that are better, safer, smarter and more affordable."

The report, which is based on evaluations of recent UK government approaches to workforce design, as well as expert interviews and analysis of public and private data, concluded that a new approach to working is needed because "public services should deliver outcomes that matter to users, and meet expectations of interacting via technology". Few complex roles, it suggested, will be capable of resisting the move towards automation, with the aim that public services will eventually become "diamond shaped", with both frontline and strategic roles replaced by computers. It recommended that workplaces vary their internal hierarchies so there are fewer management layers, and begin introducing new recruitment patterns, including targeting non-traditional entry routes such as apprenticeships and digital contingent-labour platforms, to attract a wider skill base into their workforces.

Capitalizing on technology

The Global Engagement Study launched in early October 2016 by global company Oracle, showed that digital technology, leadership and company values rank among top distinguishers for employee success. Oracle said it collaborated with Kantar TNS on The Global Engagement Study which surveyed nearly 5,000 full-time employees at organizations with 250 or more employees. The study encompassed a total of 4,706 interviews that captured opinions, feelings and experiences on a wide range of workplace factors including: culture, performance, tangible and intangible rewards, development and progression opportunities, experiences with collaboration technology, the impact of leadership and how employees feel in their current role. Percentages quoted are for those giving a top two box selection on a seven-point agreement scale.

On digital enablement, the study reads that technology is enabling companies to connect with employees in more ways than ever to create a more modern and customized learning experience. However, findings from the study indicate low marks when it comes to companies capitalizing on this—only 44 per cent of respondents say that their company uses the latest technology to enable them to effectively perform in their role. "Employees as consumers are more plugged into technology via multiple devices (i.e. mobile, tablet, desktop) than ever before. They expect the same level of accessibility that they get in their personal lives with the technology they encounter at work," said Gretchen Alarcon, group vice president of HCM Product Strategy, Oracle. "Cloud technology enables this digital employee experience through features that can help employees learn, process and consume information in an easy way. A more modern user experience interface also reflects what they are accustomed to at home," Alarcon added. The findings of the study also express that a strong presence in leadership is the backbone for an employee feeling satisfied and engaged.

The study indicates that productivity starts with onboarding: employees are unsatisfied with the process, as only 41 percent believe that company onboarding practices set them up for growth and success. Not only are managers the first impressions of a company during onboarding, but they are also the first example of direction for the new worker.

Only 47 percent of those polled viewed their leaders as visible and approachable and only 44 percent expressed that they have confidence in their leadership, indicating a lack of partnership between management and employees. "Employees ultimately decide if they would like to stay with a company within the first two weeks of employment," said Alarcon. "What this means, is that within the first 14 days, employees are already asking themselves, 'Do I think I can progress here? Do I have a manager who can be a mentor and am I getting the ability to create a network and get introduced to the right people and tools to best perform in my job?' This is especially important when we think about development within a company —candidates want to feel the company is a good fit," the Oracle manager added.

Recently, within the Romanian Outsourcing Summit, 2017 Edition, Mihaela Apostoleanu, Senior Director, Oracle EMEA Business Operations, also stated that: "The technological improvements are not going to directly impact employees tomorrow. They create space for growth in years. It empowers us to use more tools. Right now, the security challenge is the focus area in software area. The weakness comes from companies. With the volumes of data and people involved at so many levels, the security data is foremost. We need to educate people how to use technologies and social media in security data, informing and developing protocols for permits to use image of companies and information. All this, in conjunction with the using of security tools in order to identify the breaches and prevent." Also, the manager highlighted the opportunity of cloud-based call centres and automation used at higher levels.
"The automated speech translation is a new tool that we see growing in the area," Apostoleanu stated. Digital technologies change everything finance does According to the latest Accenture Strategy study, digital puts real-time decision making in a CFO's hands like nothing else before it, with 48 per cent of finance executives believing that digital technologies will fundamentally change everything finance does. The survey was conducted during August and September last year and covered various industries such as banking, insurance, life sciences, consumer goods and services, automotive, industrial, infrastructure and travel, energy and communications and media and technology.

The report showed that one in four companies are realizing greater than expected returns from digital, and a whopping 82 per cent are seeing measureable business Return On Investment (ROI) from digital finance investments. "Today's CFOs are embracing digital more than ever. It is much more than social, mobile and analytics, they are increasingly relying on digital for security threat intelligence, blockchain, and artificial intelligence too," said David Axson, Managing Director, Accenture Strategy, CFO & Enterprise Value. "Those that are moving beyond single-point applications to enterprise-wide digital deployment are seeing greater than expected ROIs across the board," the manager added. Digital is currently delivering improvement in professional staff productivity, and could soon make monthly and quarterly management reports a quaint relic of a bygone time. About one-third of all digital technologies have delivered transformational benefits to firms with cycle time reduction (37 per cent) and finance staff productivity improvement (36 per cent) being the top benefits. The study also highlighted a few barriers – the greatest being the level of investment required for digital technologies (18 per cent) and hiring talent that has the required skills to implement and operate the new technologies (16 per cent).

Romanian RPA start-up obtains major financing

Two months ago, the Romanian start-up UiPath - specializing in robotic process automation announced it secured 30 million USD worth of financing from Accel Partners, an American venture capital firm specializing in seed, early, and growth-stage investments which has funded many technology companies including Facebook, Dropbox, Atlassian, Flipkart, and Spotify among others. The Series A funding includes a 1.6 million USD seed round UiPath raised last year from Earlybird, Credo Ventures and Seedcamp, the company announced. UiPath is a Romanian start–up based in the USA with offices in six countries, specializing in development and selling of Robotic Process Automation / RPA solutions and products. In 2006, the current CEO of the company, Daniel Dines, completed a stage of his career at Microsoft HQ in the US, and together with the current technology manager of UiPath, Marius Tirca, laid the basis of their future dream that now encompasses UiPath. "This investment will allow us to introduce the benefits of intelligent RPA to even more businesses around the world and remain at the forefront of a rapidly-advancing industry. We are making work more inspiring and effective for the people that drive our businesses and economies forward, and the potential that remains untapped for organizations is what makes this such an exciting market to work in", says Daniel Dines, CEO and founder of UiPath.

In 2013, the start-up really started to take shape and emerged on the market with a ready-to-market product, an "enterprise" automation platform that is currently being sold to the largest corporations in the world, according to representatives of the company. Until 2015, the company secured its own financings and expanded with offices in the US, and in August 2015 UiPath accessed the first seed-type investment round from Earlybird Venture Capital, Credo Ventures and Seedcamp. One year later, in 2016, following two product versions already launched and a team of programmers that grew from 25 to 100, UiPath opened offices in London, New York, Bengaluru, Singapore and Tokyo. The start-up RPA company has about 200 large companies among its customers, including Lufthansa, Generali, Telenor and Dong Energy, besides companies operating in sectors such as banking and financial service, insurance manufacturing, utilities, healthcare, and government. For the next five years, the company plans to achieve revenues of around 100 million USD.

---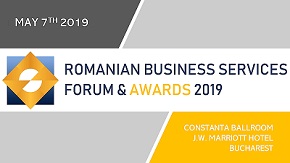 » A people-centred business
» Isarescu: Economy will grow above pote...
» CBRE: Bucharest will witness a fivefol...
» Committed to growth
» Delphi Technologies inaugurates global...
» Technology, Mobility and Wellness make...
» Meet the winners of ROMANIAN BUSINESS ...
» The Renaissance of Outsourcing
» UBB and IT Cluster Cluj brought 450 st...
» UK: Outsourcing is leaving public sect...

Workplace of the Future conference to take place on November 20th at Bucharest

The Diplomat-Bucharest together with Outsourcing Today organize the 3rd Edition of WORKPLACE OF THE FUTURE, on 20th of November 2019, in Bucharest, at Capital Plaza Hotel.
Read Full article »
Strategic Talent Acquisition at People Empowering Business Forum on October 30 in Bucharest

Latest trends like demographic upheaval, globalization, digital technology, and changing social values and worker expectations, are disrupting business models and radically changing the workplace. These are req
Read Full article »
Informal IT School and UiPath launch an educational program for RPA development to start in October

Informal IT School announced a partnership with UiPath to launch an RPA development educational program of five months, 100 hours of courses, five days a week. The program will run in Cluj-Napoca.
Read Full article »
Impact Hub Bucharest joins 3house to manage three coworking spaces in the city

Impact Hub Bucharest, a coworking spaces manager and developer of accelerator programs and events merged with 3house, a new concept of workplace launched in 2018. By this, Impact Hub reaches 3 locations and 6.7
Read Full article »
JLL: Total office space in Bucharest to reach 3 million sqm

The second quarter of 2019 reconfirmed the increased interest for the office market in Romania. Over 115,000 square meters of office space were leased over this period at the national level, a value similar wit
Read Full article »