Reshaping the industry mindset

The business shared services industry in Romania is living a fantastic youth, but may be heading towards a maturity that may come sooner than expected, thanks to disruptive emerging technologies and the urgent need to embrace them quickly and accurately. Outsourcing Today talked to top leaders in the industry in order to find out how the companies are coping locally with the most recent exigencies of the new digitalized world.

The business models are changing and, as Andreea Stanescu, Vice President EMEA Delivery, Stefanini told Outsourcing Today, "the company has been taking, in recent years, significant steps for staying ahead of the game. Digitalization, process automation and innovation are at the top of management agenda and at group level but also locally we have a clear roadmap for driving this. This is, for our industry, an opportunity and a threat at the same time, and companies that understand to invest and focus on it will be able to provide better, faster and more value added services in the future," Stanescu said.

The need to create new business models Globalization and digitalization are changing the way companies operate on this very competitive market. Currently, the shared business services model attracts more resources globally as organizations undertake to spread their workflow on a larger scale, according to Bogdan Pelinescu, Managing Director Luxoft Romania. "This is the result of a strategy to serve a wider range of markets, as the demand for these services grow gradually," Pelinescu said. "A solid shared business services model comes with benefits like lower costs or better decision support. The challenge today is to find the right way to align business services with a global operating structure that deals with technology disruption and digitization. The winning companies on the local market will be those that manage to integrate into their business model a customer and employee oriented approach," Luxoft's manager added.

Currently, Romania is now ranked as a top destination by all big names in the industry and, as Stefanini's manager stated, the shared services model had an impressive quantitative and qualitative evolution over the last years. "To maintain and to continue the growth, workforce sustainability is key. As much as analysts are ranking Romania as a top destination, they also highlight the risk of scarce resources as becoming an issue. Being in the industry, we feel it, especially when it comes to IT skills. So our educational system and capacity in the faculties need to be adapted to be able to support the growth. With an increased availability and sustainability of the workforce, the price competitiveness will indirectly be addressed, as nowadays we often see cases when companies overpay for getting resources and then the entire industry has to react and this artificially increases the cost of labour," Stanescu explained. Fostering the right talent The fight for talent has been intensified in recent years and this will continue, according to the Stefanini manager. "This is why we need, at country level, structural programs to cope with the demand. We have a huge opportunity to grow this sector and only by ensuring that we maintain our ability to grow will we be able to capitalize on it," Stanescu said.

The IT&C market, in which Luxoft operates, is different compared to other industries as the demand for qualified staff is higher than the supply. This shortage of specialized software engineers puts a lot of pressure on each company's HR department. As Luxoft's manager stated, recruitment has currently turned into a tremendous organizational effort for IT companies which strive to find the right people for the right positions. "At Luxoft we are looking for IT professionals for opportunities such as Software Developer, Business Analyst, Software Architect, or C++ Developer and Test Specialist. Each job opening comes with a technical and personal set of skills that the candidate must have. Whether the person interested in joining our team is a junior or a senior, they must prove themselves to be easily adaptable to unforeseen challenges on the job. Once the software engineers become part of Luxoft, they benefit from a career path and professional training programs that are designed to enhance their potential," Pelinescu said.

At 16 years since the business shared services industry emerged in Romania, the base or minimum requirement to enter the industry has not dramatically changed, as Crina Ilie, HR VP Europe & Africa told Outsourcing Today: "First, the European language to be utilized for the process is needed and second, English is mandatory. Then computer savvy, learning agility, analytical and work discipline are also considered," the manager listed. In Genpact's vision, what's coming next is customer engagement skills – a deeper business understanding of how business value gets created. Also, "emerging skills for leaders - design thinking, business transformation capabilities, integrating domain tools and process understanding are very important. Popular in other regions but not yet in EU is the complex analytics and BI (Business intelligence) and certifications required for niche skills: Lean Six Sigma, ACCA and Project Management," Crina Ilie added.

The challenge of finding the right talents still exists. In Genpact's case, for large volume pursuits, the manager says that they find it difficult to get the right mix of language skills and domain. Recent challenges include limited availability to travel or relocate. "Due to the competitiveness of the industry, a steady, relevant, catchy and cool employee branding approach is needed on a continuous basis. To match the fast-paced change of business environment reflected in our industry, Genpact has launched the Bring Back Curious campaign and the drive to ignite innovative spirit and entrepreneurship, encouraging its employees to "own the company, own their career, own their growth," said Genpact's HR manager. For this year, the company is scaling up its focus on building an innovation culture, drawing on the employees' knowledge and ideas to improve its products and services, and be innovative in a world which is easily disrupted by data, analytics and technology. "In our opinion, listening to the employees in the true sense, by being close to them and their managers, involving them in workshops to create engagement and retention roadmaps, capitalizing on the employee satisfaction results and ensuring broad themes for the engagement agenda, is key," Ilie said.

The outsourcing industry in Romania has become a major market for shared business services based on the language skills Romanians have. Superior language knowledge remains important in the decision to choose one candidate over another. "However, these skills have to be matched by good planning capabilities and creativity in order to keep up with the evolution of the market's demands. At Luxoft, for instance, one must demonstrate flexibility and innovation. In addition, each candidate should have a specific set of technical and personal skills according to the requirements for the job opening we have," concluded Bogdan Pelinescu, Managing Director Luxoft Romania. According to Outsourcing Advisors, the community portal of outsourcing professionals, the global and regional landscape's changes will mark the industry of outsourcing landscape worldwide in 2017. The organization's findings state that companies have already started re-assessing their contracts in the light of the not-so pro-outsourcing changes expected.

Among the trends identified in 2017, Outsourcing Advisors numbers:
1. Security will be the key: As outsourcing policies change, delivery mechanisms will change, creating security challenges. Increasing their awareness about security, companies will be forced to choose advanced security measures, like automation, threat intelligence and analytics solutions.
2. Intelligent Automation: Automatic processes take less time, are more efficient and this may raise the issue of balancing manual and automated work, which is yet to be settled. Automation will help standardise, reducing direct costs and extending benefits to suppliers, buyers and customers.
3. The fast emerging of virtual assistants: The call centre will lose its significance with the emergence of self-servicing tools and intelligent virtual assistants. As selfservice tools and intelligent assistants like virtual agents and chat box become more prevalent, the call centre as we know it will face extinction. Virtual agents will take over in the form of contact centres catering to customers' queries and needs.

"For 2017 we can expect outsourcing, especially in the IT sector, to continue to increase. We will see how companies will respond to technological challenges and how they will face the future in order to make this industry grow and be more competitive," Outsourcing Advisors representatives said. Embracing change and disruptive technologies According to Technology Vision 2017, the annual technology report from Accenture, rapid acceleration of human-centric technology in AI, digital ecosystems and marketplaces will empower people, and drive the transformation of business and society. The annual technology report from Accenture predicts the most significant technology trends that people will apply to disrupt business over the next three years.

The theme of this year's report, "Technology for People," is a call to action for business and technology leaders to actively design and direct technology to augment and amplify human capabilities. The report states that we are beginning to see the emergence of technology for people, by people – technology that seamlessly anticipates our needs and delivers hyper personalized experiences. "The pace of technology change is breathtaking, bringing about the biggest advancements since the dawn of the Information Age," said Paul Daugherty, Accenture's chief technology and innovation officer. "As technology transforms the way we work and live, it raises important societal challenges and creates new opportunities. Ultimately, people are in control of creating the changes that will affect our lives, and we're optimistic that responsive and responsible leaders will ensure the positive impact of new technologies," Daugherty said. As part of the Technology Vision report, Accenture surveyed more than 5,400 business and IT executives worldwide. Nearly nine in ten respondents (86 percent) said that while individual technologies are rapidly advancing, it is the multiplier effect of these technologies that is creating innovation breakthroughs.

Data Security has become top priority and the development of new technologies has raised the level of security concerns. "What are the companies' strategies in this matter?" was the question addressed to main leaders in the field. Andreea Stanescu, Vice President EMEA Delivery, Stefanini said that the company has invested heavily in data security over the last couple of years, from network security to facility security, leading to ISO 27001 certification for our centres. "Another important aspect relates to initial and ongoing training of personnel. Every single employee has to complete a security related training on a yearly basis and to successfully pass an exam at the end of the training. We will continue to maintain security as a top priority for our organization, as we are very aware of the impact it can have on our business and on our customers," Stanescu said.

As Amit Chitlangia, F&A Practice Leader, Europe at Genpact said, the company focuses on delivering digital transformation for our clients, putting digital and data to work to create competitive advantage. "Genpact has been thriving on change and disruptions. We have, time and again, participated and contributed to disruptions that make businesses more efficient, and effective at improving customer experience. It is for that reason we are one of the early adopters of Digital technologies. Our Lean Digital framework combines digital technology with our deep domain experience in enterprise processes and the industries we support. We are applying design thinking to reimagine outcomes with our clients rather than getting constrained with benchmarks," said Chitlangia.

According to the manager, this method helps to create digital assets that provide disproportionate benefit and hence disrupt the status quo. "Over the last 18 to 24 months, we have developed multiple Digital Assets that combine Robotics with AI, NLP & NLG, IoT and Big Data with a domain that delivers business value and superior business outcomes. We are continuously learning and experimenting and hence the challenge we face is not very different from others. Genpact is committed to never letting a new idea's spark fade away, never letting curiosity die, never allowing its people to lose their innate need to question and explore. If we fail, we fail fast - fear is not an option. This approach has helped us to be agile in adoption and implementation of new technologies," Chitlangia concluded.

---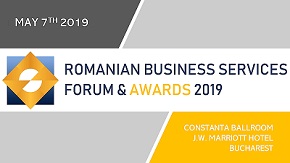 » A people-centred business
» Isarescu: Economy will grow above pote...
» CBRE: Bucharest will witness a fivefol...
» Committed to growth
» Delphi Technologies inaugurates global...
» Technology, Mobility and Wellness make...
» Meet the winners of ROMANIAN BUSINESS ...
» The Renaissance of Outsourcing
» UBB and IT Cluster Cluj brought 450 st...
» UK: Outsourcing is leaving public sect...

Workplace of the Future conference to take place on November 20th at Bucharest

The Diplomat-Bucharest together with Outsourcing Today organize the 3rd Edition of WORKPLACE OF THE FUTURE, on 20th of November 2019, in Bucharest, at Capital Plaza Hotel.
Read Full article »
Strategic Talent Acquisition at People Empowering Business Forum on October 30 in Bucharest

Latest trends like demographic upheaval, globalization, digital technology, and changing social values and worker expectations, are disrupting business models and radically changing the workplace. These are req
Read Full article »
Informal IT School and UiPath launch an educational program for RPA development to start in October

Informal IT School announced a partnership with UiPath to launch an RPA development educational program of five months, 100 hours of courses, five days a week. The program will run in Cluj-Napoca.
Read Full article »
Impact Hub Bucharest joins 3house to manage three coworking spaces in the city

Impact Hub Bucharest, a coworking spaces manager and developer of accelerator programs and events merged with 3house, a new concept of workplace launched in 2018. By this, Impact Hub reaches 3 locations and 6.7
Read Full article »
JLL: Total office space in Bucharest to reach 3 million sqm

The second quarter of 2019 reconfirmed the increased interest for the office market in Romania. Over 115,000 square meters of office space were leased over this period at the national level, a value similar wit
Read Full article »