OT Learning & Development Roundable takes place on June 15th

On June 15th, Outsourcing Today organizes OT Learning & Development roundtable. The event brings together the business services professionals to discuss and discover new tools and programs designed to assist businesses in growing the talent pipeline and developing current employees.

The event benefits from the support of Gold Partners: Wipro, Cima, Fine Law Patrascanu & Associates; Partner: Vastint and ACCA support. It will be moderated by Alexandra Olteanu, CEO All to Know.

By 2020, around 200.000 people are expected to work in business shared services in Romania, more than doubling the current employment portfolio enrolled in more than 120 companies operating BPO, SSC or ITO services. The organizational structure and workplace culture, as well as the role and skills demanded of the human resources in the outsourcing industry is quickly evolving so, organizational focus on learning and development will be more and more imperative.

Human resource development, encompasses a range of on-the-job and off-the-job methods for acquiring necessary knowledge, skills and behaviors. There are many ways that employees can be developed including induction, on the job training, internal and external courses and workshops, compliance training, supported external study, coaching and mentoring.

The focus of the discussions will be on the exchange of relevant trends and research results as well as the presentation of practical experiences gained while developing, designing and testing elements of advanced corporate learning.

Topics to be addressed:
• Scanning the organizational actual needs in terms of talent management and succession planning
by drawing a coherent strategy for the future
• Compliance with legal requirements
• Tax credits and grant assistance for work-based learning programs
• Best practices of HR professionals in delivering the most cost-effective methods and solutions for more successful learning results
• Corporate structured learning programs with impact on corporate culture in terms of personal and professional development (e.g. coaching, mentoring etc.)
• Corporate in-house trainings / workshops / pills
• Measurement tools/ criteria used by HR / Training functions and the business to measure/ ensure effectiveness

The confirmed speakers are:
Crina Ilie, President of Human Resources Genpact Europe
Teodora Todoran, Strategic Leadership Development Europe (SLD)/ Training at Wipro BPO
Marie Francine Rosca, Global Learning Program Manager at HP
Iulian Patrascanu, Managing Director, Fine Law Patrascanu & Associates
Olga Botusan, HR Manager, Stefanini
CIMA Representative

Find all the event details, agenda and registration on the official webpage: http://learning-development.thediplomat.ro/

---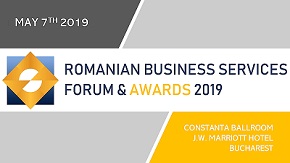 » Romania ranks above EU average in gend...
» The voting procedure for the BRAND OF ...
» Berg Software Romania: Reasons to outs...
» Deloitte's Tech Trends 2019 report: B...
» Steven Hunt, SAP SuccessFactors: Tecto...
» Molson Coors started to grow its busin...
» Societe Generale-European Business Ser...
» Capgemini: Investing in people is the ...
» Countries in CEE region, including Rom...
» Oracle reaches 4,200 employees and pla...

The voting procedure for the BRAND OF THE YEAR 2019 IN ROMANIAN BUSINESS SERVICES is open!

This is the fifth edition of the event and the second year to select the public's favorite brand in the business services BPO, ITO and SSC in Romania.
Read Full article »
Romania ranks above EU average in gender employment gap

In Romania, the employment rate measures the number of people who have a job as a percentage of the working age population. This page provides - Romania Employment Rate- actual values, historical data, forecast
Read Full article »
Steven Hunt, SAP SuccessFactors: Tectonic movements in the world of work

The world of work will be shaped by five tectonic movements – or global megatrends – over the next few years. As you may guess from the geological analogy, the effects could be dramatic.
Read Full article »
EY: European companies are divesting to future-proof growth

According to the EY Global Corporate Divestment Study, 84 per cent of European companies surveyed intending to divest within the next two years (the majority planning to do so in the coming 12 months), executiv
Read Full article »
Knowledge-sharing presentation on latest trends the industry deals, in the program of Romanian Business Services Forum and Awards

Part of the upcoming joint half-day event, Romanian Business Services Forum and Awards to be held at JW Marriott Hotel on May 7th, the discussion agenda comprises a complex Knowledge-sharing presentation on lat
Read Full article »