OT Learning & Development Roundable takes place on June 15th

On June 15th, Outsourcing Today organizes OT Learning & Development roundtable. The event brings together the business services professionals to discuss and discover new tools and programs designed to assist businesses in growing the talent pipeline and developing current employees.

The event benefits from the support of Gold Partners: Wipro, Cima, Fine Law Patrascanu & Associates; Partner: Vastint and ACCA support. It will be moderated by Alexandra Olteanu, CEO All to Know.

By 2020, around 200.000 people are expected to work in business shared services in Romania, more than doubling the current employment portfolio enrolled in more than 120 companies operating BPO, SSC or ITO services. The organizational structure and workplace culture, as well as the role and skills demanded of the human resources in the outsourcing industry is quickly evolving so, organizational focus on learning and development will be more and more imperative.

Human resource development, encompasses a range of on-the-job and off-the-job methods for acquiring necessary knowledge, skills and behaviors. There are many ways that employees can be developed including induction, on the job training, internal and external courses and workshops, compliance training, supported external study, coaching and mentoring.

The focus of the discussions will be on the exchange of relevant trends and research results as well as the presentation of practical experiences gained while developing, designing and testing elements of advanced corporate learning.

Topics to be addressed:
• Scanning the organizational actual needs in terms of talent management and succession planning
by drawing a coherent strategy for the future
• Compliance with legal requirements
• Tax credits and grant assistance for work-based learning programs
• Best practices of HR professionals in delivering the most cost-effective methods and solutions for more successful learning results
• Corporate structured learning programs with impact on corporate culture in terms of personal and professional development (e.g. coaching, mentoring etc.)
• Corporate in-house trainings / workshops / pills
• Measurement tools/ criteria used by HR / Training functions and the business to measure/ ensure effectiveness

The confirmed speakers are:
Crina Ilie, President of Human Resources Genpact Europe
Teodora Todoran, Strategic Leadership Development Europe (SLD)/ Training at Wipro BPO
Marie Francine Rosca, Global Learning Program Manager at HP
Iulian Patrascanu, Managing Director, Fine Law Patrascanu & Associates
Olga Botusan, HR Manager, Stefanini
CIMA Representative

Find all the event details, agenda and registration on the official webpage: http://learning-development.thediplomat.ro/

---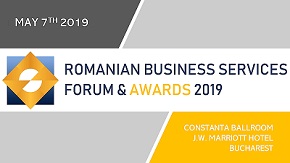 » Raiffeisen Bank Romania outsources onl...
» World-class HR organizations now spend...
» Oracle results pushed down by a strong...
» Apostoleanu, Oracle: Human talent, mos...
» TELUS International: Chatbots - The pr...
» Sergiu Negut, on the stage of People i...
» Microsoft and Oracle to interconnect M...
» The importance of training in developi...
» ANIS: Romanian IT market annual revenu...
» Healthcare IT outsourcing market is ex...

My HR Lab: Research of suitable candidates and giving feedback to rejected ones, the biggest challenge in HR

During June 2019, My HR Lab company run an online (social media platforms) survey "Challenges of the recruitment process" which enrolled over 100 professionals working in HR and recruitment in Romania.
Read Full article »
The local market needs more added-value and complex projects to be developed by the companies

The statement has been uttered within this year's Romanian Outsourcing and Shared Services Summit by Catalina Dodu, Country Manager at Atos, pointing to the local enablers that could enhance the innovation and
Read Full article »
The office market at a glance: The round for tenants is on

Data provided by CBRE show that the office spaces segment will continue to grow rapidly in 2019, and 15 new projects covering 304.000 sqm will be delivered. According to the real estate consultancy agency, curr
Read Full article »
People Empowering Business Forum 2019 to take place on October, 30 at Bucharest

Latest trends like demographic upheaval, globalization, digital technology, and changing social values and worker expectations, are disrupting business models and radically changing the workplace. These are req
Read Full article »
Addressing the mantra of cyber-security: Confidentiality, integrity and availability

The fast advancement of technology in all the aspects of everyday life, either personal or professional, and the emerging of AI (Artificial Intelligence) and ML (Machine Learning), not to mention cloud technolo
Read Full article »