Romanian Outsourcing Awards for Excellence 2017 - Finalists Announcement

Outsourcing Today, the integrated communication platform of the business services sector and The Diplomat – Bucharest, present the Third Edition of Romanian Outsourcing Awards for Excellence, on May 11, 2017 at Marriott Hotel Bucharest, Constanta Hall. The elite event recognizes, rewards and celebrates the success of the most prominent companies acting in the Outsourcing - BPO, ITO and SSC industry in Romania.

The Gala event benefits from the support of diamond partner Wipro, gold partners Genpact, Societe Generale European Business Services, CIMA, partner Vastint, with the support of Invest Romania, Think Ahead ACCA, Outsourcing Advisors, ANIS, ClujIT and Extind.

Based on rigorously researched information and a Judging Panel formed of prominent names in business, government and academic society, the Gala's jury benefited from a resourceful lineup of managers:

Radu Puchiu, Secretary of State, Government of Romania
Carmen Adamescu, Partner, E&Y
Andrei Romanescu, CEO, Veeam
Sorina Mardare, BPO Partner Deloitte
Mircea Bozga, Partner, PWC
Krzysztof Kmuk, Emerging Markets Development Manager, CIMA CEE
Amalia Sterescu, CEO, Outsourcing Advisers
Valerica Dragomir, Executive Director, ANIS
Mihaela Robu, Business Development Manager, ACCA South-Eastern Europe
Ionut Anica-Popa, Director Department for the Relation with the SocioEconomic Environment, ASE
Dan Zaharia, Senior Leasing Consultant, EXTIND Management


Hence, we are happy to announce THE 2017's FINALISTS FOR EACH CATEGORY:

PROJECT AWARDS

CSR INITIATIVE OF THE YEAR:
• HP – CODE CLUB – CODING WITH A SMILE
• NESS ROMANIA - #Challenge4Education
• TELUS INTERNATIONAL – DAYS OF GIVING

BEST ACADEMIC PROGRAM OF THE YEAR:
• ASE BUCURESTI - Business Services Master Program
• Universitatea Tehnica GHEORGHE ASACHI din Iasi - "Computers and Information Technology" from Faculty of Automatic Control and Computers Iași

BEST EDUCATIONAL PROJECT OF THE YEAR (NON-ACADEMIC):
• HP – BRAIN CANDY
• ORACLE - Oracle Academy
• SELIR – LEARNING LAB
• UiPath - RPA Academy

BEST OFFICE DEVELOPMENT FOR BPO/ SSC SECTOR IN BUCHAREST:
• AFI PARK by AFI EUROPE ROMANIA
• GARA HERASTRAU by Globalworth Real Estate Investments Limited
• OREGON PARK by PORTLAND TRUST

BEST OFFICE DEVELOPMENT FOR BPO/ SSC SECTOR IN TIER 2&3:
• CORESI BUSINESS PARK BRASOV by ASCENTA MANAGEMENT
• THE OFFICE by NEPI
• UNITED BUSINESS CENTER - Palas Iasi

BEST PROCESS IMPROVEMENT/ OPTIMIZATION INITIATIVE:
• GENPACT - Microsoft Power BI Implementation for Pharma Client
• SOCGEB EBS - Societe Generale European Business Services – Robotic Process Automation
• WIPRO - The risk of fraud in a retail industry mitigated by Wipro

INDIVIDUAL AWARDS:
For the following categories: OUTSOURCING PROFESSIONAL OF THE YEAR, BEST COMMUNITY LEADER, INDUSTRY CEO OF THE YEAR, ROMANIAN ENTREPRENEUR OF THE YEAR, the finalists should be kept secret and the winners will be announced directly at the gala dinner held on the evening of May 11, 2017.

COMPANY AWARDS

BPO COMPANY OF THE YEAR:
Due to the fact that the minimum required number of nominations was not fulfilled, the award to this category will not be given for this years' edition.
SSC COMPANY OF THE YEAR:
• SCC
• Societe Generale European Business Services

ITO COMPANY OF THE YEAR:
• ENDAVA
• NESS ROMANIA
• QUBIZ

EMPLOYER OF THE YEAR IN OUTSOURCING:
• ENDAVA
• GENPACT
• Societe Generale European Business Services

NEW ENTRANT OF THE YEAR:
• HOMEPOD
• IDENTITY


SPECIAL JURY AWARD FOR THE HIGHEST GROWTH IN 2016

For the full agenda and registration process please visit the event web page: http://outsourcing-gala-2017.thediplomat.ro/

The awards categories in the Romanian Outsourcing Excellence Awards for 2016 are aimed at recognizing the exceptional results of both the companies and organizations and the professionals who contributed to the development of projects and business climate in the services business in Romania.
All applications are judged by a Judging Panel formed of prominent names in business, government and academic society the event is a must attend in the Romanian Outsourcing events calendar.

The Gala event will gather important representatives from the Romanian government, senior figures from Romania's business and civil society and the Outsourcing sector community at top level.

---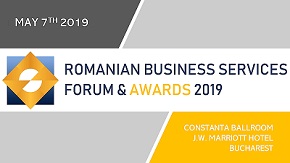 » Raiffeisen Bank Romania outsources onl...
» World-class HR organizations now spend...
» Oracle results pushed down by a strong...
» Apostoleanu, Oracle: Human talent, mos...
» Sergiu Negut, on the stage of People i...
» Microsoft and Oracle to interconnect M...
» JLL: Total office space in Bucharest t...
» The importance of training in developi...
» ANIS: Romanian IT market annual revenu...
» Healthcare IT outsourcing market is ex...

My HR Lab: Research of suitable candidates and giving feedback to rejected ones, the biggest challenge in HR

During June 2019, My HR Lab company run an online (social media platforms) survey "Challenges of the recruitment process" which enrolled over 100 professionals working in HR and recruitment in Romania.
Read Full article »
The local market needs more added-value and complex projects to be developed by the companies

The statement has been uttered within this year's Romanian Outsourcing and Shared Services Summit by Catalina Dodu, Country Manager at Atos, pointing to the local enablers that could enhance the innovation and
Read Full article »
The office market at a glance: The round for tenants is on

Data provided by CBRE show that the office spaces segment will continue to grow rapidly in 2019, and 15 new projects covering 304.000 sqm will be delivered. According to the real estate consultancy agency, curr
Read Full article »
People Empowering Business Forum 2019 to take place on October, 30 at Bucharest

Latest trends like demographic upheaval, globalization, digital technology, and changing social values and worker expectations, are disrupting business models and radically changing the workplace. These are req
Read Full article »
Addressing the mantra of cyber-security: Confidentiality, integrity and availability

The fast advancement of technology in all the aspects of everyday life, either personal or professional, and the emerging of AI (Artificial Intelligence) and ML (Machine Learning), not to mention cloud technolo
Read Full article »