Molson Coors started to grow its business shared services center in Bucharest

Canadians from Molson Coors started to grow their business services center in Bucharest which supplies accounting, financial and HR services for the group at global level.

Molson Coors Europe which acquired StarBev company in 2012, is represented in Romania by Bergenbier S.A., one of the biggest brewing companies of the world and brews and sells beer on the Romanian beer market since 1994. Today, according to company data, Bergenbier S.A., headquartered in Bucharest – Global City Business Park, has about 700 employees, a national distribution network and the most modern brewing plant in the Molson Coors Europe Group at Ploiesti, with an advanced quality management, health & safety and a friendly environment management. The company's portfolio includes brands in all market segments. Besides Bergenbier, Noroc, Staropramen, Stella Artois, Beck's and Löwenbräu that are brewed in Romania, the company imports some specialties like Leffe, Corona, Hoegaarden, Blue Moon, Franciscan Well or Doom Bar.

Currently, the Bucharest-based business services center arm of the group announced they have a range of finance opening positions focused on management accounting, financial analytics, reporting & transactional activities , with different levels of seniority. The company is looking for professionals with SAP knowledge and financial experience.

Headquartered in Prague, Czech Republic, Molson Coors Europe was formed in January 2013 through the combination of the company's Molson Coors UK & Ireland business unit with Molson Coors Central Europe, which was created following the StarBev acquisition in June 2012. The company's business in Europe has a long history in beer dating back to 1774.


---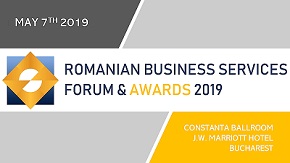 » Evolving from consumers of resources t...
» Preparing for the new future
» ROMANIAN OUTSOURCING AWARDS FOR EXCELL...
» Pepper Escu, the first humanoid robot ...
» Volvo Cars and Uber present production...
» Berg Software Romania: Reasons to outs...
» Marian V. Popa: Meet the speakers at R...
» Deloitte 2019 Global Human Capital Tre...
» George Didoiu: Meet the moderator of R...
» Andrei Voica: Meet the speakers at Rom...

Digital Transformation Conference to take place on June 19 at Bucharest

The Diplomat – Bucharest organizes Digital Transformation Conference to be held on 14 of June in Bucharest, at Hilton Hotel - Regina Maria Hall, starting 8:30 AM.
Read Full article »
L&D Conference by The Diplomat Bucharest took place on June 4th at Bucharest

The Diplomat-Bucharest organizes the Third Edition of its Learning & Development CONFERENCE on 4 June, 2019 at InterContinental Hotel Bucharest starting 09:00 am.
Read Full article »
Meet the winners of ROMANIAN BUSINESS SERVICES AWARDS, 2019 edition

ROMANIAN BUSINESS SERVICES FORUM & AWARDS 2019, in its fifth year, brrought on May 7, in Bucharest, a new concept event with engaging keynote sessions by industry leaders, interactive panel discussions, network
Read Full article »
Few hours away from to the long awaited CEO Leaders Debate, a premiere of Romanian Business Services Forum and Awards
We are a few hours away to the long awaited CEO Leaders Debate, a premiere of Romanian Business Services Forum and Awards on May 7.
Read Full article »
Colin C. Lovering: Meet the speakers at Romanian Business Services Forum & Awards 2019, on May 7

Colin C. Lovering has been living and working in Romania since 2009 when he arrived to offer consultancy and advice to organisations looking for growth and profitability and founded Achieve International.
Read Full article »