Dedeman to implement Sap solutions for more efficient internal communication and employee management

Local retailer Dedeman will use SAP SucessFactors solution in order to get its recruiting, internal communication and training programs to a more efficient scale. The program will be used to manager over 9.000 employees, according to a press release.

So far, SAP SucessFactors gathered over 6.000 companies at global level using this solution. The implementation at Dedeman will be performed by Red Point Software Solutions, the main software solutions provider for Dedeman.

"SAP Success Factors will bring Dedeman's employees closer to their customers by offering them real-world advice on purchasing products at the best quality and price. Dedeman is our client with the fastest growing pace and we are ready to keep up with them in terms of supporting our business through the performance of the software applications we implement and develop. Innovation is the one that characterizes both Dedeman and SAP SuccessFactors, and we are proud to be part of this project, "said Razvan Gidei, General Manager, Red Point Software Solutions.

According to Cristian Popescu, Managing Director SAP Romania, "implementing digital solutions is a global trend to which more and more Romanian companies adhere, and Dedeman's decision to digitize its HR processes is an important step in maintaining its top position in a competitive market such DIY. The way a company motivates and manages its most important resource - the people, can make a difference between a Leader and a Follower."

---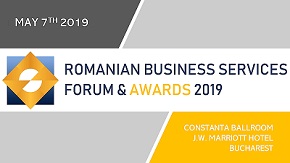 » Evolving from consumers of resources t...
» Preparing for the new future
» ROMANIAN OUTSOURCING AWARDS FOR EXCELL...
» Pepper Escu, the first humanoid robot ...
» Volvo Cars and Uber present production...
» Berg Software Romania: Reasons to outs...
» Marian V. Popa: Meet the speakers at R...
» Deloitte 2019 Global Human Capital Tre...
» Andrei Voica: Meet the speakers at Rom...
» How giving back pays dividends for com...

Digital Transformation Conference to take place on June 19 at Bucharest

The Diplomat – Bucharest organizes Digital Transformation Conference to be held on 14 of June in Bucharest, at Hilton Hotel - Regina Maria Hall, starting 8:30 AM.
Read Full article »
L&D Conference by The Diplomat Bucharest took place on June 4th at Bucharest

The Diplomat-Bucharest organizes the Third Edition of its Learning & Development CONFERENCE on 4 June, 2019 at InterContinental Hotel Bucharest starting 09:00 am.
Read Full article »
Meet the winners of ROMANIAN BUSINESS SERVICES AWARDS, 2019 edition

ROMANIAN BUSINESS SERVICES FORUM & AWARDS 2019, in its fifth year, brrought on May 7, in Bucharest, a new concept event with engaging keynote sessions by industry leaders, interactive panel discussions, network
Read Full article »
Few hours away from to the long awaited CEO Leaders Debate, a premiere of Romanian Business Services Forum and Awards
We are a few hours away to the long awaited CEO Leaders Debate, a premiere of Romanian Business Services Forum and Awards on May 7.
Read Full article »
Colin C. Lovering: Meet the speakers at Romanian Business Services Forum & Awards 2019, on May 7

Colin C. Lovering has been living and working in Romania since 2009 when he arrived to offer consultancy and advice to organisations looking for growth and profitability and founded Achieve International.
Read Full article »