Romanian Outsourcing Summit: Focus on the added-value of business shared services in Romania

This year's edition of Romanian Outsourcing Summit joined representatives of the government and top representatives of leading companies operating in the sector of business shared services and related industries and depicted the main trend and challenges of this industry in Romania that still walks the challenging road towards its maturity.

Romania delivers services in 25 languages with more than 100 thousand specialists employed in the outsourcing industry and business services, and based on an estimated growth of 15-20% it will comprise 4-5 per cent of the country GDP by 2020. The main trends the global business landscape faces right now, ruled by the impact of internet and interconnectivity are technology disruption and digitization and the winning organizations are those that can adapt quickly and drive business transformation on an ongoing basis.

During the three sessions of the event, we found which are the next steps to be made for a better cooperation between the authorities, the academic institutions and the companies acting in the field. Legislative changes and their impact on the industry. Also, the business dynamics should be repositioned toward the direction that the current model of doing business needs to evolve and trends in each of the SSC, ITO, BPO field.

Colin Lovering, Chairman of British Romanian Chamber of Commerce in his quality of the event moderator, stated that the added value of business shared services in Romania is a challenge, as response of the recurrent issue also raised by panelists on whether the language skills set should be addressed as a priority advantage of attractiveness. "Language skills stood for the basement of outsourcing industry in Romania but the industry and the global environment is asking for aptitudes and creation of new capabilities in the area of technology," Lovering said.

Maria Manuela Catrina, State Secretary in the Ministry of Communication and Informational Society underscored the current governmental programs and endeavors regarding the common partnerships with private sector in order to draft a coherent strategy in the benefit of both employers and employees. "We run discussions with local communities' representatives regarding the impact of technologies; bringing broadband to smaller communities, villages. Also, we need to establish a more flexible framework for the outsourcing industry," the Ministry official said during the plenary session.

During the next weeks, we will elaborate on the main statements uttered within the event, in order to contribute to a cleared image regarding the pressing and real needs of business shared industry in Romania.

We thank all out panelists for their valuable insights and commitment:

Plenary session panelists:
o Maria-Manuela Catrina, State Secretary in the Ministry of Communication and Informational Society,
o Ciprian Dan, Location Head at Wipro BPS,
o Catalin Iorgulescu, Member of Managing Board, ABSL Romania / General Manager, Samsung SSCE,
o Shibu Nambiar, SVP & COO, Genpact Europe, LatAm & Africa,
o Raluca Andreea Popa, Advisor, Ministry for Business Environment, Commerce and Entrepreneurship, InvestRomania

Session I panelists
o Olivier Hecq, Head of SSC IT, Societe Generale European Business Services
o Daniel Idzkowski, Associate Director – Global Corporate Relations, CIMA
o Liviu Lazarescu , IT Delivery Head for Romania Operations, Wipro Technologies
o Marius Scuta, National Director, Head of Office Department and Tenant Representation at JLL
o Mihaela Apostoleanu, Senior Director, Oracle EMEA Business Operations

Session II panelists:
o Melania Mirea, Member of Management Board at BCR Pensii
o Antoniu Panait, Managing Director, Vastint Romania
o Mihaela Dobre, Learning & Development Manager EMEA, Stefanini
o Daniel Idzkowski, Associate Director – Global Corporate Relations, CIMA
o Jymmy Soare, Vice-President, GENPACT
o PhD Prof. Dorel Mihai Paraschiv, Vice-rector - Liaison with the social and business environment, cooperation with students, ASE

This year's edition of Romanian Outsourcing Summit benefited from the support of diamond partner Wipro, strategic partners ABSL and Outsourcing Advisors, and gold partners CIMA, BCR Pensii, Genpact, Jll, Societe Generale - European Business Services, Stefanini, Vastint and partner Selir. We also thank the organizations and companies supporting the event: Think Ahead ACCA, ANIS, ANSSI, ClujIT and Extind.

---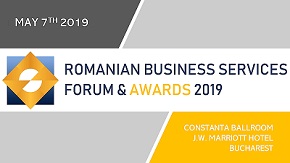 » The most appreciated companies from th...
» Webhelp Romania aiming for EUR 10 mill...
» Tremend joins Mellanox in powering the...
» Manpower: Romania's labor market, more...
» The Outsourcing industry announces its...
» Deloitte's Tech Trends 2019 report: B...
» Bucharest, in the top of cities in Eur...
» Oracle reaches 4,200 employees and pla...
» Genpact's COO: Staying ahead of the cu...
» Ascentis: The top ten HR trends for 20...

Nomination are now open for Romanian Business Services Forum and Awards

Nominations have opened for the prestigious Romanian Business Services Forum & Awards. The 2019 awards will continue to recognize and reinforce the important contribution made by business services professionals
Read Full article »
Study: 89 per cent of finance teams yet to embrace Artificial Intelligence

Report by Association of International Certified Professional Accountants and Oracle shows that almost 90 per cent of finance teams do not have the skills to support digital transformation.
Read Full article »
Bucharest, in the top of cities in Europe with the largest number of experts in high-tech industry

Bucharest is among the top cities boasting the most experts in the high-tech innovative industry, with over 70,000 current employees, next to London, Dublin, Madrid or Budapest, reads a study conducted by CBRE
Read Full article »
CBRE study: Post-millennials, the happiest about their offices
During 2018, real estate consultancy company CBRE conducted the first study dedicated to work environment in office buildings in Bucharest. The respondents have been structured in four age segments, such as Z g
Read Full article »
Deloitte's Tech Trends 2019 report: Beyond the digital frontier

The recently released Deloitte's Tech Trends 2019: Beyond the digital frontier, as each Tech Trends report in the series conducted by the consultancy company, lobbies for embracing the increasing, often mind-b
Read Full article »