Romanian Outsourcing Summit: Focus on the added-value of business shared services in Romania

This year's edition of Romanian Outsourcing Summit joined representatives of the government and top representatives of leading companies operating in the sector of business shared services and related industries and depicted the main trend and challenges of this industry in Romania that still walks the challenging road towards its maturity.

Romania delivers services in 25 languages with more than 100 thousand specialists employed in the outsourcing industry and business services, and based on an estimated growth of 15-20% it will comprise 4-5 per cent of the country GDP by 2020. The main trends the global business landscape faces right now, ruled by the impact of internet and interconnectivity are technology disruption and digitization and the winning organizations are those that can adapt quickly and drive business transformation on an ongoing basis.

During the three sessions of the event, we found which are the next steps to be made for a better cooperation between the authorities, the academic institutions and the companies acting in the field. Legislative changes and their impact on the industry. Also, the business dynamics should be repositioned toward the direction that the current model of doing business needs to evolve and trends in each of the SSC, ITO, BPO field.

Colin Lovering, Chairman of British Romanian Chamber of Commerce in his quality of the event moderator, stated that the added value of business shared services in Romania is a challenge, as response of the recurrent issue also raised by panelists on whether the language skills set should be addressed as a priority advantage of attractiveness. "Language skills stood for the basement of outsourcing industry in Romania but the industry and the global environment is asking for aptitudes and creation of new capabilities in the area of technology," Lovering said.

Maria Manuela Catrina, State Secretary in the Ministry of Communication and Informational Society underscored the current governmental programs and endeavors regarding the common partnerships with private sector in order to draft a coherent strategy in the benefit of both employers and employees. "We run discussions with local communities' representatives regarding the impact of technologies; bringing broadband to smaller communities, villages. Also, we need to establish a more flexible framework for the outsourcing industry," the Ministry official said during the plenary session.

During the next weeks, we will elaborate on the main statements uttered within the event, in order to contribute to a cleared image regarding the pressing and real needs of business shared industry in Romania.

We thank all out panelists for their valuable insights and commitment:

Plenary session panelists:
o Maria-Manuela Catrina, State Secretary in the Ministry of Communication and Informational Society,
o Ciprian Dan, Location Head at Wipro BPS,
o Catalin Iorgulescu, Member of Managing Board, ABSL Romania / General Manager, Samsung SSCE,
o Shibu Nambiar, SVP & COO, Genpact Europe, LatAm & Africa,
o Raluca Andreea Popa, Advisor, Ministry for Business Environment, Commerce and Entrepreneurship, InvestRomania

Session I panelists
o Olivier Hecq, Head of SSC IT, Societe Generale European Business Services
o Daniel Idzkowski, Associate Director – Global Corporate Relations, CIMA
o Liviu Lazarescu , IT Delivery Head for Romania Operations, Wipro Technologies
o Marius Scuta, National Director, Head of Office Department and Tenant Representation at JLL
o Mihaela Apostoleanu, Senior Director, Oracle EMEA Business Operations

Session II panelists:
o Melania Mirea, Member of Management Board at BCR Pensii
o Antoniu Panait, Managing Director, Vastint Romania
o Mihaela Dobre, Learning & Development Manager EMEA, Stefanini
o Daniel Idzkowski, Associate Director – Global Corporate Relations, CIMA
o Jymmy Soare, Vice-President, GENPACT
o PhD Prof. Dorel Mihai Paraschiv, Vice-rector - Liaison with the social and business environment, cooperation with students, ASE

This year's edition of Romanian Outsourcing Summit benefited from the support of diamond partner Wipro, strategic partners ABSL and Outsourcing Advisors, and gold partners CIMA, BCR Pensii, Genpact, Jll, Societe Generale - European Business Services, Stefanini, Vastint and partner Selir. We also thank the organizations and companies supporting the event: Think Ahead ACCA, ANIS, ANSSI, ClujIT and Extind.

---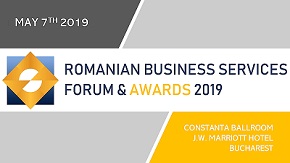 » Raiffeisen Bank Romania outsources onl...
» Horváth & Partners launches Steering ...
» JLL: Total office space in Bucharest t...
» Genpact, Luxoft and Oracle, top lessee...
» SSC in Romania. Who takes the lion's s...
» Oracle results pushed down by a strong...
» World-class HR organizations now spend...
» Romanian employers report the stronges...
» ROMANIAN OUTSOURCING AWARDS FOR EXCELL...
» Eucom: Nine out of ten corporate Roman...

My HR Lab: Research of suitable candidates and giving feedback to rejected ones, the biggest challenge in HR

During June 2019, My HR Lab company run an online (social media platforms) survey "Challenges of the recruitment process" which enrolled over 100 professionals working in HR and recruitment in Romania.
Read Full article »
The local market needs more added-value and complex projects to be developed by the companies

The statement has been uttered within this year's Romanian Outsourcing and Shared Services Summit by Catalina Dodu, Country Manager at Atos, pointing to the local enablers that could enhance the innovation and
Read Full article »
The office market at a glance: The round for tenants is on

Data provided by CBRE show that the office spaces segment will continue to grow rapidly in 2019, and 15 new projects covering 304.000 sqm will be delivered. According to the real estate consultancy agency, curr
Read Full article »
People Empowering Business Forum 2019 to take place on October, 30 at Bucharest

Latest trends like demographic upheaval, globalization, digital technology, and changing social values and worker expectations, are disrupting business models and radically changing the workplace. These are req
Read Full article »
Addressing the mantra of cyber-security: Confidentiality, integrity and availability

The fast advancement of technology in all the aspects of everyday life, either personal or professional, and the emerging of AI (Artificial Intelligence) and ML (Machine Learning), not to mention cloud technolo
Read Full article »