Romanian Outsourcing Summit reaches its third edition

OUTSOURCING TODAY, the integrated communication platform of the business services sector, powered by The Diplomat Bucharest, presents the Third Edition of the ROMANIAN OUTSOURCING SUMMIT on March 23rd 2017, at Sheraton Hotel in Bucharest.

The event is organized with the support of diamond partner Wipro and gold partners Genpact, CIMA, BCR Pensii, Vastint, Jll, Societe Generale- European Business Services.

The main trends the global business landscape faces right now, ruled by the impact of internet and interconnectivity are technology disruption and digitization and the winning organizations are those that can adapt quickly and drive business transformation on an ongoing basis.

The summit brings together industry experts, academic figures and authorities in all industry levels to discuss the steps to be done towards an efficient cooperation between authorities and the industry stakeholders and the trends that will alter the actual business model.

TOPICS
• Legislative changes and their impact on the industry
• Repositioning of business dynamics. The direction that the current model of doing business needs to evolve and trends in each of the SSC, ITO, BPO field
• Romania's main competitive advantages as an outsourcing destination
• Leading a remote workforce and ensuring that employees working from home are keeping your data confidential
• Moving from on premise to cloud services and how to manage these changes
• Omnichannel infrastructure
• Cloud-based software helps employees manage operations remotely and deploy solutions quickly. A flexible workplace that can be carried to places such as home, hotels, and airports is one way to ensure high productivity
• Cybersecurity concerns
• Increasing the pool of students with IT and BPO related skills and competences
• Virtual Workforce on the Cloud with Mobile Cloud Computing (MCC0)
• Relocation of young people after graduating university Bringing in and retaining new talents in 2 and 3 tier cities
• Professional reconversion as a tool to explore a new pool of candidates
• The skill-sets required to be successful in shared services changing field
• Financially educated Millennials

Please find all the event details on venue, agenda, partners and speakers, registration on the official website at: ROMANIAN OUTSOURCING SUMMIT

---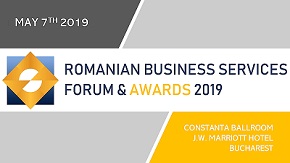 » Huawei opens a centre on cyber securit...
» ROMANIAN OUTSOURCING AWARDS FOR EXCELL...
» Romania ranks above EU average in gend...
» Bucharest, in the top of cities in Eur...
» Berg Software Romania: Reasons to outs...
» Meet the experts who will decide the w...
» Bogdan Pelinescu, president of ABSL: A...
» KPMG launches an application enabling ...
» ABSL GALA AWARDS celebrated its winner...
» Oracle reaches 4,200 employees and pla...

Colin C. Lovering: Meet the speakers at Romanian Business Services Forum & Awards 2019, on May 7

Colin C. Lovering has been living and working in Romania since 2009 when he arrived to offer consultancy and advice to organisations looking for growth and profitability and founded Achieve International.
Read Full article »
Antoniu Panait: Meet the speakers at Romanian Business Services Forum & Awards 2019, on May 7

Managing Director for VASTINT Romania since 2009, Antoniu Panait has an executive experience of more than 10 years, mainly in real estate.
Read Full article »
Andrei Voica: Meet the speakers at Romanian Business Services Forum & Awards 2019, on May 7

Andrei Voica, Director Project Management and Workplace Consultancy, Colliers International. Truly passionate about his work and always eager to add value to each project.
Read Full article »
Romulus Caralicea: Meet the speakers at Romanian Business Services Forum & Awards 2019, on May 7

Romulus is Wipro's Information Security, Risk & Compliance Lead for Europe. In his role he is managing internal audits and compliance activities for all clients and internal functions based on the corporate ISO
Read Full article »
George Didoiu: Meet the moderator of Romanian Business Services Forum 2019 CEO LEADERS DEBATE, on May 7

In his 15 years of real estate, George Didoiu advised on the relocation of top IT&C, finance-banking and consultancy companies, which total over 10,000 employees.
Read Full article »