SAP employees to teach programming to scholars in Cluj-Napoca

Ten volunteers working for SAP company together with Cartea Daliei association will organize a Scratch programming teaching club to function at Emil Isac school based in Cluj-Napoca, the company announced.

The courses will be held weekly within the second semester of this year and will be taught to the fourth grade pupils in the A class from the mentioned school, with 28 children expected to learn animation and games programming.

The Scratch club is part of "Adopt a school" larger program developed by Cartea Daliei Association, aiming at creating partnerships between IT companies and a Cluj-based school. "We put technology in the benefit of education. This project answers to the need of bringing closer the private companies to the Cluj-based schools. By this, both pupils and teachers are exposed to new methods that enable the emerging of technology into the education process for each scholar," said Oana Ciherean, president of Cartea Daliei association.

"Education and the access to technology are necessary both for an adapted future workforce to the digital economy and a society based on progress and commitment, even from the youngest ages. By this project, we aim at offering an interactive education experience and to demonstrate that each person is a source of talent, that should be discovered and encouraged," said Sarbrina Mitu, Marketing Manager SAP Romania & Partner Marketing Lead for CEE.

In order to coordinate the Scratch club, the Sap volunteers have been prepared by members of Cartea Daliei association regarding the programming language and the future educational activities held with the scholars.

Scratch is a programming language and an online community where children can program and share interactive media such as stories, games, and animation with people from all over the world. As children create with Scratch, they learn to think creatively, work collaboratively, and reason systematically. Scratch is designed and maintained by the Lifelong Kindergarten group at the MIT Media Lab. While Scratch is primarily designed for 8 to 16 year olds, it is also used by people of all ages, including younger children with their parents. With Scratch, anyone can program their own interactive stories, games, and animations — and share their creations with others in the online community.

Scratch helps young people learn to think creatively, reason systematically, and work collaboratively — essential skills for life in the 21st century. When participating in the Scratch online community, members can explore and experiment in an open learning community with other Scratch members from all backgrounds, ages, and interests. Members can share their work, get feedback, and learn from each other.

---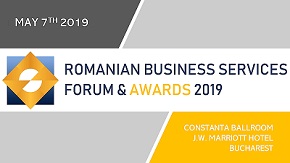 » Huawei opens a centre on cyber securit...
» ROMANIAN OUTSOURCING AWARDS FOR EXCELL...
» Romania ranks above EU average in gend...
» Bucharest, in the top of cities in Eur...
» Berg Software Romania: Reasons to outs...
» Meet the experts who will decide the w...
» Bogdan Pelinescu, president of ABSL: A...
» KPMG launches an application enabling ...
» ABSL GALA AWARDS celebrated its winner...
» Oracle reaches 4,200 employees and pla...

Colin C. Lovering: Meet the speakers at Romanian Business Services Forum & Awards 2019, on May 7

Colin C. Lovering has been living and working in Romania since 2009 when he arrived to offer consultancy and advice to organisations looking for growth and profitability and founded Achieve International.
Read Full article »
Antoniu Panait: Meet the speakers at Romanian Business Services Forum & Awards 2019, on May 7

Managing Director for VASTINT Romania since 2009, Antoniu Panait has an executive experience of more than 10 years, mainly in real estate.
Read Full article »
Andrei Voica: Meet the speakers at Romanian Business Services Forum & Awards 2019, on May 7

Andrei Voica, Director Project Management and Workplace Consultancy, Colliers International. Truly passionate about his work and always eager to add value to each project.
Read Full article »
Romulus Caralicea: Meet the speakers at Romanian Business Services Forum & Awards 2019, on May 7

Romulus is Wipro's Information Security, Risk & Compliance Lead for Europe. In his role he is managing internal audits and compliance activities for all clients and internal functions based on the corporate ISO
Read Full article »
George Didoiu: Meet the moderator of Romanian Business Services Forum 2019 CEO LEADERS DEBATE, on May 7

In his 15 years of real estate, George Didoiu advised on the relocation of top IT&C, finance-banking and consultancy companies, which total over 10,000 employees.
Read Full article »