CGS: Four difficult 2017 IT budget items

According to CGS data, most companies have the basics of IT budget planning down. They have a plan for refreshing their hardware and software, and then they follow the hardware planning rules of thumb.

One of the main topics to be addressed when talking about budgets, is the IT costs management. According to CGS, "the cost of managing IT is complicated. There are many different aspects to it. For example, the cost of managing security, systems administration, desktop support, planning, strategy, etc. The number one realization leaders must have is that it is highly unlikely that your internal team has all of the skills and expertise to accomplish all that you need. IT is just too complex of a field to know it all, and subject expertise matters.

One of the biggest mistakes companies make is that they only budget for their internal team to do all of the work, not realizing that their risks are increasing and when something goes wrong. The unplanned costs of remediation will be multiples of planning for expertise from the beginning.

The best way to get started with what to budget in-house versus using an IT partner is a skills survey of your current team. What certifications do they have? Do they have relative experience in security, database administration, or systems administration?

Many IT functions need to be scheduled on a weekly and monthly basis, and MSPs have specialty software and engineers who can accomplish those functions far faster, and with greater accuracy than an in-house team.

According to CGS, "for some companies, outsourcing certain types of work is emotional. There is a common idea that outsourcing is taking away jobs, but the reality is this: the work is simply being shifted to another company. It is very similar to the trend for companies to use accounting firms to handle their taxes. Tax law has much in common with IT. They are extremely complicated and change every year. It is not that internal financing and accounting people cannot learn and keep up with tax issues, but it is such an important subject they find that specialists help them avoid mistakes and add long-term value.

One of the biggest advantages of outsourcing is getting the benefit of deep expertise for the time that you need it. Most companies with fewer than 250 employees do not need a full-time CTO or security expert, but they can certainly benefit from the wisdom and experience of one during key intervals in their IT cycle."

Cloud vs. Premise Based Technology – The right implementation

According to the company blog, "there are few phrases in use today that have caused more confusion than the idea of 'cloud computing.' The cloud is nothing more than connecting hardware and software through internet connections. The core idea is simple, but the right implementation strategy is complicated and must be customized for each company.

The first step in understanding whether or not hardware or software should move into the cloud is to do a review of the limitations. Questions arise including: what are the downsides? Are there any connectivity or latency issues? How will users gain access? How many simultaneous users can be supported, etc? There are many variables. If you are unsure of what variables apply to your situation, ask for expert help from an MSP. Most MSPs have specialty programs that help them work through the unique variables that apply to each client.

Once you have determined that the cloud is a viable option, the next step is to calculate the cost of owning the hardware or software, versus moving it to the cloud. The cost of supporting your hardware or software should include the full costs of purchasing, software licensing, technical support, upgrades, patching, etc. Do not overlook or underestimate the "soft costs" of supporting your hardware or software. Many companies vastly underestimate the time and difficulty of staying current with their hardware and software, especially when it comes to employee churn. Sometimes, the tribal knowledge that goes out the door is very difficult to replace in an affordable manner."

---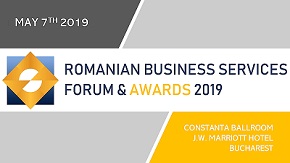 » Huawei opens a centre on cyber securit...
» ROMANIAN OUTSOURCING AWARDS FOR EXCELL...
» Romania ranks above EU average in gend...
» Bucharest, in the top of cities in Eur...
» Berg Software Romania: Reasons to outs...
» Meet the experts who will decide the w...
» Bogdan Pelinescu, president of ABSL: A...
» KPMG launches an application enabling ...
» ABSL GALA AWARDS celebrated its winner...
» Oracle reaches 4,200 employees and pla...

Colin C. Lovering: Meet the speakers at Romanian Business Services Forum & Awards 2019, on May 7

Colin C. Lovering has been living and working in Romania since 2009 when he arrived to offer consultancy and advice to organisations looking for growth and profitability and founded Achieve International.
Read Full article »
Antoniu Panait: Meet the speakers at Romanian Business Services Forum & Awards 2019, on May 7

Managing Director for VASTINT Romania since 2009, Antoniu Panait has an executive experience of more than 10 years, mainly in real estate.
Read Full article »
Andrei Voica: Meet the speakers at Romanian Business Services Forum & Awards 2019, on May 7

Andrei Voica, Director Project Management and Workplace Consultancy, Colliers International. Truly passionate about his work and always eager to add value to each project.
Read Full article »
Romulus Caralicea: Meet the speakers at Romanian Business Services Forum & Awards 2019, on May 7

Romulus is Wipro's Information Security, Risk & Compliance Lead for Europe. In his role he is managing internal audits and compliance activities for all clients and internal functions based on the corporate ISO
Read Full article »
George Didoiu: Meet the moderator of Romanian Business Services Forum 2019 CEO LEADERS DEBATE, on May 7

In his 15 years of real estate, George Didoiu advised on the relocation of top IT&C, finance-banking and consultancy companies, which total over 10,000 employees.
Read Full article »