EY launches a new program EY Express - the career accelerator for the job market of the future

How will future jobs look like? Nobody knows exactly because artificial intelligence and robotics will fundamentally change society and, therefore, the job market, as shown by "Future of Jobs" study, conducted by the World Economic Forum.

EY and Scoala de Valori as partner designed an innovative educational programme - a career accelerator - which trains the competences that will be necessary on the job market in the near future. Dedicated to students in their third year of college, master students and graduates with technical, IT and business background, the EY Express program will be held during 13-17 March at the EY office in Bucharest. The purpose of this program is to develop a set of skills and not to test the theoretical knowledge acquired during the college years.

EY Express is a career accelerator mechanism, creating the context for interaction and provides the neccesary tool for a new type of learning: "The new program is the result of EY efforts to educate for the key skills of the future. Besides a unique design, the innovation element is the strong emphasis on interdisciplinary and community learning in an informal setting, simulating the challenges of the future business environment. The EY Express program complements academic experience for future professional services consultants and more," said Andreea Mihnea, HR Director, EY Romania.

Practically, the project is based on:
- practicing five key skills: complex problem solving and critical thinking, interpersonal management, quality customer service, risk management, project management;
- Gamification: points-based system supported by a storyline that stimulates both cooperation and competition among participants. Points are awarded both individually and in teams, and to assess progress and acquired skills;
- Digitally thinking: using digital platforms for projects, data collection and evaluation;
- Direct feedback from trainers, mentors from EY and School Exchanges;
- Peer-to-peer learning - appropriate ratios between teamwork projects, individual projects and mentoring sessions.
The program is structured in such manner that 60 per cent of the time, the participants will work together to their projects. They will collaborate in teams and compete for points. On the other hand, 20 per cent from their time will be assigned to individual programs. The participants will have to accomplish different quests and online tests. Also, 10 per cent of the time will be assigned to dialogue between the participants and their mentors.

The participants will be selected by EY team based on their CVs after they submit their subscription online. The best teams of the program will be awarded and the most active participants will be offered jobs within EY. The participants can enroll in this program by February 20th.

---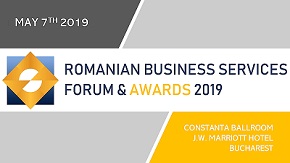 » Raiffeisen Bank Romania outsources onl...
» Horváth & Partners launches Steering ...
» JLL: Total office space in Bucharest t...
» Genpact, Luxoft and Oracle, top lessee...
» SSC in Romania. Who takes the lion's s...
» Oracle results pushed down by a strong...
» World-class HR organizations now spend...
» Romanian employers report the stronges...
» ROMANIAN OUTSOURCING AWARDS FOR EXCELL...
» Eucom: Nine out of ten corporate Roman...

My HR Lab: Research of suitable candidates and giving feedback to rejected ones, the biggest challenge in HR

During June 2019, My HR Lab company run an online (social media platforms) survey "Challenges of the recruitment process" which enrolled over 100 professionals working in HR and recruitment in Romania.
Read Full article »
The local market needs more added-value and complex projects to be developed by the companies

The statement has been uttered within this year's Romanian Outsourcing and Shared Services Summit by Catalina Dodu, Country Manager at Atos, pointing to the local enablers that could enhance the innovation and
Read Full article »
The office market at a glance: The round for tenants is on

Data provided by CBRE show that the office spaces segment will continue to grow rapidly in 2019, and 15 new projects covering 304.000 sqm will be delivered. According to the real estate consultancy agency, curr
Read Full article »
People Empowering Business Forum 2019 to take place on October, 30 at Bucharest

Latest trends like demographic upheaval, globalization, digital technology, and changing social values and worker expectations, are disrupting business models and radically changing the workplace. These are req
Read Full article »
Addressing the mantra of cyber-security: Confidentiality, integrity and availability

The fast advancement of technology in all the aspects of everyday life, either personal or professional, and the emerging of AI (Artificial Intelligence) and ML (Machine Learning), not to mention cloud technolo
Read Full article »