EY launches a new program EY Express - the career accelerator for the job market of the future

How will future jobs look like? Nobody knows exactly because artificial intelligence and robotics will fundamentally change society and, therefore, the job market, as shown by "Future of Jobs" study, conducted by the World Economic Forum.

EY and Scoala de Valori as partner designed an innovative educational programme - a career accelerator - which trains the competences that will be necessary on the job market in the near future. Dedicated to students in their third year of college, master students and graduates with technical, IT and business background, the EY Express program will be held during 13-17 March at the EY office in Bucharest. The purpose of this program is to develop a set of skills and not to test the theoretical knowledge acquired during the college years.

EY Express is a career accelerator mechanism, creating the context for interaction and provides the neccesary tool for a new type of learning: "The new program is the result of EY efforts to educate for the key skills of the future. Besides a unique design, the innovation element is the strong emphasis on interdisciplinary and community learning in an informal setting, simulating the challenges of the future business environment. The EY Express program complements academic experience for future professional services consultants and more," said Andreea Mihnea, HR Director, EY Romania.

Practically, the project is based on:
- practicing five key skills: complex problem solving and critical thinking, interpersonal management, quality customer service, risk management, project management;
- Gamification: points-based system supported by a storyline that stimulates both cooperation and competition among participants. Points are awarded both individually and in teams, and to assess progress and acquired skills;
- Digitally thinking: using digital platforms for projects, data collection and evaluation;
- Direct feedback from trainers, mentors from EY and School Exchanges;
- Peer-to-peer learning - appropriate ratios between teamwork projects, individual projects and mentoring sessions.
The program is structured in such manner that 60 per cent of the time, the participants will work together to their projects. They will collaborate in teams and compete for points. On the other hand, 20 per cent from their time will be assigned to individual programs. The participants will have to accomplish different quests and online tests. Also, 10 per cent of the time will be assigned to dialogue between the participants and their mentors.

The participants will be selected by EY team based on their CVs after they submit their subscription online. The best teams of the program will be awarded and the most active participants will be offered jobs within EY. The participants can enroll in this program by February 20th.

---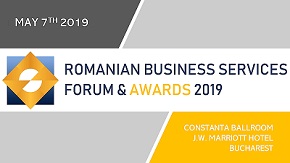 » Huawei opens a centre on cyber securit...
» Romania ranks above EU average in gend...
» ROMANIAN OUTSOURCING AWARDS FOR EXCELL...
» Bucharest, in the top of cities in Eur...
» Meet the experts who will decide the w...
» Bogdan Pelinescu, president of ABSL: A...
» Berg Software Romania: Reasons to outs...
» KPMG launches an application enabling ...
» ABSL GALA AWARDS celebrated its winner...
» George Rotariu, CEO Bitcoin Romania: B...

Meet the speakers at Romanian Business Services Forum 2019 CEO LEADERS DEBATE, on May 7th - Matthieu Pasquier

Matthieu Pasquier is CEO of Societe Generale European Business Services since August 2018 bringing more than 27 years experience in Societe Generale group. During 2014-2018, Matthieu was Head of SG GSC Chennai
Read Full article »
Sorin Mindrutescu among the speakers at Romanian Business Services Forum 2019 CEO LEADERS DEBATE, on May 7th

Sorin Mindrutescu is the Country Leader for Oracle Romania, as of February 2003. In this role, he is responsible for local sales and project delivery. In Romania, Oracle has two major business directions: the l
Read Full article »
Meet the speakers at Romanian Business Services Forum 2019 CEO LEADERS DEBATE, on May 7th - Vivek Bakshi

Vivek Bakshi is the General Manager of Wipro Technologies. He has spent 12 years heading the International Locations / Delivery Centers Europe from the Bucharest office.
Read Full article »
Meet the finalists of the fifth edition of Romanian Business Services Awards 2019

ROMANIAN BUSINESS SERVICES FORUM & AWARDS 2019, in its fifth year, brings on May 7, in Bucharest, a new concept event with engaging keynote sessions by industry leaders, interactive panel discussions, networkin
Read Full article »
Meet the experts who will decide the winners of 2019 at Romanian Business Services Forum & Awards

Each year, Outsourcing Today brings a landmark edition of the Romanian Outsourcing and Shared Services Summit and this year, we are hosting the Fifth of the annual Romanian Outsourcing and Shared Services Award
Read Full article »