Building on a career

How do you build a career in the new world of tech and computer science? How do people of so many skills and nationalities find their place in the same work ecosystem? How do they manage to individualize themselves so they can evolve and move up in their career?

Outsourcing Today talked to Corina Elena Anghel, a professional who has been working for Genpact for over ten years with the current role of HR business partner. She is with the company since she graduated university, when she took over the title as junior employee of the customer service department, in one of the GE teams. Eight months later, Anghel advanced to training coordinator, trainer manager, HR & training manager until her current role. Along her career, Anghel takes pride in one of her greatest achievements, the setup of the training function for the Morocco site, a re-engineering project where she combined project management know-how with training delivery skills.

Which kind of professional model fits you best: The Leader, The Manager, The Maker and how did your academic education and previous professional background impact who you are today?

Right now, I would say the manager is the professional model that fits me best. To a great extent, my academic education and my training helped me get to where I am today; working with people and for people, I have come to realize that my role is not just a job, but a vocation; I can make a difference and help people by caring for and respecting their needs, and coach them with their careers and how to better utilize their qualities and competences, how to "shine their diamonds".

What training have you been offered so far and you appreciated most and how did they help you evolve and gain the measure of your value within the company?

I really feel the company invested in me, in my professional development, by offering me a lot of relevant and very useful training, such as Advanced Presentation Skills, Project Management in Human Resources and the Wave programme. This training focused on the technical HR know-how, but also on the soft skills, the simple things that make a huge difference when they are put into practice. They also helped me to further develop my competencies and understand how my strengths could be an asset for the company.

Which is your perspective regarding career plans and what is your strongest motivational trigger?

I describe myself as a self-motivator and for me, as long as I know I can make a positive difference in people's lives, I will always find the way to continue my career. I know myself very well, I have my values and my principles, I know my strengths and my weaknesses, I know what I want and why I want it and I know HR can be a comfortable area for me but at the same time it's something that pushes me into the learning edge (as I mentioned earlier, each day is different).



---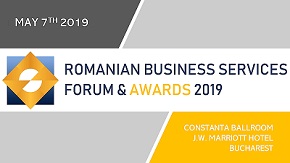 » Romania ranks above EU average in gend...
» The voting procedure for the BRAND OF ...
» Berg Software Romania: Reasons to outs...
» Deloitte's Tech Trends 2019 report: B...
» Steven Hunt, SAP SuccessFactors: Tecto...
» Molson Coors started to grow its busin...
» Societe Generale-European Business Ser...
» Capgemini: Investing in people is the ...
» Countries in CEE region, including Rom...
» Oracle reaches 4,200 employees and pla...

The voting procedure for the BRAND OF THE YEAR 2019 IN ROMANIAN BUSINESS SERVICES is open!

This is the fifth edition of the event and the second year to select the public's favorite brand in the business services BPO, ITO and SSC in Romania.
Read Full article »
Romania ranks above EU average in gender employment gap

In Romania, the employment rate measures the number of people who have a job as a percentage of the working age population. This page provides - Romania Employment Rate- actual values, historical data, forecast
Read Full article »
Steven Hunt, SAP SuccessFactors: Tectonic movements in the world of work

The world of work will be shaped by five tectonic movements – or global megatrends – over the next few years. As you may guess from the geological analogy, the effects could be dramatic.
Read Full article »
EY: European companies are divesting to future-proof growth

According to the EY Global Corporate Divestment Study, 84 per cent of European companies surveyed intending to divest within the next two years (the majority planning to do so in the coming 12 months), executiv
Read Full article »
Knowledge-sharing presentation on latest trends the industry deals, in the program of Romanian Business Services Forum and Awards

Part of the upcoming joint half-day event, Romanian Business Services Forum and Awards to be held at JW Marriott Hotel on May 7th, the discussion agenda comprises a complex Knowledge-sharing presentation on lat
Read Full article »