PEOPLE IN SHARED SERVICES AND OUTSOURCING FORUM 2016: Addressing the pressing needs of digitalization and people empowerment

The annual event dedicated exclusively to human resources in the Shared Services & Outsourcing Industry powered by Outsourcing Today and The Diplomat – Bucharest was organized at the Intercontinental Hotel in Bucharest on October 27 and invited business services investors such as SSC, ITO, BPO, academic figures and authorities to discuss and discover new tools, strategies and solutions for developing, implementing & optimizing t

The event benefited from the support of leading companies and organizations such as: Genpact, ABSL, Outsourcing Advisors, CIMA, EY, Immofinanz, Skanska, Societe Generale EBS, Wipro, CBRE, Vastint, Colliers, Noerr, AIESEC, ANIS, ClujIT, Extend, who offered their insights within the main conference panel and parallel roundtables.

There are about 80,000 employees in the industry and each year about 15 to 17 per cent more add to this number. Currently Romania has about 5,000 to 6,000 open positions in the BPS and SSC centres, while the ITO domain adds up further to bring Romania to the second place in CEE's business services industry, just after Poland. This year's agenda outlined the very latest thought leadership in HR strategy, with practical case studies and interactive discussions focused on the latest developments in talent acquisition, leadership development in employee satisfaction, organizational agility and strategies to drive value to business and success through new innovation in cloud-based software, mobile technologies, and implementation of workforce analytics. The plenary session was opened by Shibu Nambiar, Chief Operating Officer, Europe, Latin America & Africa, Genpact, discussing the current changes in the business shared services environment, including the workspace and the workforce mobility: "The economy is becoming digital and in this environment, the flexibility of people in terms of mastering various skills fit for different projects, their engagement and commitment to move in and between workplaces has become a major advantage. Also, we must underline the fact that language proficiency and technical skills are also on the table in the local work context".



The ABSL representative also stated that the speed of change towards a digital economy is at its fastest pace, and what Romania has to do in order to keep up and stay relevant on the market is to cope with several serious challenges right now and in the following years. "I am very concerned that this industry alone will need to grow by 20,000 people per annum. We need to find solutions to see where we are going to find all these people. Also, we have to take into account that costs are no longer a competitive advantage in Romania, as these costs are rising. The BPO services deliver no higher salaries in Romania. The competition is also tightening and we have to see if we need to be relevant in the next 15 years. We should be looking for continuity and speed. I appreciate the Government's initiatives, the CEO office and the GovIT programme. Now, it is about how to scale them up. Other things to be done would include the need for the Government to simplify the business visa, for instance, and we all - as industry and state institutions - have to find solutions to attract the youngest generations towards technology, especially high-end technology."

Vivek Bakshi, General Manager, Wipro Technologies, added: "We need to focus on today's skills in order to be relevant tomorrow. The language skills are also very important. Along with language skills and technology adaptability, the companies - through their employees - should get ready to meet the new demands of a constantly changing landscape in businesses. The industry is changing already. We should be aware that the era of robots is already here. There are places where robots are working together with people, if not even replacing them in some duties. This trend is already here. We need to adjust and prepare for future skills. The reality is that all the countries in the world face the need that the educational system has to adjust to the new world Most countries, not only Romania, face this problem. There are several - very few - countries, like Finland, which are starting to look at the new education but let's be honest, all the rest of the countries have a long road ahead in this direction. There is a lot that can be done in Romania and the local industry has to meet the investors' demands to convince them to place their investments here, rather than elsewhere."

Digitalize or fade away

In this respect, the plenary session welcomed Diana Popp, Counsellor Prime Minister's Chancellery at Romanian Government, who addressed several aspects that currently are on the government's agenda and the steps to be taken in order to form a coherent strategy for a better partnership between the state institutions and the business community. "Our government has a vision for Romania - that is, a vision for digital Romania. Romania has a huge potential in IT, hi tech, innovation, talent. We have big companies in Romania, most of them are represented here in this room. We haven't covered all the areas in the country but we are reaching towards them. In order to achieve all the objectives, we launched several successful government programmes such as the CEO office or the GovITHub, but we still need structural and policy reforms. We need to set up a coordinated approach between the state institutions including the Romanian Government and all the other stakeholders of the industry such as private companies and NGOs. The already-established Governmental programme which addresses the support of entrepreneurial endeavours and the digitalization of public administrations, such as the recently launched GovITHub prove to be meaningful steps ahead in this direction."

GovITHub is a recently-launched governmental programme that aims to create a strong community of IT projects by which their developers - IT specialists - would transform public services through technology. The whole project is meant to function as a space where those with talent and innovative spirit intersect with those who have the experience and rigor of public administration. GovITHub brings together specialists, entrepreneurs and decision makers with the common goal to resolve pressing issues of public service and to transform the way that the Romanian state through its different administrations interacts with citizens and the business environment. "Romania has a huge potential in digitalization in fields such as - to name a few - health, smart cities, agriculture, digital education. In this respect, through regional conferences and events, and all the governmental programme has set in place, we aim at anchoring Romania into the digital future. That is why the Romanian Government is looking forward to working together with the business services industry's stakeholders, as partners within the decision making process," Diana Popp concluded.

Scaling up the solid grounds of partnership The statements of the Government representative were completed by Florin Grama, President of the Association of Business Service Leaders in Romania (ABSL): "There is encouraging news from maybe the first government to fully understand the needs of a modern business community and the business services industry in particular. We started to work with the government centre and several things have changed. Was the time sufficient to manage them all? Of course not, but at this point we are totally in sync with the vision, which is great. The opportunity to digitalize the economy is huge because Romania is starting at ground zero in this respect. The good news is that the industry associations and state institutions share a common vision. We are already working with ANIS and other stakeholders to create a White Paper document which will comprise all the necessary measures and steps needed to be fulfilled in this respect on the short, medium and long terms. In order to do this, we particularly need to focus on investments towards education. We cannot build a digital culture in the absence of an education based on technology."


A matter of new generations

In this context of a changing landscape of doing business in outsourcing, Andrei Romanescu, CEO, Veeam, who moderated the plenary session of the conference, detailed for the audience the main topics to be addressed by the panelists during the session, including the impact of technology and the immersion of the new generations into the work market and the concerning aging population drift and several trends: "We are living today in a changed environment. Think about twelve years ago. There was no Facebook. Ever since, it changed our lives, transforming the way people are communicating. In 2019, we will have four different generations working together in the workplace: the baby boomers, generation X, generation Y or the Millennials, and the youngest, generation Z, born after 2001, also called the KGOY generation - Kids Growing Older Younger.

The latest is directly linked to technology. If you look around, things that we used to do are no longer happening today. In three years from now, we will be challenged by the mix of the four generations having to find a common language to function together in the same workplace. "'Digitalization', 'people'; these are the words of a common language we are all using in this encouraging work environment. It is true, we face shortages of workforce supply on the market, a trend that is also triggered by a very concerning factor... the aging population. Romania is following the European trend in this matter but it seems that it does it at a faster and more concerning pace," Romanescu added. At the EU level, as a concerning trend also mentioned by Andrei Romanescu, the aging population (with data showing that the pool of people over 65 years also increased by four per cent in EU), together with the fast emergence of the new generations, and the impact of always updating technologies and work models, are aspects to be addressed seriously by governments, state institutions, education leaders and all the stakeholders of business and social community.

Sharing resources - A possible good idea

The statements were completed by Andrei Romanescu, who underlined the pressing needs in Romania to stop the brain drain, to come up with measures and resources to make the work ecosystem function at its highest parameters and to import the best practices from other markets. An interesting trend in other countries, such as Canada for instance, as mentioned by Romanescu, is the system of resource sharing by companies, especially in industries where there is workflow seasonality. "I think this is just a great idea and it just might work also in Romania. Managers of large companies in Romania actually became open to sharing. They started to go externally, they are no longer afraid of putting their top talents in common programmes with other companies. Don't be afraid of being engaged externally," Romanescu added. Talking about resource sharing, an important aspect in success stories in the workforce management is the partnership between the academic institutions and the business community.

Lector Dr. Claudiu Botoc, Pro Dean, Faculty of Economics and Business Administration, West University from Timisoara, commented in this respect: "Our faculty is business environment-oriented, and in this respect we developed a programme to join the academic input and the real business practice in shared services. By this, the theoretical knowledge is completed with the real-case business scenario. We are facing several bureaucracy challenges in this kind of endeavour that we are keen to develop but we are aware of a stringent need to sustain the academic proficiency through real practice". In terms of work environment and HR legal aspects, Andreea Suciu, Head of Employment & Pensions Department, Noerr added: "There are legal challenges that we are facing in terms of various work arrangements, some of them related to labour force flexibility. The flexible working schedule, the part-time issue, the short programme on Fridays, the job shifts, the home office, the working time account, are only several concepts that emerge from developed market and are necessary to be addressed and find the local legal solution in order to implement them." Alexandra Olteanu, Chief Operational Officer, SocGen EBS concluded the first session: "Putting people at the right standards and developing people into directions by growing competencies, experts, managers and leaders, is part of our mission related to people in our organization. Nurturing the talent and focusing on mentorship in order to sustain the growth potential of an individual professional or a team is part of an ongoing process and a long-term vision."

The Epification of Everything

The convergence of HR and the technology session welcomed Catalina Dodu, Vice President of ANIS, moderating the panel discussion. "Following the previous discussions centred on education and challenges in the business services market it is now important to talk about the advantages of the industry. It is important, what we are doing in our companies, and how HR is supporting and prepared to answer to these technological changes affecting our customers, our company processes and therefore, each part of the company should be ready to deliver and support in the expected way." Crina Ilie, Vice President of Human Resources at Genpact Europe, managing the retention and talent capabilities in the organization, summarized the main trends that the global business landscape faces right now, ruled by the impact of Internet and interconnectivity, as well as the main trends causing the tight changes in HR. "In using the new technologies and applications now available and always bringing something new, we have to pay a lot of attention to the manner of implementing them, who you address with them, which are the projected outcomes," Ilie stated.

Selling the value of analytics to HR people

Regarding data and analytics, how do the HR representatives perceive the need to use these tools? Diana Bocaneala, Head of People Development and Recruitment at Endava said: "My personal struggle is to sell people analytics and reports to the HR team and also to build trust in people analytics for the business team. It is a very interesting process as not everybody in HR really understands the value of this data. In order to build certain information you need accurate data. You have to extract from data that information which is valuable for business. We need to put effort into selling people these analytics and the reasons why reporting and people analytics bring value to work processes."

The convergence of HR and the technology session was also attended by Catalina Magui, Head of SSC HR, Societe Generale EBS, stating that technology is very important and supports the business of SG EBS. "We could not work from Bucharest and serve clients all over the world if technology was not part of our business." The aging of the workforce – a matter of addressing the young generations' needs rather than a matter of age It's only a couple of years until three or four generations will interact on the same work market. How do they confront each other or is it really a matter of confrontation rather than interacting in a functional work ecosystem? The talk is more about people as individuals and their expectations, rather than age. It is a concerning trend all over the world about the aging population, it is true, but the managers and leaders in the industries, especially in the tech-oriented industries, should focus on the young generations and the means to attract them, retain them and provoke them to evolve.

The people-oriented dialogue continued at the event's parallel second session with the statements of Cristina Balanescu, HR Business Partner, Societe Generale EBS, who considers that adaptability is key in the business services. "Also, we need to invest in the people, no matter if they come from different backgrounds, if they are on their first experience or more experienced. Mentorship is also very important in the company. We are no longer talking about training, we are talking about workshops. The vision is "people for people". We believe in trust; how you are remembered by the employee. Setting up the right expectations from the beginning is very important. You need to ask the right questions. What do you expect from me as employer. What do you expect from your job. The job title may be the same for many companies, but the inside of the job may differ."

Stefan Palarie, President, Scoala de Valori, added: "We work with both teenagers and students and in the workforce landscape. We stringently need to address the issue of the generation gap. If you want to build a bridge to the new generation, first of all, you have to understand them and give them something to value, starting from early education to high school. How to recruit the Z generation, is a very significant question at this time, and not impossible to be answered with the right work value tools."

Addressing personalities, individualities, people

In the opinion of Teodora Todoran, Head of Training Function, Wipro, the workspace and work process aspects should not be related to age and generation but to individuality and typologies. "What we actually should ask ourselves is: do we ask the people what they want? We have a chaotic generation that doesn't think and a brainy generation that doesn't talk. What are we doing about this? Put across a thought, one at a time: What do you want from this job? Opportunity to grow, different work hours, what kind of projects? You have to ask these questions and address them individually." Also, the work environment has a very specific and important component, that is of workspace or the evolving concept of "offices". Ramona Marusac, Associate Director Office Agency at Colliers International, considered: "In terms of office choice, we think that that the whole idea is the right proportion of individual-closed spaces, collaboration spaces and open spaces. You do not have to think in terms of the nicest or trendiest office. The office space has to be chosen related to sustainability and should provide the right answers to questions about who you are, who your employees are and what the organization encompasses as its vision." Strategies to develop and retain talent in the organization The modern life of the labour market now faces, with the emerging of generation Y or Z, some new challenges. The youngest ones differ from Generation X and they are "alien" to their grandfathers, the baby boomers. They ask for new things, they are connected 24/7 to technology and internet, they appreciate sustainability in business and social life. They are not loyal, neither to companies nor to places. They are mobile and they ask for flexibility from their employers. They are demanding. These are only a few aspects the companies need to address and put together new procedures, rules and work cultures in order to nurture the future workforce.

This session was moderated by Krzysztof Kmuk, Emerging Markets Development Manager, CIMA CEE, who opened the dialogue between the industry stakeholders by underlining some pressing aspects the industry is facing right now: the aging workforce and the need to develop and retain talent within the organizations. "Retention of employees, talent management, the work-life experience are only some of the modern concepts that rule the life of HR management today. Sometimes, we should ask about where the limit should be positioned in terms of retention, for instance. The generally called 'stay interview', for instance; how can be done, it is a general recipe for success? For sure, a repeated action should be done in an informal way, whenever there is a chance. Also, about the work-life experience; the major questions relate to what will suffice to make employees content when at work, where the limit should be placed and how we address the new generations' demands and needs," Kmuk said.

Raluca Vasilache, HR Head Bucharest, Wipro added: "The idea is to listen to the employees' needs. That is why we developed different programmes to retain and motivate, from coaching programmes, wellbeing programmes, to risk management related to employee mobility. It not always about the money but what you can do when really listen to your employees." On more developed markets, retention is no longer a matter of money, neither for employer nor employee. On markets such as Romania, this trend of bringing more to the table than money has also started to bear fruit, but at a slower pace. Antoniu Panait, Managing Director, Vastint Romania said: "The major topics of employers when it comes to retention is mostly related to money. But, in other markets, this topic has expanded to a wider range, such as how to bring incentives to staff through an environment-related after-work life. In other words, to create that space of work when the individual life can emerge and complete the full atmosphere of working. Offices play a major role in the entire competitiveness of a company. The work place truly relates to everything that it comprises, people, fit-out, work value."

The multiple layers approach

There is a round-trip process of work in organizations, in which the employee can contribute. They can receive their "bravos" for their best achievements and pay it forward to others, by mentoring and teaching. Ioana Crisan, Learning and Development Manager Societe Generale, EBS said it is about engagement. "We use the phrase of 'employee value proposition', that means, in short, establishing why you want to be engaged in our organization. You have to talk to employees for real, disclosing clearly what the company's vision is, its attitude, leadership, common behaviour model, common language; establish the brand rules. A solution to the successor system is exposing employees to different projects and many skills. The experience you gained in a certain position is no longer as important, as the adjustment skills to different situations and tasks. From this point of view, a certain employee qualified to operate in different work styles or projects, will be fit for a broader range of projects or work types."

You are where you work

A major component of retention of employees, besides the money factor, also includes that of the workspace. Amalia Sterescu, CEO, Outsourcing Advisors commented: "There are amazing offices in the country now, in Cluj, Bucharest, Iasi. The question is what the limit will be in development features. One question to be asked is if an office is adapted enough to millennials and it is fit for them to stay? I don't think a nice office will replace a nice culture in the work environment. The focus is on talent management programmes. Some companies are doing it for real, some are just simulating. This will be reflected in the retention of the young generation. I think the future slogans of offices will include how they feel like home. The changes are faster than we are used to in the past and we have to better handle the mix of generations."

The manager's message was completed by Mihai Paduroiu, Head of Advisory & Transaction Services, Investor Leasing, Office, CBRE Romania: "The office environment can make the difference in choosing a certain workplace. The office is no longer a cubicle but a universe. We see in Romania a trend growing very fast in the past four years, especially in certain industries such as IT and the outsourcing industry where retention is very important. The office, the location, amenities, the fit-out, have all gone up on the list of important topics for a company and its management. Sustainability is a major aspect in developing buildings." The need to adjust to millennials and Generation Z is mandatory for companies if they want to construct a solid workforce pool in the future.

The representative of Swedish developer Skanska, Anca Raducan, Business Development Director, Skanska Property Romania detailed: "We have to adjust to the millennials. They are not committed as much to vague ideals; they are committed to their own work-life balance. We created a place to adjust to millennials very much. For two new projects, we want to create a place where can people be closer to well-being. To really feel well inside and outside the workplace. It is a good way to retain the talent and gain, economically speaking. The modern real estate development is a matter of flexibility. The buildings should be flexible. The future of good workplace buildings is to be adaptable to all kinds of things, to be designed as you want. We have to create communities and to address all the generations and types of people. The biggest challenge for all developers is how to create a fit building for tomorrow while having a great building today."

Several takeouts from the conference remained to build a bridge towards a new year in doing business with the services sector:
• Addressing the gap of generations. The reverse-mentoring is a useful trend to help in this matter, when the mentor becomes the mentee and the non-managers become the mentors of the managers. In fewer words, Listen to the youngest.
• Succession plan in place. This means to really know who is the next backup leader for the years to come.
• The early warning system – Applied when the risk appears of losing people. How can you prevent people from leaving? Through "the stay interview". This is a very challenging aspect, when you have a large scale of a business with hundreds of people working in the centres."

This year's edition, exclusively dedicated and committed to people and the main HR aspects in shared services, opens the next series of conferences and printed magazine editions of Outsourcing Today in 2017, when we hope to cover the good news shared by the industry stakeholders and beneficiaries about investments and evolutions in the industry, both in large cities and all around the country.

We remain close to the community actively working in the business services industry and we are looking forward to seeing you in our upcoming conferences and roundtables! Have a brilliant new year!

---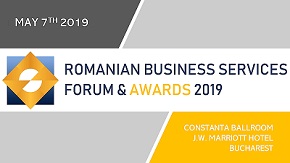 » Huawei opens a centre on cyber securit...
» ROMANIAN OUTSOURCING AWARDS FOR EXCELL...
» Romania ranks above EU average in gend...
» Bucharest, in the top of cities in Eur...
» Berg Software Romania: Reasons to outs...
» Meet the experts who will decide the w...
» Bogdan Pelinescu, president of ABSL: A...
» KPMG launches an application enabling ...
» ABSL GALA AWARDS celebrated its winner...
» Oracle reaches 4,200 employees and pla...

Colin C. Lovering: Meet the speakers at Romanian Business Services Forum & Awards 2019, on May 7

Colin C. Lovering has been living and working in Romania since 2009 when he arrived to offer consultancy and advice to organisations looking for growth and profitability and founded Achieve International.
Read Full article »
Antoniu Panait: Meet the speakers at Romanian Business Services Forum & Awards 2019, on May 7

Managing Director for VASTINT Romania since 2009, Antoniu Panait has an executive experience of more than 10 years, mainly in real estate.
Read Full article »
Andrei Voica: Meet the speakers at Romanian Business Services Forum & Awards 2019, on May 7

Andrei Voica, Director Project Management and Workplace Consultancy, Colliers International. Truly passionate about his work and always eager to add value to each project.
Read Full article »
Romulus Caralicea: Meet the speakers at Romanian Business Services Forum & Awards 2019, on May 7

Romulus is Wipro's Information Security, Risk & Compliance Lead for Europe. In his role he is managing internal audits and compliance activities for all clients and internal functions based on the corporate ISO
Read Full article »
George Didoiu: Meet the moderator of Romanian Business Services Forum 2019 CEO LEADERS DEBATE, on May 7

In his 15 years of real estate, George Didoiu advised on the relocation of top IT&C, finance-banking and consultancy companies, which total over 10,000 employees.
Read Full article »