A people-centred business

The shared services business in Romania roared in the last couple of years, at all levels; new jobs, new entries, new locations, expanded projects, and not the least - the increasing absorption of young professionals in the cities offering a solid academic background, especially in IT. Nevertheless, the growth of the industry brings a certain erudition in terms of attracting and retaining highly skilled professionals.

For the outsourcing industry, 2016 was a year of continued growth in Romania. As confirmed by the companies in the industry, the year brought several SSC openings and a lot of the companies that were already present on the market continued their growth. From this perspective, as stated by Andreea Stănescu, Vice-President EMEA Delivery, Stefanini, the company had to adapt its recruitment and retention strategies towards a more targeted search, sourcing candidates in a shrinking market. In many respects, the labour market is similar to the one prior to the last economic crisis. "In general, the industry leaders should continue their collaboration with the governmental and educational institutions towards increasing the pool of technical and language graduates and for adapting the universities curricula for increased relevancy for the business environment," Stănescu said.

For Luxoft, with 1,700 employees in 2016, this year has been a fulfilling year in terms of business development and evolution in relation to the HR strategies. The company announced it opened new positions in order to keep up with the demands of their projects. For them, as well for all the other companies on the market, the investments in HR is continuous in order to attract and retain talent inside the company. "Our HR programs cover various needs related to the complex projects we develop, addressing all levels of experience inside Luxoft. All the HR actions are in line with the larger HR strategy that aims at providing our employees with the right framework for professional and personal development. As such, at Luxoft, both senior and junior professionals benefit from career path and professional training programs that are designed to enhance the potential of each individual," said Monica Mardare, HR Director Luxoft Romania. The company developed and currently runs several programs addressing the employees, such as the "Corporate Junior Program", or Luxoft Training Centre, targeting students and young graduates to extend their theoretical knowledge and reinforce it by practical experience through work in real projects, or the "Leadership Academy" and "High Performers Club", targeting the senior and managerial positions.

Managing the talent management

Talents are the new celebrities in the growing world of outsourcing. As Iulia Sandu, HR Manager at Genpact stated, at the company she represents, and at the overall context of an industry that is, by definition and function, people-centred, "having the right talent management approach has been a real differentiation this year. In order to ensure a sustainable growth, we focused our efforts in creating a strong managerial pipeline by implementing a new leadership development program that provided us a pool of over 100 potential managers." According to the manager, another priority of the HR industry has been the increased focus on retention. Besides the usual basic factors like providing a friendly work environment, wellbeing benefits, facilitating social activities etc.

For SCC, Europe's largest independent technology solutions company, working in the service industry exposes the company to a cost structure where more than 50 per cent are personnel costs. "Taking into consideration the increasing competition in the local market we plan to increase our efforts in remote work, flexible schedules (unequal weeks) and cover volume peaks and overflows with part-timers," said Catalin Constantin, Organizational Development Manager, SCC. According to the manager, HR will drive this strategy of flexibility in order to address future talent demands and workforce management improvement initiatives.

With operations in Iasi, where the market became more and more competitive and the talent shortage more pronounced in the last years, SCC has to think of new ways of growing the talent pool. "We invest a lot in the training and learning curve of our new joiners by having a dedicated technical training team in each location, a training centre (SCC Academy) and a training budget of around 200,000 Euro a year. Except some functions like Business Intelligence or Software Development where technical skills are still pre-requisites, for the majority of our services we look for a good command of a foreign language, basic IT troubleshooting and high 'learnability'. In terms of professional competencies we look for personal effectiveness (prioritizing, organization and self-discipline), collaboration (openness, trust, helping and encouraging others) and analytical thinking (attention to details, logic and analysis). In addition to this, for the critical functions and people manager roles we also conduct job fitness analysis using compatibility reports such as Belbin or Situational Leadership Styles Inventory," added Constantin.


HR becomes more strategic

In the ever-increasingly complex work frame of the current business environment that is increasingly demanding, the HR function is asked to provide more strategic services to the organization, while HR professionals are increasingly being expected to draw strategic directions that add value to the overall business strategy, according to the Genpact HR manager. As Sandu said, one direction would be the decision to outsource low value-added activities to gain focus and have a more consultative approach. Naturally, this means divesting transactional skills, while developing new HR consultancy skills. Through this new approach, HR's connection with other departments is increasing, creating greater interdependency and leading to a more tailored way of working as trusted advisors for the business. Another priority is the technological progress and understanding how this is changing the customer-facing and transactional elements of the HR function. The direction is to move from a subjective approach towards evidence-based people decisions and data analysis to understand the connection between human resources practices and business outcomes. This can make the transition from statistical analysis to a qualitative analysis of data that gives answers which can help them achieve the business objectives.

"As in our industry people are the most important asset, we are focusing in attracting and retaining in the organization the right combination of skills and behaviours that will provide us the competitive advantage: domain expertise and analytics, client focus and resilience, disruptive thinking, collaboration and interpersonal skills. Genpact recognizes that our future growth depends on our continuous ability to build industry leading knowledge, skills and careers - that`s why we invest in the success of our people by developing these skills through continuous learning, leadership development programs and flexible career paths," Sandu added.

At Stefanini, a company with three operations centres in Romania and 1,400 employees anticipated for the entire year, the managers had to focus on a more adaptive strategy in sourcing. "We enriched our proactive and reactive retention programs and we set the groundwork for an internal service culture meant to make the workplace in Stefanini more attractive to existing and potential employees, as well as drive an internal culture focused on servicing the needs of our customers," Stănescu added.

At SCC, in the last quarter of this year, the focus is on reviewing the performance management system. "Our aim is to have a performance management system that identifies the right objectives for individuals and teams, allows more frequent feedback discussions between employees and their managers and peers, and links development actions to competency models and career planning. At the moment we are in the phase of conducting quantitative and qualitative analysis with department managers in order to isolate the objectives and behaviours that would predict organizational performance. Furthermore, we will customize performance frameworks for all the individual jobs in the job landscape in order for the process to reflect the diversity of our functions and services," the SCC manager said.

From SCC's perspective, in terms of talent retention, a re-shaped talent management system will boost intrinsic motivation and will motivate more than commonly-used reward practices. Apart from this, SCC developed a wider package of benefits covering sport, transportation, medical insurance and other leisure activities. Our benefits budget / expenditure is of 420,000 Euro per year. "In terms of mobility we encourage career moves and knowledge transfers between our two locations in Iasi and Bacau, as well as from SCC Romania to SCC UK and SCC France," Constantin said.


What to expect from the future?

Two major aspects emerged as part of the answer to the question. First, as stated by the Genpact manager, employee engagement is a subject that requires a deep understanding of employees' needs and what each employee expects from their work life. The demands and expectations of today`s workforce required a shift on our approach on implementing an employee engagement-centric culture. "Thus, we focused on a more holistic and integrated way of driving motivation and commitment throughout the organization. We began by focusing on the work environment, to make it compelling and enjoyable for everyone, starting with enhancing the possibilities for interaction and communication within the organization through social media channels and customized communication platforms, implementing flexible working hours program, reward and recognition schemes, ensuring a constant connect of the Leadership team with the employees and ending with higher impact changes in infrastructure and facilities," Sandu explained.

The second aspect is related to the work-life balance topic, which was also a high priority in the current business environment to help people improve or manage their health, see the real value of their work, decrease levels of absenteeism and reduce the turnover rates. "This year, Genpact implemented the 'wellbeing@work' program designed to help employees prevent stress and get out of their daily routine by taking time for their hobbies and personal interests," Sandu said.

From Stefanini's perspective, there are technical skills and several technical specialties which remain the main focus in the industry: programming skills like .Net, Java, PHP, JavaScript or mobile (iOS, Android, Windows), plus advanced Infrastructure skills in the area of Wintel, collaboration tools, Security - which becomes an increasingly important topic, as well as language skills, with a higher emphasis on rare languages rather than the usual English, French and German. According to company representatives, the shortage of German skills has deepened on the market and this is expected to continue to be a challenge, the opportunities being far bigger than the labour market can currently offer.

Concerning the trends on the market, "the employee market is focusing more and more on workplace well-being, office space related expectations grow higher. We also see a higher need for flexibility in working hours and working from home is getting more and more attractive. We work continuously on improving the work conditions, the benefits programs and managing work life balance for our employees in a way that is also adjusted to the needs of our customers. Finding the right balance requires a sustained and continuous effort," the Stefanini manager said.

According to Monica Mardare, HR Director Luxoft Romania, employee motivation is moving towards the concept of employee engagement, which goes beyond the traditional motivation tools. This means that each company has to come up with complex HR programs that can create a strong bond with human resources. "From my point of view, mobility, flexibility and the continuous investment in people are the main three trends in employee motivation, that can be observed both on a global and a local level. At Luxoft, for instance, we offer a working environment that is flexible enough to allow the work life balance people are looking for. At the same time, we offer employees the opportunity to relocate to other business lines through our internal mobility program. We created this tool in order to offer them the opportunity to move between departments. Moreover, our team members can apply for positions available in other delivery centres that Luxoft has all over the world, thus being exposed to international projects," said Mardare.


Dealing with the mix of generations

As with many companies in this industry, SCC reports an average age of their employees at 28. According to the company analysis, this generation - of Millennials - is known for being motivated by clear roles and responsibilities, clear development and career plans, increased job autonomy, high feedback frequency, merit recognition, and schedule flexibility. "We think the key is equal treatment in terms of talent management for the occupants of functions with the same value to the business, regardless the age. Moreover, by equal treatment we also mean setting same performance standards and rewarding proven performance rather than seniority/length of service. We do have in place mentorship and shadowing programs where our most experienced colleagues share their experience with the new joiners to boost their learning curve and ramp-up knowledge," the SCC manager added.

On the other hand, from Genpact's perspective, in the market are different approaches on generational mixing in the workplace. There are both similarities and differences between each of these generations as they have different expectations and bring different preferred ways of working. To create a healthy work environment between generations it is important to understand the positive outcomes that can get out of this collaboration, like innovation and creativity by sharing different perspectives, but also the weak side that can lead to conflicts due to different values or communication styles. Having this in mind, the organization must be open and flexible in accommodating the employee' differences and adopt new ways of working like work-life balance, flexi-time, operate with different and individual adjusted management styles. "However, we should bear in mind that the generational split refers to demographics, not individuals. All our employees, regardless of the generation, have their own unique goals, values, experiences and needs which means it is all about aligning the working styles of your employees and creating a collaboration based culture," Sandu added.

In the Luxoft manager's opinion, a strong partnership between companies and the educational system is extremely important as the latter provides foundation and ongoing support to address scarcity of talent in the outsourcing industry. "More and more companies partner with private schools and universities, thus offering young college students a lot of opportunities to start their career as professionals. At Luxoft, for instance, we have a very good collaboration with the Academy of Economic Studies consisting of an internship program. Of course, we also do projects with Polytechnics University and collaborate with various student associations," the HR manager of Luxoft said.

The managers on the market agreed that the adjustment of the educational system to the needs of the business environment is currently one of the most important items on the table. It is a fact that the market cannot exclusively rely on internal upskilling and development of our people to ensure the right set of competencies needed. Thus, the business community should be more involved in the academic environment, creating specialized study programs to ensure a well-educated, self-disciplined, motivated pipeline of future employees, equipped to work successfully in a constantly changing environment. On the other hand, Universities should seek to understand the future type of jobs and adapt their way of delivering the knowledge to the new requirements on the market.

Also the academic environment can provide a wide range of opportunities by bringing together people from various industries, with different expertise, to promote innovation and challenge the already mature way of working. "In this area, Genpact developed in collaboration with ABSL and ASE the 'Business Services Management Master Program'. In order to ensure the success of the master program, we developed a strong partnership, offering our full support to the selected teachers to adapt the materials to the needs of the industry, taking one to five students as employees in our company to accumulate practical experience and also supporting scholarships for some of the students," Sandu detailed.

Stefanini's representative stated that they have noticed a positive evolution in terms of public-private partnerships. "Public institutions are becoming more open to listening to the needs of the businesses; there is an increased interest of the educational institutions, particularly universities, in linking their curricula to the needs of the companies. This is good, but the job is by far not done yet and these efforts need to continue from both sides. To get to the bottom of this, the next step will be to see high schools also adapting their programs more, so work needs to be done all along the lifecycle of the educational process," Stănescu said.

---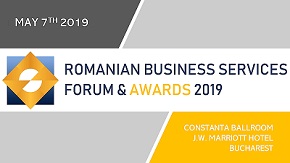 » A people-centred business
» Isarescu: Economy will grow above pote...
» CBRE: Bucharest will witness a fivefol...
» Delphi Technologies inaugurates global...
» Technology, Mobility and Wellness make...
» Meet the winners of ROMANIAN BUSINESS ...
» The Renaissance of Outsourcing
» UBB and IT Cluster Cluj brought 450 st...
» UK: Outsourcing is leaving public sect...
» EXCLUSIVE: ABSL Timisoara - BPO and SS...

Workplace of the Future conference to take place on November 20th at Bucharest

The Diplomat-Bucharest together with Outsourcing Today organize the 3rd Edition of WORKPLACE OF THE FUTURE, on 20th of November 2019, in Bucharest, at Capital Plaza Hotel.
Read Full article »
Strategic Talent Acquisition at People Empowering Business Forum on October 30 in Bucharest

Latest trends like demographic upheaval, globalization, digital technology, and changing social values and worker expectations, are disrupting business models and radically changing the workplace. These are req
Read Full article »
Informal IT School and UiPath launch an educational program for RPA development to start in October

Informal IT School announced a partnership with UiPath to launch an RPA development educational program of five months, 100 hours of courses, five days a week. The program will run in Cluj-Napoca.
Read Full article »
Impact Hub Bucharest joins 3house to manage three coworking spaces in the city

Impact Hub Bucharest, a coworking spaces manager and developer of accelerator programs and events merged with 3house, a new concept of workplace launched in 2018. By this, Impact Hub reaches 3 locations and 6.7
Read Full article »
JLL: Total office space in Bucharest to reach 3 million sqm

The second quarter of 2019 reconfirmed the increased interest for the office market in Romania. Over 115,000 square meters of office space were leased over this period at the national level, a value similar wit
Read Full article »