Two teams from Bucharest are winners at 24-hour Hackathon organized by Deutsche Bank and NGO Autistica

Two teams of specialists from the DB Global Technology center in Bucharest are among the winners of the international hackaton organized by Deutsche Bank and autism research charity Autistica on November 9th and 10th . Autistica is one of Deutsche Bank's UK Charities of the Year. The event aimed to develop prototype apps to help young people with autism.

The hackathon brought together more than 150 technology and design experts from Deutsche Bank from seven cities: London, Frankfurt, Bangalore, Bucharest, Cary, Pune and St. Petersburg. From Bucharest 27 employees divided into three teams represented the DB Global Technology center in the 24 hour competition.

A panel of judges from Deutsche Bank, Autistica and King's College London evaluated 18 prototypes that were designed to fulfil three core functions: to provide information that helps users understand anxiety, offer advice on managing panic attacks and share longer-term strategies for coping with anxiety.

The overall winning team, "The Graduates" in London, created a diary app that helps users manage their anxiety levels. If a user posts an 'anxious' state, the app provides help including a breathing exercise and an option to revisit 'happy moments' posted earlier in the diary. It also allows users to share their data for research into the mental health of autistic individuals.

The "Red Team" and the "Blue Team" from Bucharest were awarded in the categories "Best user experience" and "Most innovative app" respectively.

"It is an important achievement for our technology center. The fact that Romanian specialists had the opportunity to develop technologies that make a real difference into the lives of autistic people is a success in itself; the fact that two of our teams were among the winners is an inspiration to us all," said Marian V. Popa, General Manager of DB Global Technology.

The Red Team developed a "Behaviour Tracker" App, which helps to identify, monitor and manage the symptoms of anxiety in children and adolescents with autism, in real-time. The application works using a medical sensor, SmartWatch or fitness bracelet, to monitor the user's pulse and offer real time solutions to overcome the difficult moments: breathing exercises, audio and video materials etc. The team achieved a unique performance by delivering a fully functional application at the end of the event, ready to use, and it won the title for "Best user experience app".

The Blue Team developed "Autistica App", awarded as "Most innovative app" at the hackaton. It brings together people who suffer from anxiety and specialists who can offer personalized advice in real time. The purpose is to teach sufferers to become gradually independent in managing the symptoms.

Deutsche Bank will give all coding created at the hackathon to Autistica, which will seek funding to develop the prototypes further.

---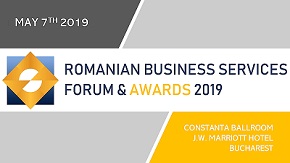 » Raiffeisen Bank Romania outsources onl...
» Horváth & Partners launches Steering ...
» JLL: Total office space in Bucharest t...
» Genpact, Luxoft and Oracle, top lessee...
» SSC in Romania. Who takes the lion's s...
» Oracle results pushed down by a strong...
» World-class HR organizations now spend...
» Romanian employers report the stronges...
» ROMANIAN OUTSOURCING AWARDS FOR EXCELL...
» Eucom: Nine out of ten corporate Roman...

My HR Lab: Research of suitable candidates and giving feedback to rejected ones, the biggest challenge in HR

During June 2019, My HR Lab company run an online (social media platforms) survey "Challenges of the recruitment process" which enrolled over 100 professionals working in HR and recruitment in Romania.
Read Full article »
The local market needs more added-value and complex projects to be developed by the companies

The statement has been uttered within this year's Romanian Outsourcing and Shared Services Summit by Catalina Dodu, Country Manager at Atos, pointing to the local enablers that could enhance the innovation and
Read Full article »
The office market at a glance: The round for tenants is on

Data provided by CBRE show that the office spaces segment will continue to grow rapidly in 2019, and 15 new projects covering 304.000 sqm will be delivered. According to the real estate consultancy agency, curr
Read Full article »
People Empowering Business Forum 2019 to take place on October, 30 at Bucharest

Latest trends like demographic upheaval, globalization, digital technology, and changing social values and worker expectations, are disrupting business models and radically changing the workplace. These are req
Read Full article »
Addressing the mantra of cyber-security: Confidentiality, integrity and availability

The fast advancement of technology in all the aspects of everyday life, either personal or professional, and the emerging of AI (Artificial Intelligence) and ML (Machine Learning), not to mention cloud technolo
Read Full article »