Get your news about the industry from Outsourcing Today newsletter

Starting today, we are introducing to you the first Outsourcing Today newsletter. As we promised to keep our commitment to you and the industry, we are constantly seeking to bring new and inspiring added-value to the sector after the great success we had with our events and printed edition.

Thus, we intend to make the newsletter a regular publication – once at two weeks – and to use it to keep you in touch with news and developments which relate to the pulse and trends of the business services market in Romania, Central and Eastern Europe and the Balkans region.

In this and future editions, we shall be reporting two to three news that emphasise the development of local and international players active in BPO, SSC, KPO, ITO, HRO, Banking & Finance, Accounting and RPO, as well as the opportunities and challenges that shape the face of the industry. We shall also include other analyses, features, reports and details related to both next events and steps we will take to further sustain the sector.


I thank all of you who contribute to the success of Outsourcing Today's activity and to our editor-in-chief, Magda Purice, whom you can contact at: magda.purice@outsourcing-today.ro.

Sincerely yours,
Mirela Gavra
Publisher
Outsourcing Today and The Diplomat – Bucharest

---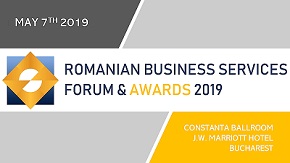 » Huawei opens a centre on cyber securit...
» ROMANIAN OUTSOURCING AWARDS FOR EXCELL...
» Romania ranks above EU average in gend...
» Bucharest, in the top of cities in Eur...
» Berg Software Romania: Reasons to outs...
» Meet the experts who will decide the w...
» Bogdan Pelinescu, president of ABSL: A...
» KPMG launches an application enabling ...
» ABSL GALA AWARDS celebrated its winner...
» Oracle reaches 4,200 employees and pla...

Colin C. Lovering: Meet the speakers at Romanian Business Services Forum & Awards 2019, on May 7

Colin C. Lovering has been living and working in Romania since 2009 when he arrived to offer consultancy and advice to organisations looking for growth and profitability and founded Achieve International.
Read Full article »
Antoniu Panait: Meet the speakers at Romanian Business Services Forum & Awards 2019, on May 7

Managing Director for VASTINT Romania since 2009, Antoniu Panait has an executive experience of more than 10 years, mainly in real estate.
Read Full article »
Andrei Voica: Meet the speakers at Romanian Business Services Forum & Awards 2019, on May 7

Andrei Voica, Director Project Management and Workplace Consultancy, Colliers International. Truly passionate about his work and always eager to add value to each project.
Read Full article »
Romulus Caralicea: Meet the speakers at Romanian Business Services Forum & Awards 2019, on May 7

Romulus is Wipro's Information Security, Risk & Compliance Lead for Europe. In his role he is managing internal audits and compliance activities for all clients and internal functions based on the corporate ISO
Read Full article »
George Didoiu: Meet the moderator of Romanian Business Services Forum 2019 CEO LEADERS DEBATE, on May 7

In his 15 years of real estate, George Didoiu advised on the relocation of top IT&C, finance-banking and consultancy companies, which total over 10,000 employees.
Read Full article »