People in Shared Services and Outsourcing at the upcoming event on October 27 in Bucharest

Outsourcing Today, the integrated communication platform for the business services sector, together with The Diplomat-Bucharest organize on October 27, at InterContinental Hotel, the second edition of People in Shared Services and Outsourcing Forum.

The annual event dedicated exclusively to the human resources in Shared Services & Outsourcing Industry brings together the business services investors such as SSC, ITO, BPO, academic figures and authorities to discuss and discover new tools, strategies and solutions for developing, implementing & optimizing the HR Shared Services model.

This year's event presents more opportunities to connect with and learn from leading HR professionals through a panel session and three interactive roundtable sessions that will challenge discussion groups benchmarking practical insights and more. Discussion groups are kept small to ensure all participants get the opportunity to ask their most pressing questions!

FORUM AGENDA

08:30 – 09:00 Registration & Coffee 09:00 – 09:10
Opening address: SHIBU NAMBIAR, Chief Operating Officer, Europe, Latin America & Africa, Genpact

09:10 – 11:00 PLENARY SESSION
Moderator: ANDREI ROMANESCU, CEO, Veeam

Confirmed speakers:
• SHIBU NAMBIAR, Chief Operating Officer, Europe, Latin America & Africa, Genpact
• DAN NECHITA, Counselor to the Prime Minister of Romania
• VIVEK BAKSHI, General, Manager Wipro Technologies
• ALEXANDRA OLTEANU, Chief Operational Officer, SocGen EBS
• FLORIN GRAMA, President, ABSL
• ANDREEA SUCIU, Head of Employment & Pensions Department, Noerr
• Lector Dr. CLAUDIU BOTOC, Pro Dean, Faculty of Economics and Business Administration, West University from Timisoara

Topics: • Romania's key advantages for foreign investors in the context of industry's maturity. • Academic partnerships - between companies and academic institutions, with a focus on impactful collaboration • Human capital challenges. HR, the engine for growth and critical determinants on reaching the industry's potential. • Trends in outsourcing. Expansion models. • State Aid: Investment Opportunity for Outsourcing & IT Companies

11:00 – 11:20 Coffee break

11:20 – 13:20 Three simultaneous roundtable interactive debates

"THE CONVERGENCE OF HR AND TECHNOLOGY" ROUNDTABLE
Moderator: CATALINA DODU, Country Manager, Atos IT Solutions and Services Romania

Confirmed Speakers:
• CRINA ILIE, Vice President of Human Resources, Genpact Europe
• ALEXANDRA OLTEANU, Chief Operational Officer, Societe Generale EBS
• IONELA STAN, Manager, EY Romania
• CATALIN IORGULESCU, Member of the board ABSL, General Manager Samsung SSCE

Topics: • Exploring the central role of Human Resources in the current era of technological change in the workplace • Talent management, analytics and digital/IT challenge • Current and anticipated HRSS delivery models, organization and staffing predictive analytics • Digital transformation of business processes, customer interactions and recruitment • RPA a double edged sword • HR transformation through HR SaaS technologies • Cloud-based solutions' potential to provide an improved user experience, lower ongoing costs and greater strategic alignment with business and talent priorities.

"THE AGING OF THE WORKFORCE" ROUNDTABLE
Moderator: ANDREI ROMANESCU, CEO, Veeam

Confirmed Speakers:
• CRISTINA BALANESCU, HR Business Partner, SocGen EBS
• TEODORA TODORAN, Head, Training Function - Europe, Wipro Limited
• RAMONA MARUSAC, Associate Director Office Agency, Colliers International
• STEFAN PALARIE, President, SCOALA DE VALORI

Topics: • Measures need to be taken to successfully manage multigenerational workforce • Generation gap, differences in work attitude • Interaction between multigenerational workforce • Generational conflicts. • The knowledge transfer from skilled valuable employees to younger generations.

"STRATEGIES TO DEVELOP AND RETAIN TALENT IN THE ORGANIZATION" ROUNDTABLE - COMPLETE PANEL
Moderator: KRZYSZTOF KMUK, Emerging Markets Development Manager, CIMA CEE

Confirmed Speakers:
• ANDREEA MIHNEA, Human Resources Director, EY Romania
• MIHAELA POPA, Country HR Manager, Wipro Technologies Romania
• AMALIA STERESCU, CEO, Outsourcing Advisors
• ANTONIU PANAIT, Managing Director, Vastint Romania
• DIANA BOCANEALA, Head of People Development and Recruitment, ENDAVA CE
• MIHAI PADUROIU, Head of Advisory & Transaction Services | Investor Leasing | Office, CBRE Romania • IOANA CRISAN, Learning and Development Manager, SocGen EBS
• Skanska senior representative

Topics: • Employer branding and company culture – ways to achieve employee engagement • Employee value proposition • Retirement benefits and healthcare system. • Well-being and the benefits of the healthy lifestyle promotion within the organization • Motivation of employees, recognition and engagement • Compensation and job security • Relocation and talent mobility • Talent Assessment

13:20 – 14:50 Networking Lunch

Find all about the event on the official website: http://people-in-outsourcing.thediplomat.ro/index.html

---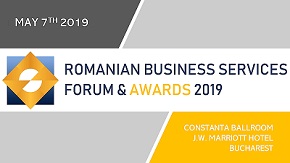 » Raiffeisen Bank Romania outsources onl...
» Horváth & Partners launches Steering ...
» JLL: Total office space in Bucharest t...
» Colliers International takes over the ...
» SSC in Romania. Who takes the lion's s...
» Oracle results pushed down by a strong...
» Survey: Romanians switch to a lower-pa...
» Genpact, Luxoft and Oracle, top lessee...
» Romanian employers report the stronges...
» Eucom: Nine out of ten corporate Roman...

My HR Lab: Research of suitable candidates and giving feedback to rejected ones, the biggest challenge in HR

During June 2019, My HR Lab company run an online (social media platforms) survey "Challenges of the recruitment process" which enrolled over 100 professionals working in HR and recruitment in Romania.
Read Full article »
The local market needs more added-value and complex projects to be developed by the companies

The statement has been uttered within this year's Romanian Outsourcing and Shared Services Summit by Catalina Dodu, Country Manager at Atos, pointing to the local enablers that could enhance the innovation and
Read Full article »
The office market at a glance: The round for tenants is on

Data provided by CBRE show that the office spaces segment will continue to grow rapidly in 2019, and 15 new projects covering 304.000 sqm will be delivered. According to the real estate consultancy agency, curr
Read Full article »
People Empowering Business Forum 2019 to take place on October, 30 at Bucharest

Latest trends like demographic upheaval, globalization, digital technology, and changing social values and worker expectations, are disrupting business models and radically changing the workplace. These are req
Read Full article »
Addressing the mantra of cyber-security: Confidentiality, integrity and availability

The fast advancement of technology in all the aspects of everyday life, either personal or professional, and the emerging of AI (Artificial Intelligence) and ML (Machine Learning), not to mention cloud technolo
Read Full article »