Agricover implements Oracle solution to improve the evaluation process of its 850 employees

Agricover, the integrated solutions provider for agriculture in Romania implemented Oracle Fusion Human Capital Management cloud solution, meant to facilitate and accelerate the evaluation process of the company's 850 employees.

Oracle announced that Agricover is using the Oracle Fusion Human Capital Management application for three consecutive years and managed to simplify and accelerate the evaluation process conducted by the HR department. The solution enabled the shortage of evaluation process from 3 months to 2 weeks, due to the available information and easy access provided by the Oracle solution, the company said.

"We considered and evaluated multiple solutions. In choosing the Oracle application, we based on the company expertise and during the testing process, Oracle proved a perfect acknowledgment of our business and therefore, their solutions was the best fit for our business model," said Madalina Sava, Training&Development Manager at Agricover.

Oracle Fusion Human Capital Management (Oracle Fusion HCM), is a complete suite of HR products that offers both breadth and depth of global functionality that drives business value. It is designed to co-exist with a company's current investment and can be deployed on a public, private, or hybrid Cloud. According to the published data about this application, the Oracle Fusion HCM solution is built entirely around user roles, key processes, and business-led configurability. Users can do things their way by having the power to easily mold and reshape the system to their liking.

In few words, the cloud solution enables the companies to increase the operational efficiency by combining the HR data from multiple sources and distribute them within the company's different department according to needs, resulting in a more efficient planning, coordination and evaluation of employees, according to Monica Costea, Senior HCM Consultant for ECEMEA region.

---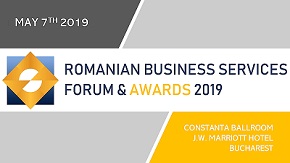 » Raiffeisen Bank Romania outsources onl...
» Oracle results pushed down by a strong...
» World-class HR organizations now spend...
» Microsoft and Oracle to interconnect M...
» Apostoleanu, Oracle: Human talent, mos...
» ANIS: Romanian IT market annual revenu...
» Healthcare IT outsourcing market is ex...
» Bosch Service Solutions to grow 20% Ti...
» Omnichannel: 4 pillars of a purposeful...
» The digitalization of the customer rel...

My HR Lab: Research of suitable candidates and giving feedback to rejected ones, the biggest challenge in HR

During June 2019, My HR Lab company run an online (social media platforms) survey "Challenges of the recruitment process" which enrolled over 100 professionals working in HR and recruitment in Romania.
Read Full article »
The local market needs more added-value and complex projects to be developed by the companies

The statement has been uttered within this year's Romanian Outsourcing and Shared Services Summit by Catalina Dodu, Country Manager at Atos, pointing to the local enablers that could enhance the innovation and
Read Full article »
The office market at a glance: The round for tenants is on

Data provided by CBRE show that the office spaces segment will continue to grow rapidly in 2019, and 15 new projects covering 304.000 sqm will be delivered. According to the real estate consultancy agency, curr
Read Full article »
People Empowering Business Forum 2019 to take place on October, 30 at Bucharest

Latest trends like demographic upheaval, globalization, digital technology, and changing social values and worker expectations, are disrupting business models and radically changing the workplace. These are req
Read Full article »
Addressing the mantra of cyber-security: Confidentiality, integrity and availability

The fast advancement of technology in all the aspects of everyday life, either personal or professional, and the emerging of AI (Artificial Intelligence) and ML (Machine Learning), not to mention cloud technolo
Read Full article »