Oracle study: Less than half of employees say they have the right technology to do their jobs

The study launched in early October by global company Oracle, Global Engagement Study showed that digital technology, leadership and company values rank among top distinguishers for employee success.

Oracle said it collaborated with Kantar TNS on The Global Engagement Study which surveyed nearly 5,000 full-time employees at organizations with 250 or more employees. The study encompassed a total of 4,706 interviews that captured opinions, feelings and experiences on a wide range of workplace factors including: culture, performance, tangible and intangible rewards, development and progression opportunities, experiences with collaboration technology, the impact of leadership and how employees feel in their current role. Percentages quoted are for those giving a top two box selection on a seven-point agreement scale.

On digital enablement, the study reads that technology is enabling companies to connect with employees in more ways than ever to create a more modern and customized learning experience. However, findings from the study indicate low marks when it comes to companies capitalizing on this—only 44 percent of respondents say that their company uses the latest technology to enable them to effectively perform in their role.

"Employees as consumers are more plugged into technology via multiple devices (i.e. mobile, tablet, desktop) than ever before. They expect the same level of accessibility that they get in their personal lives with the technology they encounter at work," said Gretchen Alarcon, group vice president of HCM Product Strategy, Oracle. "Cloud technology enables this digital employee experience through features that can help employees learn, process and consume information in an easy way. A more modern user experience interface also reflects what they are accustomed to at home."

The findings of the study also express that a strong presence in leadership is the backbone for an employee feeling satisfied and engaged. The study indicates that productivity starts with onboarding: employees are unsatisfied with the process, as only 41 percent believe that company onboarding practices set them up for growth and success. Not only are managers the first impressions of a company during onboarding, but they are also the first example of direction for the new worker. Only 47 percent of those polled viewed their leaders as visible and approachable and only 44 percent expressed that they have confidence in their leadership, indicating a lack of partnership between management and employees.

"Employees ultimately decide if they would like to stay with a company within the first two weeks of employment," said Alarcon. "What this means, is that within the first 14 days, employees are already asking themselves, 'Do I think I can progress here? Do I have a manager who can be a mentor and am I getting the ability to create a network and get introduced to the right people and tools to best perform in my job?' This is especially important when we think about development within a company—candidates want to feel the company is a good fit."

Additionally, this study included key indicators for a healthy leadership to employee relationship:
• Set examples of how best to communicate with those working under you
• Remain extremely accessible so that people feel connected to company goals
• Be actively involved in the working lives of new employees from the day they start
• Use technology and digital experiences to stay in touch with team members

Regarding the values, culture and reward, according to the study, the companies are now seeing that like-minded values between the employee and the company play a huge role in employee engagement. Only an astonishing 38 percent say that their company is concerned about their overall well-being—indicating that working towards a personally rewarding goal, while still upholding individual values can carry even more weight than monetary compensation.

"Company culture mirrors these sentiments as employees are most comfortable and productive within a creative, yet flexible workplace culture. While compensation is often seen to be connected to employee satisfaction, we are now seeing that individuals are more interested in joining companies that uphold their same personal values to gauge if they are a good fit. Whether it's a more flexible work schedule, more volunteer or health & wellness opportunities, companies too should now be listening and connecting with employees in more ways that correlate with their personal well-being," the study concludes.

---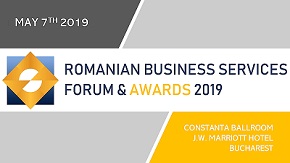 » The Outsourcing industry announces its...
» Smart City Snapshot for Romania: 330 p...
» ABSL leaders: Romania can attract majo...
» UK: Outsourcing is leaving public sect...
» Oracle results pushed down by a strong...
» SCC to open a third service center, tu...
» Oracle study: Less than half of employ...
» Iasi designated Emerging City of the Y...
» Techsylvania 2018 lines up powerful te...
» OT Learning & Development now, about d...

Workplace of the Future conference to take place on November 20th at Bucharest

The Diplomat-Bucharest together with Outsourcing Today organize the 3rd Edition of WORKPLACE OF THE FUTURE, on 20th of November 2019, in Bucharest, at Capital Plaza Hotel.
Read Full article »
Strategic Talent Acquisition at People Empowering Business Forum on October 30 in Bucharest

Latest trends like demographic upheaval, globalization, digital technology, and changing social values and worker expectations, are disrupting business models and radically changing the workplace. These are req
Read Full article »
Informal IT School and UiPath launch an educational program for RPA development to start in October

Informal IT School announced a partnership with UiPath to launch an RPA development educational program of five months, 100 hours of courses, five days a week. The program will run in Cluj-Napoca.
Read Full article »
Impact Hub Bucharest joins 3house to manage three coworking spaces in the city

Impact Hub Bucharest, a coworking spaces manager and developer of accelerator programs and events merged with 3house, a new concept of workplace launched in 2018. By this, Impact Hub reaches 3 locations and 6.7
Read Full article »
JLL: Total office space in Bucharest to reach 3 million sqm

The second quarter of 2019 reconfirmed the increased interest for the office market in Romania. Over 115,000 square meters of office space were leased over this period at the national level, a value similar wit
Read Full article »