The digitalization of the customer relationship

The customer relationship has changed considerably over the years thanks to evolving economical, technological and societal influences.

Forty years ago, the customer and retailer interaction was predominately done face-to-face. Product information was sourced directly from a salesperson and any after-sale services was limited to that store location.

Then came the 80's, which introduced the concept of customer relationship management (CRM), creating a more analytical approach to the customer and company interaction in an effort to drive retention. That basic CRM idea continued to evolve and grow with the popularization of the World Wide Web. Now, customers have access to a number of tools such as search engines, social media, connected devices, email and newsletters, giving consumers and retailers considerably more opportunities to interact.

Digitalization is visible in every aspect of daily living, but to what extent is it creating a new paradigm for companies and consumers?

A more demanding customer

Every pre, post and purchase phase (researching the product, getting help regarding its use, providing feedback etc.) has a virtual equivalent. The contact zone between companies and their customers has expanded, and above all, is now borderless. Consumers expect to interact with businesses not only in person but also though online tools, with 77% preferring the use of multiple channels (Aspect Omnibus Survey, 2014). Responses are also required to be fast as customers look for quick reactivity from companies. A study conducted by Lithium Technologies in 2014 reveals that 66% of U.S. customers expect a same-day response to their online request and 43% expect a response within an hour.

A strong omnichannel strategy that delivers a seamless customer experience across the various channels is often the answer to today's high customer expectations. At the very start of the process, companies should map out the customer journey across the entire customer lifecycle. It is crucial to develop buying personas and determine their preferred mediums of communication for each of the different stages. This information can then be utilized by a centralized software application to manage interactions across different mediums, allowing for a frictionless and personalized customer experience regardless of channel.

A greater distribution of information

Thanks to digital technology, customers have access to more company information than ever before. Brand perception goes well beyond the store front, with consumers having greater visibility into business practices and corporate social responsibility of any given organization. Therefore, a company's brand is not limited to their products or services, but also the image they have built with consumers. And that image often influences purchasing decisions, with 61% of people claiming they are more likely to buy from a company with a good reputation, according to Econsultacy.

The best approach is often transparency and sincerity when communicating with customers. Brands have the opportunity to frame that discussion through their online channels, and by engaging in honest dialogue. McDonald's took this approach in their 'Our food. Your questions' campaign to dispel ongoing rumors about their business practices and products. The campaign was met with great fanfare from consumers who actively participated in the discussion on social media.

Listen and learn from customers

Digital technology is shaping the new face of the customer relationship. Previously, brands were the only ones delivering messages to the masses. Now, customers are active players in the customer-brand relationship—asking questions, giving reviews, providing recommendations, issuing complaints – all through highly visible forums. Customers today have the ability to influence the purchasing decision of complete strangers instantaneously. In fact, a study by BrightLocal revealed that 79% of consumers trust online reviews as much as personal recommendations. That said, companies must now adapt their strategies to consider consumer's aspirations, influence and involvement in almost every touch-point of the customer journey.

The best way to accomplish this is by actively listening to the consumer. Digital technology, specifically social media, permits the customer to discuss their needs on a wider platform, ultimately guiding the strategy of their favorite brands. For example, the US fast-food chain Wendy's found through social listening that people were concerned about eating at their restaurants because they didn't know the nutritional content of the food. To correct this, Wendy's created a mobile app containing all the nutrition information of their products. Microsoft also took corrective actions before the launch of the Xbox gaming device.

Originally the product was developed to only function with internet connection. However, Microsoft "heard" through social media that the most appealing function for a games console is the ability to take it and play it anywhere, leading Microsoft to change the final product.

Through social listening, brands are also able to take a more proactive customer service approach by identifying and addressing potentially harmful conversations and customer discontent. For example, customer care representatives can spot and flag potential issues early – when there may only be one or two social posts about an issue. They can then share the resolution with a wider net of customers, before they too report the issue to customer service.

To be successful in today's CRM, companies have to move forward hand-in-hand with their customers. The digital relationship has changed the customer-company dynamic and it will certainly continue to evolve with the on-going advancements in technology.

Boriana Dimitrova is Marketing Content Manager, TELUS International Europe

Related articles and research:
- TELUS International Europe
- TELUS International

---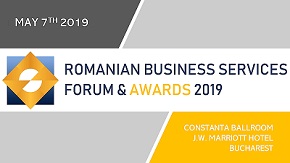 » Raiffeisen Bank Romania outsources onl...
» Horváth & Partners launches Steering ...
» JLL: Total office space in Bucharest t...
» Colliers International takes over the ...
» Oracle results pushed down by a strong...
» Survey: Romanians switch to a lower-pa...
» SSC in Romania. Who takes the lion's s...
» Genpact, Luxoft and Oracle, top lessee...
» Romanian employers report the stronges...
» Eucom: Nine out of ten corporate Roman...

My HR Lab: Research of suitable candidates and giving feedback to rejected ones, the biggest challenge in HR

During June 2019, My HR Lab company run an online (social media platforms) survey "Challenges of the recruitment process" which enrolled over 100 professionals working in HR and recruitment in Romania.
Read Full article »
The local market needs more added-value and complex projects to be developed by the companies

The statement has been uttered within this year's Romanian Outsourcing and Shared Services Summit by Catalina Dodu, Country Manager at Atos, pointing to the local enablers that could enhance the innovation and
Read Full article »
The office market at a glance: The round for tenants is on

Data provided by CBRE show that the office spaces segment will continue to grow rapidly in 2019, and 15 new projects covering 304.000 sqm will be delivered. According to the real estate consultancy agency, curr
Read Full article »
People Empowering Business Forum 2019 to take place on October, 30 at Bucharest

Latest trends like demographic upheaval, globalization, digital technology, and changing social values and worker expectations, are disrupting business models and radically changing the workplace. These are req
Read Full article »
Addressing the mantra of cyber-security: Confidentiality, integrity and availability

The fast advancement of technology in all the aspects of everyday life, either personal or professional, and the emerging of AI (Artificial Intelligence) and ML (Machine Learning), not to mention cloud technolo
Read Full article »