Bombardier hires site operations director-Global Procurement Centre Cluj

Bombardier Transportation hires a new site operations director at the Global Procurement Operations centre in Cluj Napoca, reveals an announcement posted in a social site.

"The site operations director ensures the effective operational service delivery of activities of a site in accelerated expansion, offering support to both Bombardier Aerospace and Bombardier Transportation businesses. For this role, s/he leads the procurement team ensuring acquisition, development and management of talents and ensures that the team meets all service delivery targets by developing and executing clear and robust processes that serve multiple regions/countries."

Key responsibilities and challenges include achieving business results such as: operational set-up as well as capacity planning, customer satisfaction within the Procurement Operations and for developing the scope of service delivered and manage the changes required to deliver continuous, procurement strategies including value creation opportunities with business objectives and priorities.
Also, the person will have to lead the development, communication and implementation of procurement objectives, business strategies and organizational visions.

Another key role is managing the site procurement budget and targets. The employee will have to improve services in quality and scope, adjust allocation of key tasks based on considerations of business risk, commerciality and urgency, act as a first point of escalation for internal and external customers and ensure that they are resolved in a timely manner.

Among qualifications asked are business degree or related, preferably MBA level or similar and minimum 10 years of relevant experience, with demonstrated track record of achievement and growth in a leadership role.

Bombardier has 70,000 employees in 60 countries.

---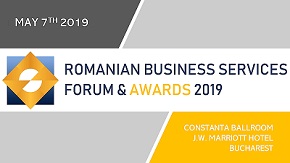 » The most appreciated companies from th...
» Webhelp Romania aiming for EUR 10 mill...
» Tremend joins Mellanox in powering the...
» Manpower: Romania's labor market, more...
» The Outsourcing industry announces its...
» Deloitte's Tech Trends 2019 report: B...
» Bucharest, in the top of cities in Eur...
» Oracle reaches 4,200 employees and pla...
» Genpact's COO: Staying ahead of the cu...
» Ascentis: The top ten HR trends for 20...

Nomination are now open for Romanian Business Services Forum and Awards

Nominations have opened for the prestigious Romanian Business Services Forum & Awards. The 2019 awards will continue to recognize and reinforce the important contribution made by business services professionals
Read Full article »
Study: 89 per cent of finance teams yet to embrace Artificial Intelligence

Report by Association of International Certified Professional Accountants and Oracle shows that almost 90 per cent of finance teams do not have the skills to support digital transformation.
Read Full article »
Bucharest, in the top of cities in Europe with the largest number of experts in high-tech industry

Bucharest is among the top cities boasting the most experts in the high-tech innovative industry, with over 70,000 current employees, next to London, Dublin, Madrid or Budapest, reads a study conducted by CBRE
Read Full article »
CBRE study: Post-millennials, the happiest about their offices
During 2018, real estate consultancy company CBRE conducted the first study dedicated to work environment in office buildings in Bucharest. The respondents have been structured in four age segments, such as Z g
Read Full article »
Deloitte's Tech Trends 2019 report: Beyond the digital frontier

The recently released Deloitte's Tech Trends 2019: Beyond the digital frontier, as each Tech Trends report in the series conducted by the consultancy company, lobbies for embracing the increasing, often mind-b
Read Full article »