Bombardier hires site operations director-Global Procurement Centre Cluj

Bombardier Transportation hires a new site operations director at the Global Procurement Operations centre in Cluj Napoca, reveals an announcement posted in a social site.

"The site operations director ensures the effective operational service delivery of activities of a site in accelerated expansion, offering support to both Bombardier Aerospace and Bombardier Transportation businesses. For this role, s/he leads the procurement team ensuring acquisition, development and management of talents and ensures that the team meets all service delivery targets by developing and executing clear and robust processes that serve multiple regions/countries."

Key responsibilities and challenges include achieving business results such as: operational set-up as well as capacity planning, customer satisfaction within the Procurement Operations and for developing the scope of service delivered and manage the changes required to deliver continuous, procurement strategies including value creation opportunities with business objectives and priorities.
Also, the person will have to lead the development, communication and implementation of procurement objectives, business strategies and organizational visions.

Another key role is managing the site procurement budget and targets. The employee will have to improve services in quality and scope, adjust allocation of key tasks based on considerations of business risk, commerciality and urgency, act as a first point of escalation for internal and external customers and ensure that they are resolved in a timely manner.

Among qualifications asked are business degree or related, preferably MBA level or similar and minimum 10 years of relevant experience, with demonstrated track record of achievement and growth in a leadership role.

Bombardier has 70,000 employees in 60 countries.

---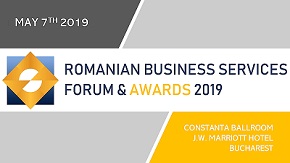 » Huawei opens a centre on cyber securit...
» Romania ranks above EU average in gend...
» ROMANIAN OUTSOURCING AWARDS FOR EXCELL...
» Bucharest, in the top of cities in Eur...
» Meet the experts who will decide the w...
» Bogdan Pelinescu, president of ABSL: A...
» Berg Software Romania: Reasons to outs...
» KPMG launches an application enabling ...
» ABSL GALA AWARDS celebrated its winner...
» George Rotariu, CEO Bitcoin Romania: B...

Meet the speakers at Romanian Business Services Forum 2019 CEO LEADERS DEBATE, on May 7th - Matthieu Pasquier

Matthieu Pasquier is CEO of Societe Generale European Business Services since August 2018 bringing more than 27 years experience in Societe Generale group. During 2014-2018, Matthieu was Head of SG GSC Chennai
Read Full article »
Sorin Mindrutescu among the speakers at Romanian Business Services Forum 2019 CEO LEADERS DEBATE, on May 7th

Sorin Mindrutescu is the Country Leader for Oracle Romania, as of February 2003. In this role, he is responsible for local sales and project delivery. In Romania, Oracle has two major business directions: the l
Read Full article »
Meet the speakers at Romanian Business Services Forum 2019 CEO LEADERS DEBATE, on May 7th - Vivek Bakshi

Vivek Bakshi is the General Manager of Wipro Technologies. He has spent 12 years heading the International Locations / Delivery Centers Europe from the Bucharest office.
Read Full article »
Meet the finalists of the fifth edition of Romanian Business Services Awards 2019

ROMANIAN BUSINESS SERVICES FORUM & AWARDS 2019, in its fifth year, brings on May 7, in Bucharest, a new concept event with engaging keynote sessions by industry leaders, interactive panel discussions, networkin
Read Full article »
Meet the experts who will decide the winners of 2019 at Romanian Business Services Forum & Awards

Each year, Outsourcing Today brings a landmark edition of the Romanian Outsourcing and Shared Services Summit and this year, we are hosting the Fifth of the annual Romanian Outsourcing and Shared Services Award
Read Full article »