JLL: Demand of Bucharest offices, mainly driven up by BPS and ITO in Q2

The office demand in Bucharest in the second quarter of 2016 was mainly generated by IT and BPO / SSC companies, which accounted for over 40% of the total volume registered, followed by banks with approximately 21% and health and pharma companies with 17%, says the most recent JLL report.

The Center-West sub-market attracted close to 43% of the total take-up followed by the northern area of Bucharest (Floreasca Barbu Vacarescu and Dimitrie Pompeiu) which together attracted close to 28% of the total take-up.

Vacancy rate in Bucharest decreased over the year to 12.8%, 50 bps below the level of Q2 2015. This is mainly due to the strong take-up and the fact that the new supply was partially pre-let. Vacancy rate is expected to increase by the end of 2016, due to the higher levels of speculative supply planned for delivery. A further 210,000 sq m are announced to be completed by the end of 2016.

Vacancy rates continue to be uneven between sub-markets, which is also reflected in the evolution of the rental levels. While in South and Pipera North vacancy is above 30%, the vacancy rate in Dimitrie Pompeiu, Floreasca Barbu Vacarescu, CBD, Center North, Center West and West is below or around 10%.

At the same time, the property investment volume in the first half of 2016 is estimated at Euro 340 million, a value 80% higher than the one registered in the same period in 2015.

Bucharest accounted for close to 48% of the total investment volume but we have witnessed the largest single asset transaction outside of Bucharest since 2008, in Sibiu (29% of total volume). Market volumes were balanced between retail transactions (45%) and office (38%) while industrial accounted for close to 17%.

The largest transaction registered in 2016 was the acquisition of Sibiu Shopping City by NEPI from ARGO for a total of Euro 100 million. The most notable office transaction in H1 was the consolidation of GTC's position in City Gate through the acquisition of Bluehouse's 40% stake. The most active buyers in the first half of 2016 were NEPI and GTC, each of the two investors concluding two transactions.

GTC, one of the most experienced local developers, with a Romanian market presence since the late 1990s, has changed its local strategy and acquired income producing assets.
While investor interest has increased due to the solid market fundamentals as well as to the significant yield spread between Romania and Poland or the Czech Republic, improving financing conditions and increasing appetite from banks for good product and serious sponsors are also encouraging new investment.

However, liquidity is limited by the supply. Prime products offered in institutional sale processes are rare.
Vendors expectation of a convergence of the yields with those from the core CEE markets can lead to a pricing gap as investors are still mainly looking for value-add opportunities.

Prime yields suffered no changes over the quarter with 7.25% for retail, 7.50% for office while for industrial they are at 9.00%. Yields have compressed between 25 and 50 bps over the year.

Brexit is expected to have little short to medium term impact on the Romanian economy and the real estate investment market, as long as the EU economy remains stable.


---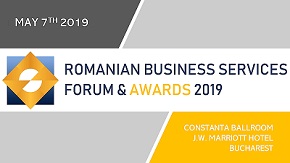 » Digital Transformation Conference to t...
» ASE's HR Master – helping students i...
» Meet the winners of ROMANIAN BUSINESS ...
» Marian V. Popa: Meet the speakers at R...
» Randstad Employer Branding 2019: Salar...
» Zitec launches its 1 million Euro Mirr...
» Deloitte Romania opens application for...
» Capgemini to open new office at Suceav...
» Romulus Caralicea: Meet the speakers a...
» Oracle Romania inaugurates the Iasi of...

Digital Transformation Conference to take place on June 19 at Bucharest

The Diplomat – Bucharest organizes Digital Transformation Conference to be held on 14 of June in Bucharest, at Hilton Hotel - Regina Maria Hall, starting 8:30 AM.
Read Full article »
L&D Conference by The Diplomat Bucharest to take place on June 4th at Bucharest

The Diplomat-Bucharest organizes the Third Edition of its Learning & Development CONFERENCE on 4 June, 2019 at InterContinental Hotel Bucharest starting 09:00 am.
Read Full article »
Meet the winners of ROMANIAN BUSINESS SERVICES AWARDS, 2019 edition

ROMANIAN BUSINESS SERVICES FORUM & AWARDS 2019, in its fifth year, brrought on May 7, in Bucharest, a new concept event with engaging keynote sessions by industry leaders, interactive panel discussions, network
Read Full article »
Few hours away from to the long awaited CEO Leaders Debate, a premiere of Romanian Business Services Forum and Awards
We are a few hours away to the long awaited CEO Leaders Debate, a premiere of Romanian Business Services Forum and Awards on May 7.
Read Full article »
Colin C. Lovering: Meet the speakers at Romanian Business Services Forum & Awards 2019, on May 7

Colin C. Lovering has been living and working in Romania since 2009 when he arrived to offer consultancy and advice to organisations looking for growth and profitability and founded Achieve International.
Read Full article »