Luxoft acquires Insys Group, an IT management and technology consulting firm

Luxoft Holding, a leading provider of software development services and innovative IT solutions to a global client base, announced that it has acquired Insys Group, Inc. a U.S.-based IT consulting provider serving a large number of blue-chip corporations, with a significant proportion of revenue being generated from the healthcare, pharmaceuticals & biotech and telecom verticals.

Insys Group, which delivers services to marquee clients including Fortune 100 companies served by their focus verticals, is expected to diversify Luxoft's client base and decrease current client and geographical concentration, measurably expanding Luxoft's North American footprint in particular.

In addition, Insys' employment of seasoned industry professionals with deep vertical knowledge complements Luxoft's business. Insys' sales executives with a proven track record of anchoring Fortune 100 accounts are expected to significantly build out Luxoft's current sales efforts in North America; and its talented senior management team that has been growing these Fortune 100 accounts to substantial levels is expected to amplify the capabilities of Luxoft's current senior management team.

"We are very pleased to welcome INSYS Group to Luxoft," said Luxoft CEO and president Dmitry Loschinin. "There are multiple synergies between the two companies, which we believe should propel both Luxoft and INSYS toward their joint goals of healthy growth and expansion at the time when digital transformation is of utmost importance for businesses worldwide.

Insys' customer base and range of technology solutions are highly complementary to those of Luxoft. Data analytics and predictive modeling is expected to augment significantly our big data and cloud Centers of Expertise. Further, the addition of the expertise and capabilities in the Pivotal open source cloud platform for business-critical applications is anticipated to advance Luxoft's positioning as an end-to-end solution provider.

Lastly, with this acquisition, we are launching a focused effort to expand Luxoft's presence in the U.S. market and establish a strong sales organization in North America, and we feel confident that INSYS is the right partner to help us execute on this strategy."

"Both Luxoft and INSYS have an absolute commitment to quality delivery, deep understanding of clients' challenges, and an exceptional ability to provide strategic insight and technical solutions that make a real difference to client business," said INSYS Group's CEO, Linda Magnusson-Rosario.

"We are excited to leverage Luxoft's scale, solutions and global offshore platform for the benefit of our existing and future enterprise customers. Through our onshore business relationships we have demonstrated a proven track record of success that has been built by our strong senior management. From today we expect that our joint outreach with Luxoft will enable us to move up to a different provider category and take on even bigger transformational engagements."



---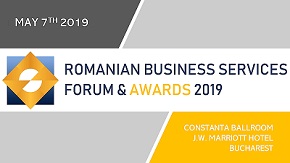 » Molson Coors started to grow its busin...
» TELUS International Europe: Three ways...
» Deloitte's Tech Trends 2019 report: B...
» Capgemini: Investing in people is the ...
» The Outsourcing industry announces its...
» Romania ranks above EU average in gend...
» Committed to growth
» KPMG study: Big data needs a big re-th...
» ROMANIAN OUTSOURCING AWARDS FOR EXCELL...
» Engagement and inclusion through direc...

The voting procedure for the BRAND OF THE YEAR 2019 IN ROMANIAN BUSINESS SERVICES is open!

This is the fifth edition of the event and the second year to select the public's favorite brand in the business services BPO, ITO and SSC in Romania.
Read Full article »
Romania ranks above EU average in gender employment gap

In Romania, the employment rate measures the number of people who have a job as a percentage of the working age population. This page provides - Romania Employment Rate- actual values, historical data, forecast
Read Full article »
Steven Hunt, SAP SuccessFactors: Tectonic movements in the world of work

The world of work will be shaped by five tectonic movements – or global megatrends – over the next few years. As you may guess from the geological analogy, the effects could be dramatic.
Read Full article »
EY: European companies are divesting to future-proof growth

According to the EY Global Corporate Divestment Study, 84 per cent of European companies surveyed intending to divest within the next two years (the majority planning to do so in the coming 12 months), executiv
Read Full article »
Knowledge-sharing presentation on latest trends the industry deals, in the program of Romanian Business Services Forum and Awards

Part of the upcoming joint half-day event, Romanian Business Services Forum and Awards to be held at JW Marriott Hotel on May 7th, the discussion agenda comprises a complex Knowledge-sharing presentation on lat
Read Full article »