British firm Xoomworks to grow 30-40 per cent Cluj operations

After entering the Romanian market in 2007, British company Xoomworks Outsourcing grew its operations to 100 staff, tells Outsourcing Today company's managing director, Christophe Bajc.

"We have invested about half a million euros – we've built two operations so far – both approaching 100 staff. We are planning to hire 25 to 30 in 2016," says Bajc. The company serves clients from UK and Switzerland.

"We have been growing by 40 per cent year by year, and we are comfortable with sustaining this growth rate for the coming years. But we do not see volume as our key performance indicator," he adds.

"We rather focus on building long term (10 years plus for some) relationships with our clients, as well as working with technology driven clients who share our values and passion. Our ability to deliver more value to our clients, and great projects to our employees, is also a critical success factor for us. From that point-of-view, Cluj, is without any doubt a "place to be" for us as it offers a rare blend of skills and potential."

Xoomworks also started a technical academy in Cluj, and plans to strengthen the new divisions of security, salesforce and business intelligence.

"We plan to setup a second session of our Xoomworks Academy, a six-month program for young graduates aiming at bridging the gap between theoretical knowledge gained during their studies and market needs," he says.

The company is mainly active in the travel, gaming and financial tech sectors, with a clear focus on flexibility, ability and time to market, as well as new relevant technologies.
He believes that Romania benefits today from a highly skilled talent, better mid management, business administrations and project management skills today, skills which were lacking five to 10 years ago.

"Romania and especially Cluj have a more mature market for outsourcing, Romania is clearly more about higher value services than low cost and high volumes."
And even there's a growing threat of labour saturation, opportunities can be leverage through education.

"Threat? Indeed… (local and international competition for talent) – but excellent education system, and increasing technical skills and level of maturity provide tremendous growth opportunities for high value added services," Bajc says.

"As talent management and retention are obviously at the core of everything we do – great talent allows to work on great projects... Romania is not different of any other EU major city, and companies want to attract and retain talent. Our ability to do so is strongly related to the quality of our projects – great projects motivate great developers. Of course, career development opportunities, competitive salaries, and a good benefits package are also important."

And when it comes to perks for the employees, all companies seem to agree that project quality is key, followed by career development (training and growth opportunities), a competitive remuneration package (including health insurance, meal tickets, gym, massage), great colleagues, flexibility (home working and flexible working hours) and good offices (location and quality), he explains.

But in a more and more connected and global world, with homeworking and flexibility now embedded into staff and organisation cultures, and thanks to the collaboration technology now available, there is a real shift from large operation centres in major cities filled with employees sitting at their desks, towards a borderless model, blending teams from different locations, and using different types of collaboration models (employees, associates, partners).

While Romania's main challenge "is probably the fact that the laws and regulations can be complex, the legal environment changes quite often, and it can take a long time before the new rules are clearly explained" the market feels the need for better communication, simplifying administrative procedures and having a more stable legislation.
Therefore, Romania would be perfect if it has had an "even more talented people, and simpler and more stable administrative frameworks."


---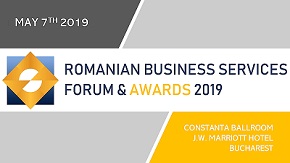 » Huawei opens a centre on cyber securit...
» ROMANIAN OUTSOURCING AWARDS FOR EXCELL...
» Romania ranks above EU average in gend...
» Bucharest, in the top of cities in Eur...
» Berg Software Romania: Reasons to outs...
» Meet the experts who will decide the w...
» Bogdan Pelinescu, president of ABSL: A...
» KPMG launches an application enabling ...
» ABSL GALA AWARDS celebrated its winner...
» Oracle reaches 4,200 employees and pla...

Colin C. Lovering: Meet the speakers at Romanian Business Services Forum & Awards 2019, on May 7

Colin C. Lovering has been living and working in Romania since 2009 when he arrived to offer consultancy and advice to organisations looking for growth and profitability and founded Achieve International.
Read Full article »
Antoniu Panait: Meet the speakers at Romanian Business Services Forum & Awards 2019, on May 7

Managing Director for VASTINT Romania since 2009, Antoniu Panait has an executive experience of more than 10 years, mainly in real estate.
Read Full article »
Andrei Voica: Meet the speakers at Romanian Business Services Forum & Awards 2019, on May 7

Andrei Voica, Director Project Management and Workplace Consultancy, Colliers International. Truly passionate about his work and always eager to add value to each project.
Read Full article »
Romulus Caralicea: Meet the speakers at Romanian Business Services Forum & Awards 2019, on May 7

Romulus is Wipro's Information Security, Risk & Compliance Lead for Europe. In his role he is managing internal audits and compliance activities for all clients and internal functions based on the corporate ISO
Read Full article »
George Didoiu: Meet the moderator of Romanian Business Services Forum 2019 CEO LEADERS DEBATE, on May 7

In his 15 years of real estate, George Didoiu advised on the relocation of top IT&C, finance-banking and consultancy companies, which total over 10,000 employees.
Read Full article »