Codespring: 95 per cent retention rate, as Cluj lures in by charm



"I have set up the first software development and outsourcing team in 1998. Since then, we went through many changes and the investment itself has spread across the years and projects," recalls Levente Szélyes – founder & CEO of Codespring tech brand, from Cluj-Napoca.

Codespring's team of 70 employees includes already seasoned senior programmers and project managers that have been developing fully- fledged software solutions. "In the years to come we will strive to attract more innovative software development projects. We are currently operating from Romania, but we are and always had been serving European and North-American markets. I would like to keep it that way," says Szélyes.

Codespring serves the European market (mainly the German-speaking 'DACH' region – consisting of Germany, Austria and Switzerland) and North-America (namely the US and Canada). The main language skills needed for these cooperation are English and German. The main skills set refers to technical knowledge: programming skills with Java, C/C++, C#, Objective C, JavaScript, Go for IoT, Firmware, Mobile, Cloud, Web Applications, Web Services and Desktop systems.

"Romania has the skills and capabilities to build its own growth and development model in the global ITC market. The country has unique traits and my fellow software engineers from Cluj-Napoca, for example, are well aware of that. We must learn from the Polish example the measures taken by the Government and the industry associations in order to promote the development of the ITC sector, the digitization and the leap to a highly connected ecosystem," he says.

While the labour market saturation is a real threat, Cluj attracts outsiders.

"The threat is there, but also the opportunities to create new generations of skilled programmers. The human resources are being attracted by developing cities like Cluj-Napoca, especially after it has been awarded as the European Youth Capital in 2015. It is up to us and the academic system to prepare and guide them to those areas where we forecast we need work force," he adds.

While the Codespring's team is growing at a stable pace, it accounts for more than 95 per cent retention rate. The rest of 5 per cent is for "healthy refreshment and change."

"Employee motivation has always been a great topic! The larger the team, the harder to control individual motivations. From a human perspective, a modern company has to check the main known employee benefits and to add something truly characteristic for that specific company. I personally have tried to build a team where each individual finds its own motivation to join. For that, individuals with a high sense of independence, autonomy in work and of intrinsic motivation are preferred," Szélyes explains.

While BPS may include simple task-based processes and knowledge-intensive processes. Definitely, Bucharest, Timisoara and Cluj will maintain their position due to the fact that they are also great academic centres and urban agglomerations. "One can also note the rapid expansion on the sector of Iasi, Brasov, Oradea, Sibiu."

KPIs: 10 per cent growth

"As a SME business owner I actually avoid speaking about KPIs. My focus is to have a positive result each year, in other words proper turnover and enough profit to grow and develop the business. We were on a constant 10 per cent increase of the total turnover – a variation in direct proportion with our intended development pace," says he.

Naturally, Romania has problems specific to developing countries, such as the high levels of bureaucracy and the sudden changes of the fiscal laws.
"But we always have to be prepared for unexpected measure, and that is quite stressful as a business owner dealing with European and US customers. More stability on these aspects would be welcomed."

And as any other country, Romania has its advantages and disadvantages.

"But we love the local region and our customers are also quite surprised about the geography and the communities that they are finding here, especially in Cluj-Napoca. Change must be directed in the spirit of aligning the country's administration with that of the European Union. This is a hectic task as we are currently witnessing it. More support for local and private initiatives should be definitely facilitated; while, we, as citizens, we should propose pragmatic projects and measures that aim to develop the communities where we are actually living," Szélyes says.

In 2016 the industry is about to face some of the most audacious technological realities that it was developing and implementing in the last years. "The IoT (Internet of Things) universe is spreading across the modern society and is rapidly expanding into cyber-physical systems that contain smart homes, smart grid, intelligent transportation and smart cities technologies. With 18 years of complex software systems development experience on board, Codespring has welcomed the challenges of the new industrial, home, vehicle and public systems automations."

And in these times of hypermobility and major transformations, the main feature for a software engineering team should be adaptability.
"Some processed may be automated and some may take advantage of the use of artificial intelligence, but some are inseparable from the human beings," he concludes.




---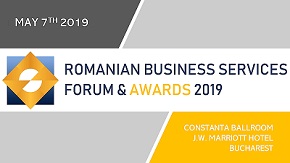 » Molson Coors started to grow its busin...
» Meet the winners of ROMANIAN BUSINESS ...
» Capgemini to open new office at Suceav...
» ABSL Romania: Sibiu, a continuously ev...
» TELUS International is partnering with...
» It is all about people, to find and to...
» Gartner: Romania moved into the first ...
» Accenture's Technology Vision forecast...
» Endava expands its IT team in Republic...
» Olga Botusan, Stefanini, keynote speak...

Workplace of the Future conference to take place on November 20th at Bucharest

The Diplomat-Bucharest together with Outsourcing Today organize the 3rd Edition of WORKPLACE OF THE FUTURE, on 20th of November 2019, in Bucharest, at Capital Plaza Hotel.
Read Full article »
Strategic Talent Acquisition at People Empowering Business Forum on October 30 in Bucharest

Latest trends like demographic upheaval, globalization, digital technology, and changing social values and worker expectations, are disrupting business models and radically changing the workplace. These are req
Read Full article »
Informal IT School and UiPath launch an educational program for RPA development to start in October

Informal IT School announced a partnership with UiPath to launch an RPA development educational program of five months, 100 hours of courses, five days a week. The program will run in Cluj-Napoca.
Read Full article »
Impact Hub Bucharest joins 3house to manage three coworking spaces in the city

Impact Hub Bucharest, a coworking spaces manager and developer of accelerator programs and events merged with 3house, a new concept of workplace launched in 2018. By this, Impact Hub reaches 3 locations and 6.7
Read Full article »
JLL: Total office space in Bucharest to reach 3 million sqm

The second quarter of 2019 reconfirmed the increased interest for the office market in Romania. Over 115,000 square meters of office space were leased over this period at the national level, a value similar wit
Read Full article »