Leoni to open new SSC in Cluj, cut jobs outside Romania

German company Leoni plans to open its own shared service center in Cluj, company officials told OT. They say the center is planned to open in more than six months, and until then no further information can be offered.

Leoni will cut about 1,100 jobs this year at its division that makes cable harnesses and wiring systems for the auto industry and expects the retrenchments to boost annual earnings from 2017, it said, quoted by Reuters. But the cuts won't affect Romania.

Streamlining the division, which generates about 60 percent of company revenue, will marginally improve results this year before leading to a "sustained increase in profitability", starting in 2017, Nuremberg-based Leoni said, according to dailymail.co.uk.

A year ago, Leoni was grappling with a glut of orders at the onboard power supply division and hired thousands of workers on generous paychecks at a plant in Romania. Profit has been falling since, forcing the company to press ahead with cost-savings measures.

Earnings before interest and tax (EBIT) may increase by about 30 million euros ($33 million) per year as a result of the reorganisation, it said.

A spokesman told Reuters that job cuts in countries such as Germany, France, Britain, the United States and South Korea will add costs of about 25 million euros this year.


---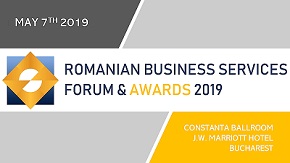 » Huawei opens a centre on cyber securit...
» Romania ranks above EU average in gend...
» ROMANIAN OUTSOURCING AWARDS FOR EXCELL...
» Bucharest, in the top of cities in Eur...
» Meet the experts who will decide the w...
» Bogdan Pelinescu, president of ABSL: A...
» Berg Software Romania: Reasons to outs...
» KPMG launches an application enabling ...
» ABSL GALA AWARDS celebrated its winner...
» George Rotariu, CEO Bitcoin Romania: B...

Meet the speakers at Romanian Business Services Forum 2019 CEO LEADERS DEBATE, on May 7th - Matthieu Pasquier

Matthieu Pasquier is CEO of Societe Generale European Business Services since August 2018 bringing more than 27 years experience in Societe Generale group. During 2014-2018, Matthieu was Head of SG GSC Chennai
Read Full article »
Sorin Mindrutescu among the speakers at Romanian Business Services Forum 2019 CEO LEADERS DEBATE, on May 7th

Sorin Mindrutescu is the Country Leader for Oracle Romania, as of February 2003. In this role, he is responsible for local sales and project delivery. In Romania, Oracle has two major business directions: the l
Read Full article »
Meet the speakers at Romanian Business Services Forum 2019 CEO LEADERS DEBATE, on May 7th - Vivek Bakshi

Vivek Bakshi is the General Manager of Wipro Technologies. He has spent 12 years heading the International Locations / Delivery Centers Europe from the Bucharest office.
Read Full article »
Meet the finalists of the fifth edition of Romanian Business Services Awards 2019

ROMANIAN BUSINESS SERVICES FORUM & AWARDS 2019, in its fifth year, brings on May 7, in Bucharest, a new concept event with engaging keynote sessions by industry leaders, interactive panel discussions, networkin
Read Full article »
Meet the experts who will decide the winners of 2019 at Romanian Business Services Forum & Awards

Each year, Outsourcing Today brings a landmark edition of the Romanian Outsourcing and Shared Services Summit and this year, we are hosting the Fifth of the annual Romanian Outsourcing and Shared Services Award
Read Full article »