Leoni to open new SSC in Cluj, cut jobs outside Romania

German company Leoni plans to open its own shared service center in Cluj, company officials told OT. They say the center is planned to open in more than six months, and until then no further information can be offered.

Leoni will cut about 1,100 jobs this year at its division that makes cable harnesses and wiring systems for the auto industry and expects the retrenchments to boost annual earnings from 2017, it said, quoted by Reuters. But the cuts won't affect Romania.

Streamlining the division, which generates about 60 percent of company revenue, will marginally improve results this year before leading to a "sustained increase in profitability", starting in 2017, Nuremberg-based Leoni said, according to dailymail.co.uk.

A year ago, Leoni was grappling with a glut of orders at the onboard power supply division and hired thousands of workers on generous paychecks at a plant in Romania. Profit has been falling since, forcing the company to press ahead with cost-savings measures.

Earnings before interest and tax (EBIT) may increase by about 30 million euros ($33 million) per year as a result of the reorganisation, it said.

A spokesman told Reuters that job cuts in countries such as Germany, France, Britain, the United States and South Korea will add costs of about 25 million euros this year.


---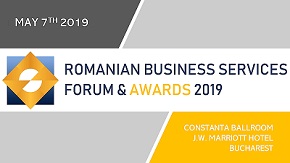 » The most appreciated companies from th...
» Webhelp Romania aiming for EUR 10 mill...
» Tremend joins Mellanox in powering the...
» Manpower: Romania's labor market, more...
» The Outsourcing industry announces its...
» Deloitte's Tech Trends 2019 report: B...
» Bucharest, in the top of cities in Eur...
» Oracle reaches 4,200 employees and pla...
» Genpact's COO: Staying ahead of the cu...
» Ascentis: The top ten HR trends for 20...

Nomination are now open for Romanian Business Services Forum and Awards

Nominations have opened for the prestigious Romanian Business Services Forum & Awards. The 2019 awards will continue to recognize and reinforce the important contribution made by business services professionals
Read Full article »
Study: 89 per cent of finance teams yet to embrace Artificial Intelligence

Report by Association of International Certified Professional Accountants and Oracle shows that almost 90 per cent of finance teams do not have the skills to support digital transformation.
Read Full article »
Bucharest, in the top of cities in Europe with the largest number of experts in high-tech industry

Bucharest is among the top cities boasting the most experts in the high-tech innovative industry, with over 70,000 current employees, next to London, Dublin, Madrid or Budapest, reads a study conducted by CBRE
Read Full article »
CBRE study: Post-millennials, the happiest about their offices
During 2018, real estate consultancy company CBRE conducted the first study dedicated to work environment in office buildings in Bucharest. The respondents have been structured in four age segments, such as Z g
Read Full article »
Deloitte's Tech Trends 2019 report: Beyond the digital frontier

The recently released Deloitte's Tech Trends 2019: Beyond the digital frontier, as each Tech Trends report in the series conducted by the consultancy company, lobbies for embracing the increasing, often mind-b
Read Full article »